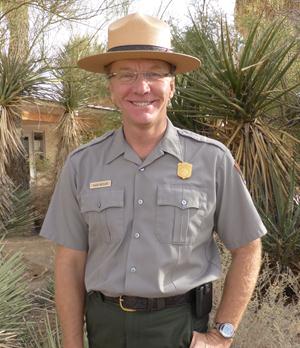 News Release Date:
January 24, 2014 After nearly 38 years of service, Joshua Tree National Park Superintendent Mark Butler has announced plans to retire effective March 1, 2014. A dedicated National Park Service (NPS) employee since 1976, Butler stated that "considering retirement has been one of the most challenging decisions of my career." His dedication to the mission of the NPS has been clearly evident during the time he has served as Superintendent of Joshua Tree, and throughout his varied career at Yosemite National Park.
While at Joshua Tree, Butler has worked to strengthen connections between park visitors, local residents, businesses, partner organizations and Tribes, with the goal of inspiring all to preserve, protect, visit, and enjoy the park. Butler stated, "during these past three years, I've been honored to serve with the talented and dedicated staff of Joshua Tree National Park to fulfill the NPS mission, and to preserve this wonderful park for the enjoyment of current and future generations." 
Butler's varied NPS career has included service as an Environmental Planning and Compliance Program Manager, Physical Science Specialist, American Indian Consultation Program Supervisor, Accessibility Coordinator, Search and Rescue Technician, Hazardous Materials and Oil Spill Response Coordinator, Emergency Medical Technician, Utility Systems Operator, Fire Logistics Crew Supervisor, and Public Involvement Program Coordinator. He received his Masters of Public Administration from the University of Southern California and obtained a Bachelors Degree in Soil and Water Science and Environmental Toxicology from the University of California, Davis. 
Pacific West Regional Director Chris Lehnertz stated that Mark "understands the necessity of building strong relationships with communities surrounding the park, and he does not shy away from controversial or challenging issues." This devotion to place and willingness to build strong relationships has been an asset for local communities and park partners. Butler commented, "Joshua Tree has a strong leadership team and staff that will continue to work closely with all partners and communities as the park begins preparing for the Centennial of the NPS in 2016." 
Mark and his wife Cathy love the desert and plan to remain in the area following retirement. They are looking forward to continuing to explore our public lands and the desert's special places. Superintendent Butler will be missed in his current position by staff and community leaders alike.