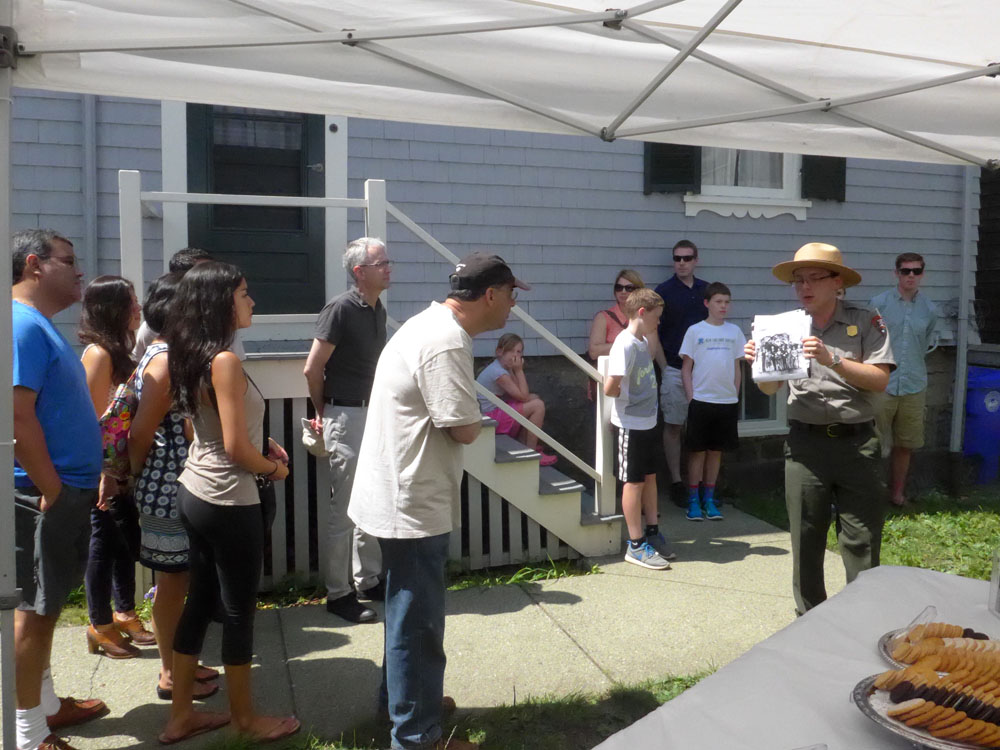 News Release Date:
August 1, 2014
Contact: Sara Patton, 617-566-7937
The John Fitzgerald Kennedy National Historic Site celebrated Rose Kennedy's birthday on July 20 with a variety of special programs, including backyard talks, walks and an exhibit. Visitors were also invited to sample tea and cookies inspired by the "Kennedy Teas," an exhibit focused on Mrs. Kennedy's contributions to her son's campaigns, particularly the 1952 Campaign Teas, which sought to engage female voters. In addition to tea, women heard Mrs. Kennedy talk about her son and then the candidate, John F. Kennedy would say a few words. Kennedy won the election, and his opponent, Henry Cabot Lodge Jr., said that Kennedy "floated into the Senate on ocean of tea."
Mrs. Kennedy was instrumental in the creation of the John Fitzgerald Kennedy National Historic Site. Her vision was to show visitors how her family's first home looked at the moment of John F. Kennedy's birth in 1917 and how people lived at that time. Drawing almost exclusively from her own memories, she personally placed the items on display today to create a portrait of her family's early years both as she remembered them and as she wanted them to be perceived. During an interactive talk, a ranger helped visitors think about how they remember events in their own lives and how future historians might come to understand those events through memories and documents. One participant said, "this experience will change how I talk about my vacation and what I share with others!"
Later in the afternoon, rangers offered a special walking tour to the site of Saint Aidan's Roman Catholic Church. Mrs. Kennedy deeply believed in making her faith a part of her and her children's daily life, and the church was a regular destination during their thirteen years in Brookline. The walk explored the role of faith in the Kennedy family as well as some of the social and political challenges it presented not only for John F. Kennedy, but also his grandfathers, P.J. Kennedy and John Fitzgerald. Many visitors took advantage of a beautiful afternoon to explore the site not usually seen on walking tours. Check out the photos below and come visit!
Mrs. Kennedy always called this home her "gift to the American people," and the National Park Service continues to care for the home so that her gift will continue to educate future generations. If you missed the event, it's not too late to explore Mrs. Kennedy's memories yourself. Click here for detailed information to plan your visit.