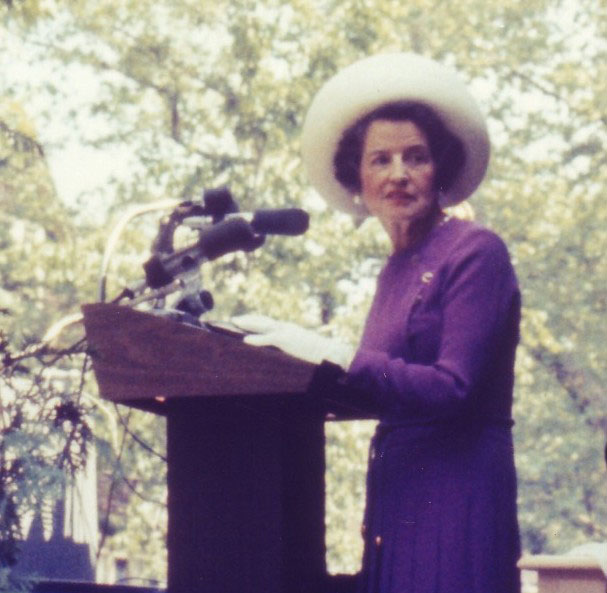 News Release Date:
July 11, 2014
Contact: Jim Roberts, 617-566-7937
On Sunday, July 20, 2014, John Fitzgerald Kennedy National Historic Site(NHS) honors the 124th anniversary of the birth of Mrs. Rose Elizabeth Fitzgerald Kennedy by offering special programs and tours led by National Park Service Rangers from 9:30 a.m. to 5:00 p.m. Admission to the site and programs is free.
The event recognizes Rose Fitzgerald Kennedy's birthday (July 22, 1890) and explores Mrs. Kennedy's life, family, and her involvement in politics. An active political figure throughout her life, Mrs. Kennedy was the daughter of a Mayor of Boston, wife of a U.S. Ambassador to the Court of St. James (Great Britain), and mother of three Senators and a President.
At 2:15 PM, visitors can join a tour of the Kennedys' Brookline neighborhood with a special focus on faith and family.  Visitors are also invited to take part in an interactive program at 11:15 AM and 1:15 PM, to explore how our daily lives become a part of history and what tools historians have for understanding the past. Visitors can also view a special photographic exhibit highlighting Mrs. Kennedy's own political activism and work to commemorate her son's life.
John Fitzgerald Kennedy NHS preserves the birthplace (1917) and boyhood home of the 35th President of the United States. The modest house was the first home shared by the president's father and mother, Joseph Patrick and Rose Fitzgerald Kennedy. John, the second of their nine children, spent his formative years in Brookline as his family began its rise to national prominence. In 1966, Rose Kennedy returned to 83 Beals Street to commemorate President Kennedy's life, restoring the birthplace to her recollection of its 1917 appearance.

For more information to plan your visit, click here.