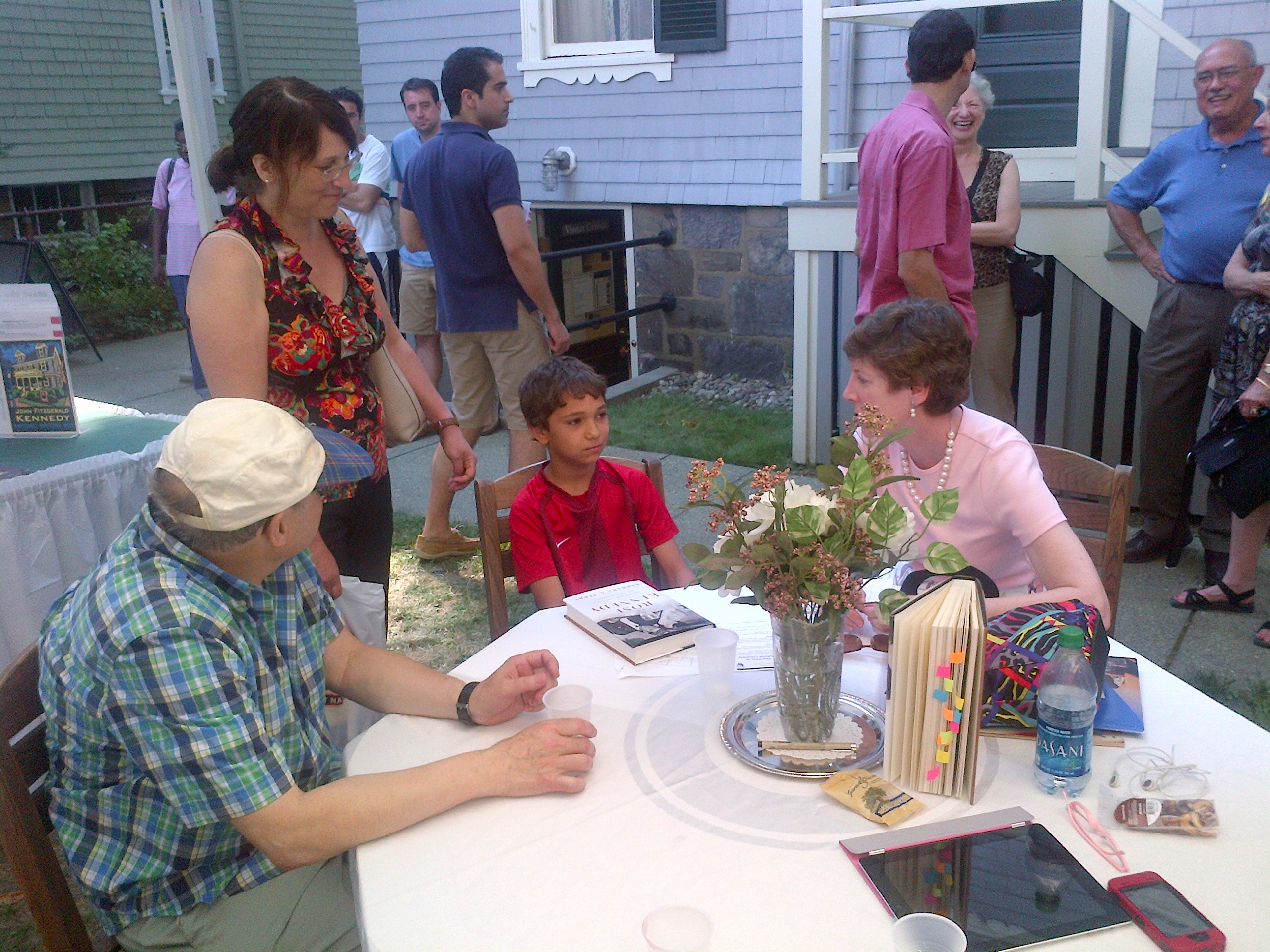 News Release Date:
July 24, 2013
Contact: Sara Patton, 617-566-7937
The John Fitzgerald Kennedy National Historic Site celebrated Rose Kennedy's birthday on Sunday by hosting Barbara Perry, author Rose Kennedy: The Life and Times of a Political Matriarch. This new biography takes advantage of the recently opened Rose Kennedy papers to paint a fuller portrait of the woman who became the mother of three senators, an attorney general and a president. She felt that her greatest achievement was her work as a mother, and so preferred to be called Mrs. Joseph P. Kennedy.
Visitors enjoyed the chance to speak with Barbara Perry in the backyard and learn more about Mrs. Kennedy. Conversations ranged from personal memories of Mrs. Kennedy to reflections on the political legacy of her sons and daughters. An exhibit focused on Mrs. Kennedy's contributions to her son's campaigns, particularly the 1952 Campaign Teas which sought to engage female voters. In addition to tea, women heard Mrs. Kennedy talk about her son and then the candidate, John F. Kennedy would say a few words. Kennedy won the election, and his opponent, Henry Cabot Lodge Jr., said that Kennedy "floated into the Senate on ocean of tea."
Mrs. Kennedy was also instrumental in the creation of the John Fitzgerald Kennedy National Historic Site. Her vision was to show visitors how her family's first home looked at the moment of John F. Kennedy's birth in 1917 and how people lived at that time. Drawing almost exclusively from her own memories, she personally placed the items on display today to create a portrait of her family's early years both as she remembered them and as she wanted them to be perceived. Mrs. Kennedy always called this home her "gift to the American people," and the National Park Service continues to care for the home so that her gift will continue to educate future generations. Ms. Perry's new book, in turn, will help us better understand Mrs. Kennedy and her significant role in creating this historic site.
Missed the event but still curious about Mrs. Kennedy? Check out the photos below and come visit! Click here for detailed information to plan your visit.