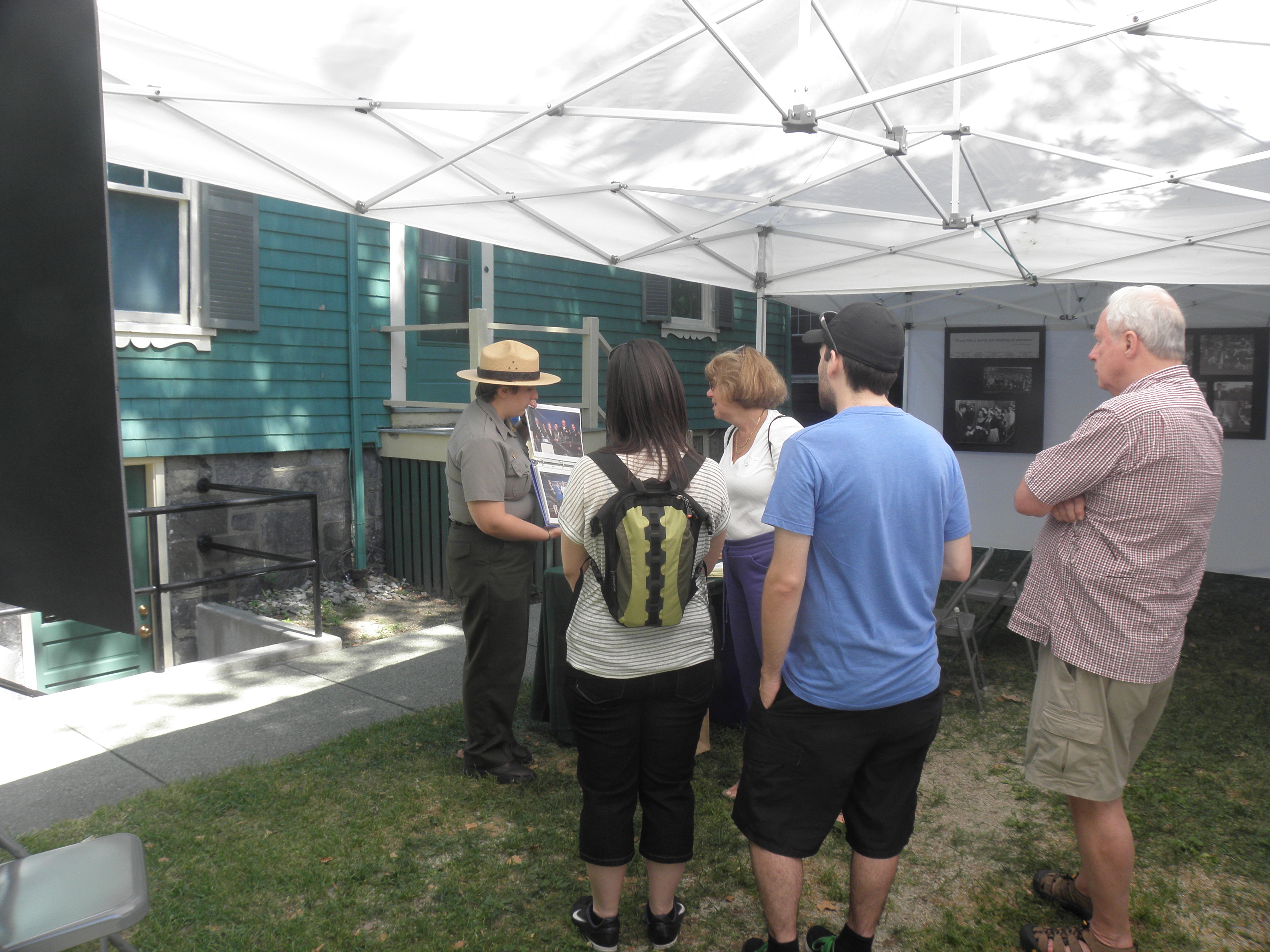 News Release Date:
July 29, 2012 Last Sunday, rangers and visitors celebrated what would have been Mrs. Joseph P. Kennedy's 122
nd
birthday.Mrs. Kennedy, who died just short of her 105
th
birthday, lived a remarkable life.Beyond living through two World Wars, the Great Depression and the advent of many new technologies, she was also the wife of the ambassador to Great Britain and raised a family that would dominate politics for decades. She is perhaps best known as the matriarch of the Kennedy family, but Mrs. Kennedy was also a tireless advocate for individuals with intellectual disabilities and an energetic figure on the campaign trail for her sons.This year, rangers sought to engage visitors in Mrs. Kennedy's political life.
A new backyard exhibit examined Mrs. Kennedy's role in two diverse, but also political events.The first event was the Jack Kennedy's 1952 campaign for Senate.In this race, the women's vote likely decided the contest, and Mrs. Kennedy proved a natural campaigner.Sharing with assembled women her own experiences abroad as the ambassador's wife but also her experiences raising children, she appeared both exciting and at the same time relatable.To learn more about the 1952 Campaign, click here.The second event was Mrs. Kennedy's work to establish the birthplace of her son as a National Park, today the John F. Kennedy National Historic Site.Created to memorialize her John F. Kennedy, the house opened during a period of deep social turmoil and reflected both political and social desires of 1969.Rangers shared new information gained form recent studies on Mrs. Kennedy and the house itself.
Rangers also offered a number of special talks about Mrs. Kennedy's political career. Topics included Mrs. Kennedy's campaign speeches, her work at 83 Beals Street and how her efforts to commemorate her son compliment the efforts of two other Kennedy women-Caroline and Jackie.The event also began a discussion about a current debate within the National Park Service based on new studies of the structure: which time period should be reflected in the paint color of the John F. Kennedy National Historic Site.
This event marks the middle of our summer season, but more exciting events are still to come!Join us August 25th as we celebrate youth in the Parks on Founder's Day, Trick or Treat with us on October 31 and in quiet remembrance and reflection on the anniversary of John F. Kennedy assassination in November.Check our website often for updates and we look forward to welcoming you soon!