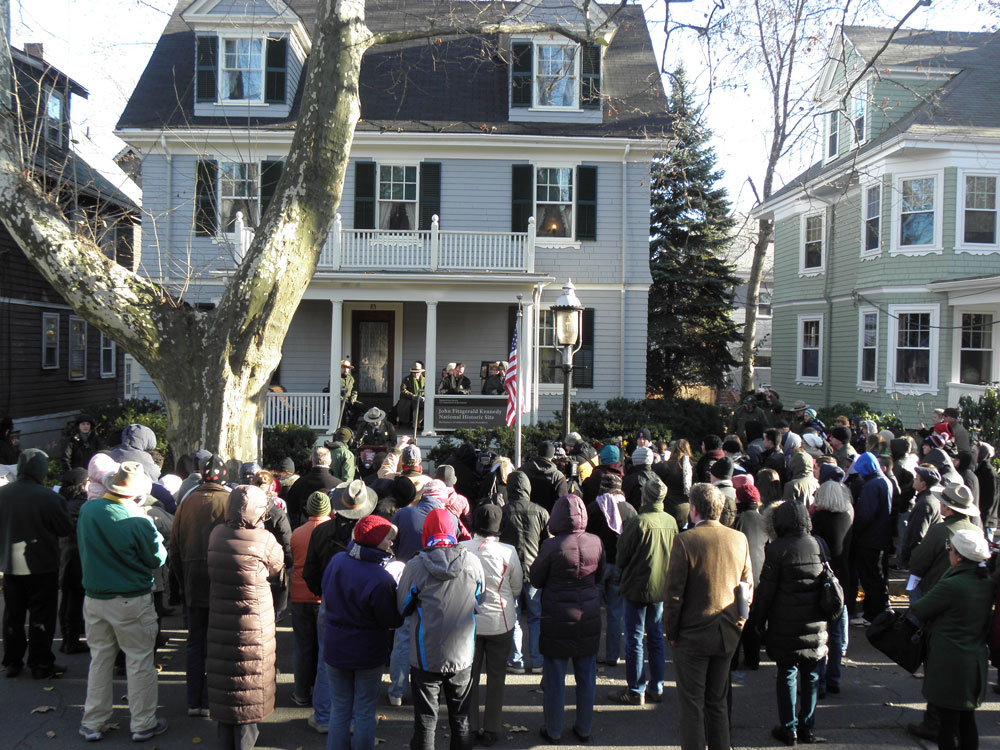 News Release Date:
November 24, 2013
Contact: Jim Roberts, 617-566-7937
Over 1000 visitors joined Park Rangers and volunteers at the John Fitzgerald Kennedy National Historic Site to commemorate the 50th Anniversary of the National Day of Mourning last weekend. Events included a new ranger program using the principles of facilitated dialog to ask questions about loss and belonging, a special exhibit and a memorial ceremony.

The John F. Kennedy NHS has served a memorial focal point for the town of Brookline. Three days after the assassination, locals gathered together at the slain president's birthplace at 83 Beals Street. Some of the crowd came from a memorial service at nearby Temple Kehillath Israel; others had heard about the event planned in part by Brookline High School students. The assembled heard words from local religious leaders, laid a wreath at the home, sang America and witnessed a 21 gun salute to the president. From that moment forward, the home took on special significance as a place to mourn the Kennedy family and remains so today.

The Kennedy's first home became part of the National Park Service in 1967, following significant work by the President's mother, Mrs. Joseph P. Kennedy to return the home to its memory of its 1917 appearance, the year of the president's birth. While Mrs. Kennedy stated her intention was to share her family's early years and show how people lived in 1917, the memorial aspect has always been important. This year's event seemed like an ideal time to reflect further on memorial aspects of the home with new programming which encouraged visitors to ask questions about their own experiences with loss and remembrance. The program used the principles of facilitated dialog, and received very positive feedback.

Visitors toured the home on Friday through Sunday, and after exploring the home where Kennedy spent his first years, they had the opportunity to learn more about how the country reacted to his death. Since 1999, the site has been collecting visitor's memories about Kennedy's assassination. A small sampling of these stories were on display, along with books for visitors to add their stories to the collection.

At 2 pm on a frigid Sunday afternoon, over 100 visitors gathered together just as they did in 1963 to remember President Kennedy. Park Rangers read proclamations from Lyndon Johnson and the Brookline Board of Selectmen declaring November 25, 1963 a National Day of Mourning. A highlight was a letter from Representative Joe Kennedy III, grandson of Robert Kennedy and US Representative for this area. The program also included words from Father Clary of St. Mary's of the Assumption Church and Rabbi Hamilton of Temple Kehillath Israel. And as in 1963, the event concluded with a singing of America by Lena Schorge, a student at Edward Devotion School, the same one John F. Kennedy attended in Brookline.

The event brought together community members just as it did in 1963, and we were pleased to offer a place for reflection on John F. Kennedy's life 50 years later. To see more photographs from this event, click here. To see a program from the event, please click here.