John Fitzgerald Kennedy National Historic Site to Recognize 50th Anniversary of 1963 National Day of Mourning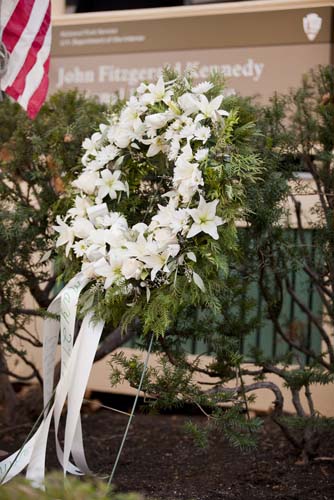 News Release Date:
November 7, 2013
Contact: Jim Roberts, 617-566-7937
Brookline, Mass. – John Fitzgerald Kennedy National Historic Site (NHS) will open to the public on Saturday, November 23 and Sunday, November 24, 2013 in recognition of President John F. Kennedy and the 50th anniversary of the 1963 National Day of Mourning following his assassination in Dallas, TX.The site will open both days from 9:30 AM until 4:00 PM, with free admission for all. Ranger-guided house tours will be offered on Saturday and self-guided tours will be available throughout the day on Sunday. At 2:00 PM on Sunday, November 24, the site will hold a brief memorial ceremony with a wreath-laying, a reading of President Johnson's 1963 National Day of Mourning Proclamation, reflections by local religious leaders, and a rendition of America the Beautiful performed by students from Brookline's Edward Devotion School.The ceremony will be held in front of the birthplace on Beals Street. For further information, please call 617-566-7937 or visit www.nps.gov/jofi.
In 1963, the town of Brookline paid "Final Tribute To Its Most Eminent Son" with a large memorial service in front of the president's birthplace at 83 Beals Street in Brookline, Massachusetts. Town officials, church leaders, Brookline High School students, and citizens gathered at 83 Beals Street to pay their respects. The house, a private residence at that time, was repurchased by the Kennedy family in 1966 and gifted to the National Park Service in 1969.
John Fitzgerald Kennedy NHS preserves the birthplace and early boyhood home of the 35th President of the United States. The modest house was the first home shared by the president's parents, Joseph P. and Rose Fitzgerald Kennedy. John F. Kennedy, the second of nine children, spent his formative years in Brookline as his family began its rise to national prominence.In 1967, Mrs. Kennedy returned to 83 Beals Street to commemorate her son's life, recreating his birthplace to her recollection of its 1917 appearance.
Today, National Park Rangers provide tours of the nine-room house where Kennedy family furnishings, photographs, and mementos personally collected and arranged by the president's mother are on exhibit. In addition to ranger-guided tours, John Fitzgerald Kennedy NHS invites visitors to step back in time and share Mrs. Kennedy's memories of her family's early home via cell phone; normal usage rates apply. To access the tour, dial 617-992-9172. The tour can also be accessed via the web at http://myoncell.mobi/16179929172.
John Fitzgerald Kennedy NHS is located just outside Coolidge Corner at 83 Beals Street in Brookline, Massachusetts. For detailed directions, please click here. Except for the special November 23 & 24 opening to commemorate the National Day of Mourning in 1963, the site is closed for the winter and reopens to the public in May 2014. Rangers offer guided tours of the house and JFK's boyhood neighborhood. Children ages 5­­­ –12 are encouraged to participate in the park's Junior Ranger program. Printed materials are available in Japanese, French, German, Hebrew, Italian, Spanish, Polish, and Chinese. The site is a 10 –15 minute walk from the Coolidge Corner T-Stop (Green Line, C-Cleveland Circle) and free, 2-hour, on-street parking is available on Beals Street. For more information please call (617) 566-7937, or visit www.nps.gov/jofi.
Last updated: February 26, 2015