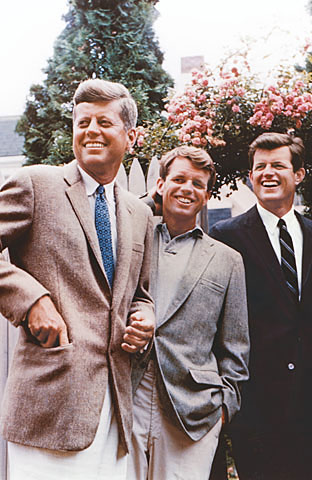 News Release Date:
May 2, 2012
On May 29, North Hill will present a program entitled, "The Kennedy Brothers Speak" in honor of John Fitzgerald Kennedy's 95th birthday at the Coolidge Corner Theatre in Brookline. At the heart of the program are three pivotal Kennedy speeches: John F. Kennedy's speech at American University, Robert Kennedy's speech following the assassination of Martin Luther King Jr. and Ted Kennedy's speech at the Democratic National Convention in 1980. Each of these speeches came at important moments-and left words that still ring true today. John F. Kennedy's speech at American University, June 10, 1963, defining his vision of peace:
What kind of peace do I mean? What kind of peace do we seek? Not a pax Americana enforced on the world by American weapons of war. Not Merely peace for Americans but peace for all men and women--not merely peace in our time but peace for all time.
Robert Kennedy's speech, breaking the terrible news of King's assassination, sought to avoid answering violence with violence:
What we need in the United States is not division; what we need in the United States is not hatred; what we need in the United States is not violence and lawlessness, but is love, and wisdom, and compassion toward one another, and a feeling of justice toward those who still suffer within our country, whether they be white or whether they be black.
Finally Ted Kennedy's speech reminded Americans that struggle for equality will always be present, but together, it can be overcome: 
Yet I have also sensed a yearning for a new hope among the people in every state where I have been. Tonight, in their name, I have come here to speak for them. And for their sake, I ask you to stand with them. On their behalf I ask you to restate and reaffirm the timeless truth of our Party. For all those whose cares have been our concern, the work goes on, the cause endures, the hope still lives, and the dream shall never die.
Following the program at the Coolidge Corner Theater, John F. Kennedy National Historic Site will be open from 1:00 PM to 5:00PM. For more information or to register for this free program, please visit the North Hill website by clicking here.