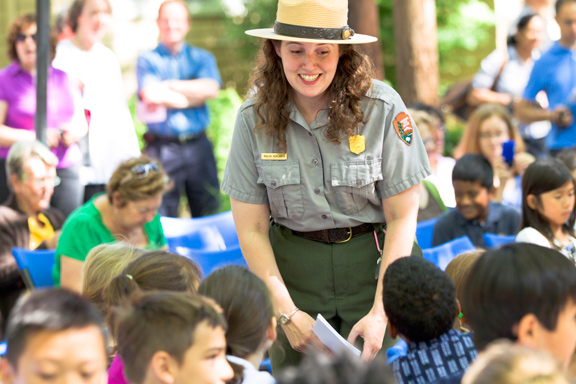 News Release Date:
April 2, 2012
Calling all future Presidents!Come learn about the childhood of John F. Kennedy, the 35th President of the United States during National Junior Ranger Day, April 28, 2012.National Junior Ranger Day is a celebration that takes place in National Parks across the country with kids just like you.With a Park Ranger, you'll explore the birthplace of John F. Kennedy and learn about some things that helped him grow up to be President.If you successfully complete your exploration, you'll become an official Junior Ranger.Here's what you need to do:
1. Stop at the site between 9:30am and 5:00pm, on April 28 and ask to become a Junior Ranger.

2. Take a tour of the presidential birthplace with a Park Ranger to find the answers to questions and puzzles in your booklet.

3. Review your completed booklet and share your discoveries with a Park Ranger.

4. Take the Junior Ranger Pledge!
Every successful Junior Ranger will earn a badge and other goodies.This program is FREE, FUN and open to EVERYONE!