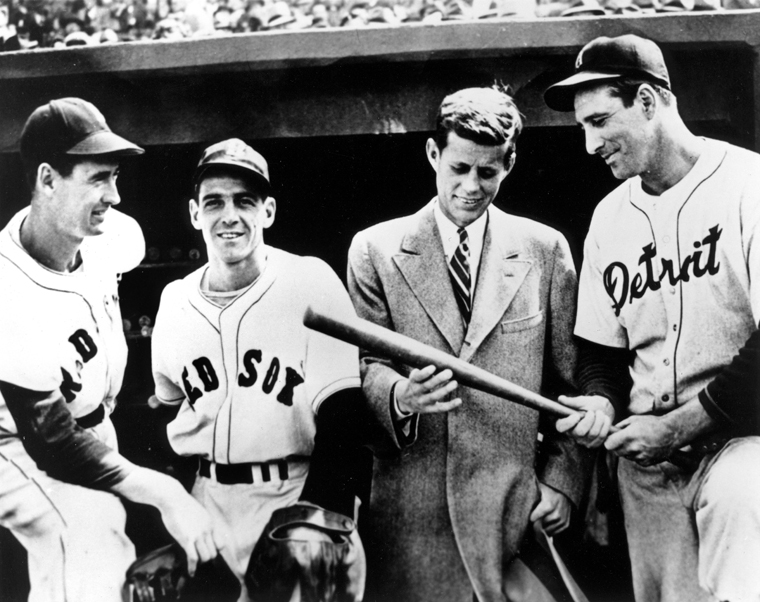 News Release Date:
August 13, 2014
Contact: Jim Roberts, 617-566-7937
Brookline, MA —On Saturday, August 16, 2014, John Fitzgerald Kennedy National Historic Site (NHS) hosts a field day from 11:00 a.m. to 3:00 p.m. for teenagers ages 13-16 behind the Edward Devotion School at 345 Harvard Street. Held at John F. Kennedy's first school, attendees will enjoy sports and other activities while learning about John F. Kennedy's boyhood in Brookline.The rain date for the event is Saturday, August 23, 2014. Admission to the field day and John Fitzgerald Kennedy National Historic Site are free.
Field day activities introduce local teens to some of the factors that influenced John F. Kennedy's years in Brookline, including health, sports, the arts, and history.Participants will be encouraged to consider the enduring legacy of John F. Kennedy, and reflect on the role each of us plays in shaping the communities and world in which we live.
Activities are ongoing throughout the day, and participants are invited to come for some or all of the day. From 11:00 a.m. to 3:00 p.m., activities will include journal making, exhibits and trivia competitions associated with John F. Kennedy and the Kennedy family.As a tribute to the Kennedy family interest in health and athleticism, a kickball game will take place from 11:30 a.m. to 12:15 p.m., and a soccer game will take place from 1:30 p.m. to 2:15 p.m.Light snacks and refreshments will be available, and park rangers will be on hand to guide all field experiences. The birthplace of President Kennedy, at 83 Beals Street, is approximately one block away from the site of the Devotion School and will be open for normal tours and programming throughout the course of the day.
John Fitzgerald Kennedy NHS preserves the birthplace (1917) and boyhood home of the 35th President of the United States. The modest house was the first home shared by the president's father and mother, Joseph Patrick and Rose Fitzgerald Kennedy. John, the second of their nine children, spent his formative years in Brookline as his family began its rise to national prominence. In 1966, Rose Kennedy returned to 83 Beals Street to commemorate President Kennedy's life, restoring the birthplace to her recollection of its 1917 appearance.
John Fitzgerald Kennedy NHS is open Wednesday through Sunday from 9:30 a.m. to 5:00 p.m. through October 31, 2014. Admission is free. Guided tours of the house are offered every half-hour starting at 10:00 a.m. The last ranger-led tour is at 3:30 p.m. From 12:00-1:00 &4:00 to 5:00 p.m. visitors may follow a self-guided tour of the home recorded by Rose Kennedy in 1969. For information to plan your visit,
click here.