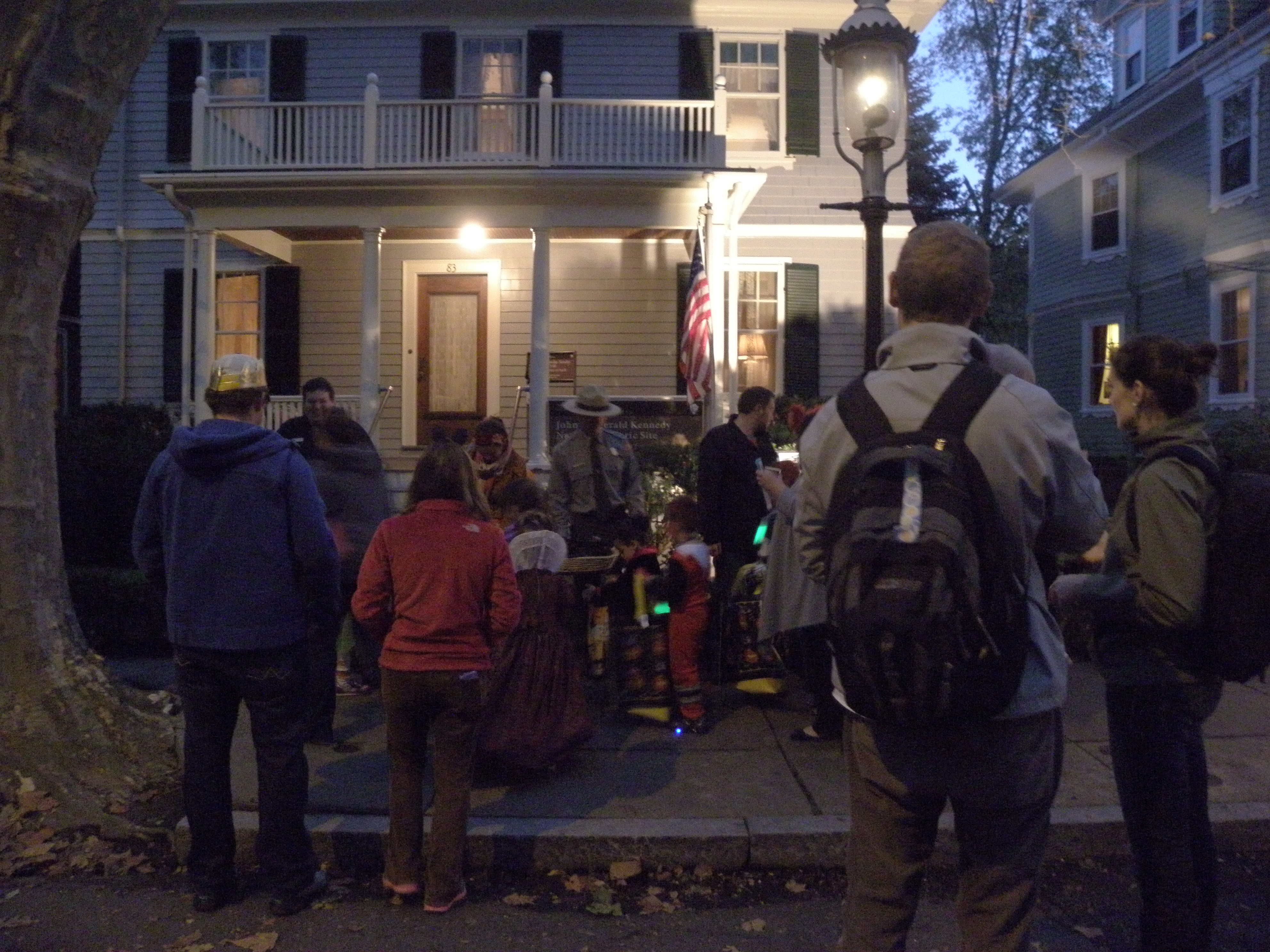 News Release Date:
November 1, 2012
Contact: Sara Patton, 617-566-7937
The John Fitzgerald Kennedy National Historic Site concluded its 2012 visitor season with a fun-filled Halloween event. While many parks suffered significant damage from Hurricane Sandy, we were lucky to miss the brunt of the storm, and the site was enthusiastic to welcome trick or treaters Halloween night. Over 4000 visitors joined in the events that evening. Popular costumes included fairies, princesses, skeletons, soccer players, astronauts and a model of an atom. A particularly creative visitor dressed as a DJ complete with turntables; another family dressed as characters from the game Clue. For more pictures, click here.
Trick or treaters received a packet of Halloween goodies celebrating the 50th anniversary of the Space Program. Inside each packet, trick or treaters learned more about the challenges travel to the moon presented and how they were overcome. The packet also included stickers of some places we have-and others we have not-explored in outer space along with a chocolate earth. Exploration in space offered people all around the world a chance to see the planet as never before and became a centerpiece of the Kennedy ideals for a new decade. A display inside the visitor center highlighted some of the important moments in the race to the moon.
Another display showcased photographs of several generations of Kennedy children dressed up for Halloween. A particularly popular photograph showed a young John F. Kennedy dressed as a police officer outside of the Kennedy's second Brookline residence. Another costume also attracted some attention. In time for election day, visitors met a costumed ranger playing the part of a worker from John F. Kennedy's pivotal campaign for United States Senate in 1952. In defeating incumbent Henry Cabot Lodge, Kennedy showed that he had what it took compete successfully in Massachusetts politics. The campaign specifically targeted women, holding a series of Campaign Teas. These formal events gave women of all classes the opportunity to experience a high society event and meet the charming young candidate and his famous mother. The appeal of the candidate inspired many women to get involved in political campaigns for the first time. They went on to volunteer for the campaign, working in offices and holding events in their own homes. Women even used fashion to support Kennedy. Taking the popular poodle skirt, Kennedy supporters replaced the poodle with donkeys and other symbols of the Democratic Party. Attired in this campaign fashion, the ranger shared a 1952 perspective of the Kennedy family, Mrs. Kennedy and the family's future in politics. Click here to read more about Campagin Teas.
This event concluded the 2012 visitor season. John Fitzgerald Kennedy National Historic Site welcomed over 20,000 visitors this year from all 50 states and 62 countries. The house will be closed November 1 through early May 2013. During this time, researchers, groups and other interested parties are encouraged to contact the site at 617-566-7937 to set up an appointment to view the site.