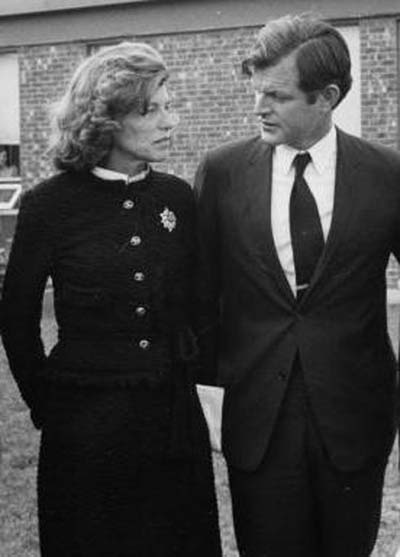 News Release Date:
August 3, 2013
Contact: Sara Patton, 617-566-7937
John Fitzgerald Kennedy National Historic Site invites visitors to consider the ideals of public service through programming that explores the lives of two of Rose and Joseph P. Kennedy's nine children: Eunice Kennedy Shriver and Senator Edward (Ted) Kennedy on August 25, 2013. The Senator and his sister made significant contributions to American public life and to the lives of individuals, and the roots of their public service ideals can be traced, in part, to the family's early years in Brookline (1914-1927). Eunice Kennedy Shriver began her life in Brookline and went on to create the Special Olympics, offering new opportunities to many Americans who had previously been overlooked. Senator Kennedy, widely recognized for his leadership in establishing federal programs to encourage public service (e.g., National and Community Service Act of 1990; Americorps, 1993; Edward M. Kennedy Serve America Act, 2009), wasn't born in Brookline, but felt strong ties to the family home, and as an adult, took time each year to personally encourage Brookline youth to consider the contributions they might make to the world around them.
It seems fitting to pay tribute to these individuals and to the ideals of public service on a day when the National Park Service celebrates its founding (August 25, 1916) and reaffirms its own mission of service. We invite the public, especially families and children, to join us in activities and programs that explore the meaning of public service, the value of remembrance, and the important role each of us plays in shaping public life.
During this event, several special programs will be offered. At 10:00am and 2:15pm, rangers will lead walks to the family's second home in Brookline where Eunice Kennedy was born. These walks will explore how early childhood influences, including parental expectations, shaped all of the children. Throughout the day, special talks on Eunice Kennedy Shriver and Senator Edward Kennedy will take place. Visitors are also invited to take part in several interactive activities. One activity will examine how our daily lives become a part of history; another will invite visitors to describe what the Kennedy family's life of service means to them. A special activity will allow young visitors to draw a picture or write a poem that conveys what they would like others to know and remember about their family. Final pieces will be displayed at the park.
In addition to these special offerings, a regular schedule of house tours will be available. Ranger led tours leave every half hour between 9:30-11:30am and 1:00-3:30pm. Self guided tours are available from 12:00-1:00pm and 4:00-5:00pm. All programs are free.
Located at 83 Beals Street in Brookline, Massachusetts, the site is open to visitors for the summer season Wednesday through Sunday from 9:30 am to 5:00 pm. Please click here for detailed information to plan your visit.