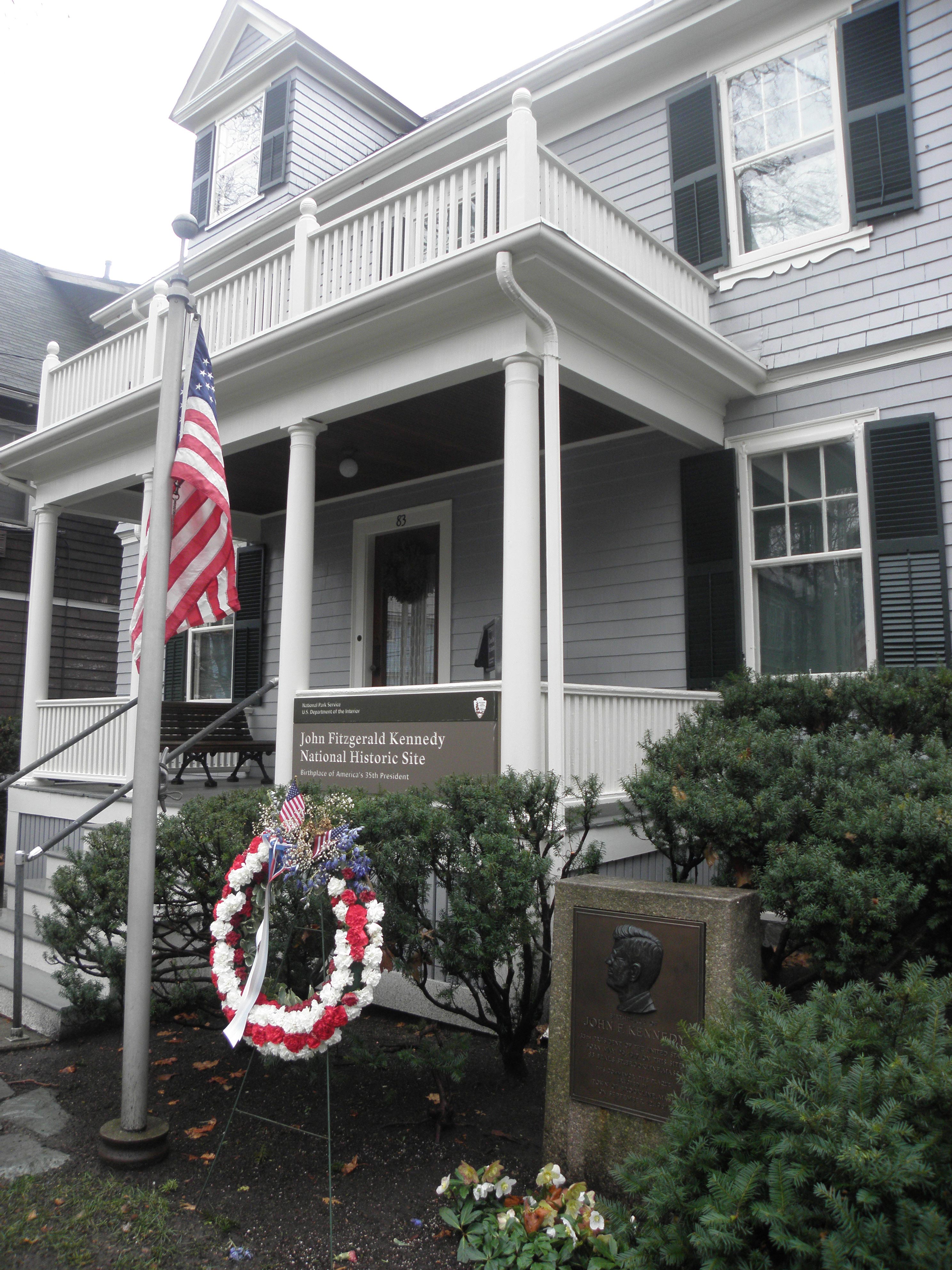 News Release Date:
November 27, 2012
Contact: Jim Roberts, 617-566-7937
John Fitzgerald Kennedy National Historic Site commemorated the 49th anniversary of the National Day of Mourning on November 25th. President Johnson declared November 25, 1963 as a day of mourning for the assassinated president. His proclamation stated: "I earnestly recommend the people to assemble on that day...and to pay their homage of love and reverence to the memory of a great and good man. I invite the people of the world who share our grief to join us in this day of mourning and rededication."
On that day in 1963, the town of Brookline paid what newspapers would describe as "final tribute to its most eminent son," with a large memorial in front of his birthplace at 83 Beals Street. Town officials, church leaders, Brookline High School students, and citizens gathered here to pay their respects, join in prayer, sing "America," and witness a salute from the firing squad of the Allied Veterans Council. 49 years later, the National Park Service continues this ceremony by placing a wreath outside the home. Over 70 visitors joined rangers, volunteers and Father Clary from Saint Mary's of the Assumption Church to reflect on John F. Kennedy's life and legacy. Before and after the ceremony, the house was open to the public. Over 650 people joined rangers for a glimpse into the home where the future president took his first steps. Those steps would eventually lead him to the White House, and following his death in 1963, his mother returned to the home and restored it to her memories of its appearance at the moment of the president's birth in 1917. In 1967, 83 Beals Street became a unit of the National Park Service and offers visitors the chance to reflect not only on John F. Kennedy's childhood but also their own experiences growing up and the people and values that shape all of us, no matter where our first steps lead us.
The site is now closed for the winter; however appointments for researchers and groups are available. Please contact the site at 617-566-7937 for more information. We will reopen to the public in May.