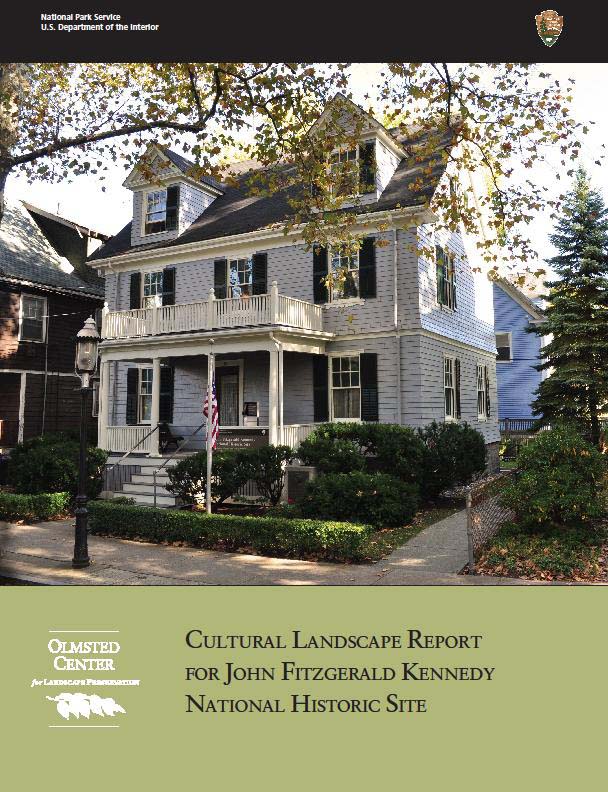 News Release Date:
February 21, 2013
Contact: Jim Roberts, 617-599-7937
Brookline, Mass. - Co-authors Timothy Layton and Margie Coffin Brown, landscape architects with the National Park Service Olmsted Center for Landscape Preservation, will present an overview of their recently published Cultural Landscape Report for John Fitzgerald Kennedy National Historic Site. The public is encouraged to attend the presentation on Thursday evening, March 21 from 6:30 to 8:30 P.M., at the Coolidge Corner Branch Library of The Public Library of Brookline, 31 Pleasant St., Brookline, MA. Event is free and open to all.
Prior to the event, the John F. Kennedy National Historic Site will be open from 1-4pm for guided tours of the President's birthplace. No reservations are required.
The Cultural Landscape Report, published in 2012, chronicles the past century of development in the Coolidge Corner neighborhood and documents the physical evolution of the President's birthplace at 83 Beals St. and the surrounding neighborhood. The report focuses on the appearance of the property and neighborhood at the time of John F. Kennedy's birth in 1917 and the memorial period in the 1960s, when the Kennedy family refurbished the house before donating it to the National Park Service. Click here to download a copy of the report.
The authors will share historic photographs and maps of the Coolidge Corner neighborhood and provide an overview of the historical significance and treatment recommendations for the Kennedy birthplace. For further information, please call 617-566-7937 or visit www.nps.gov/jofi.