Birthday Weekend 2013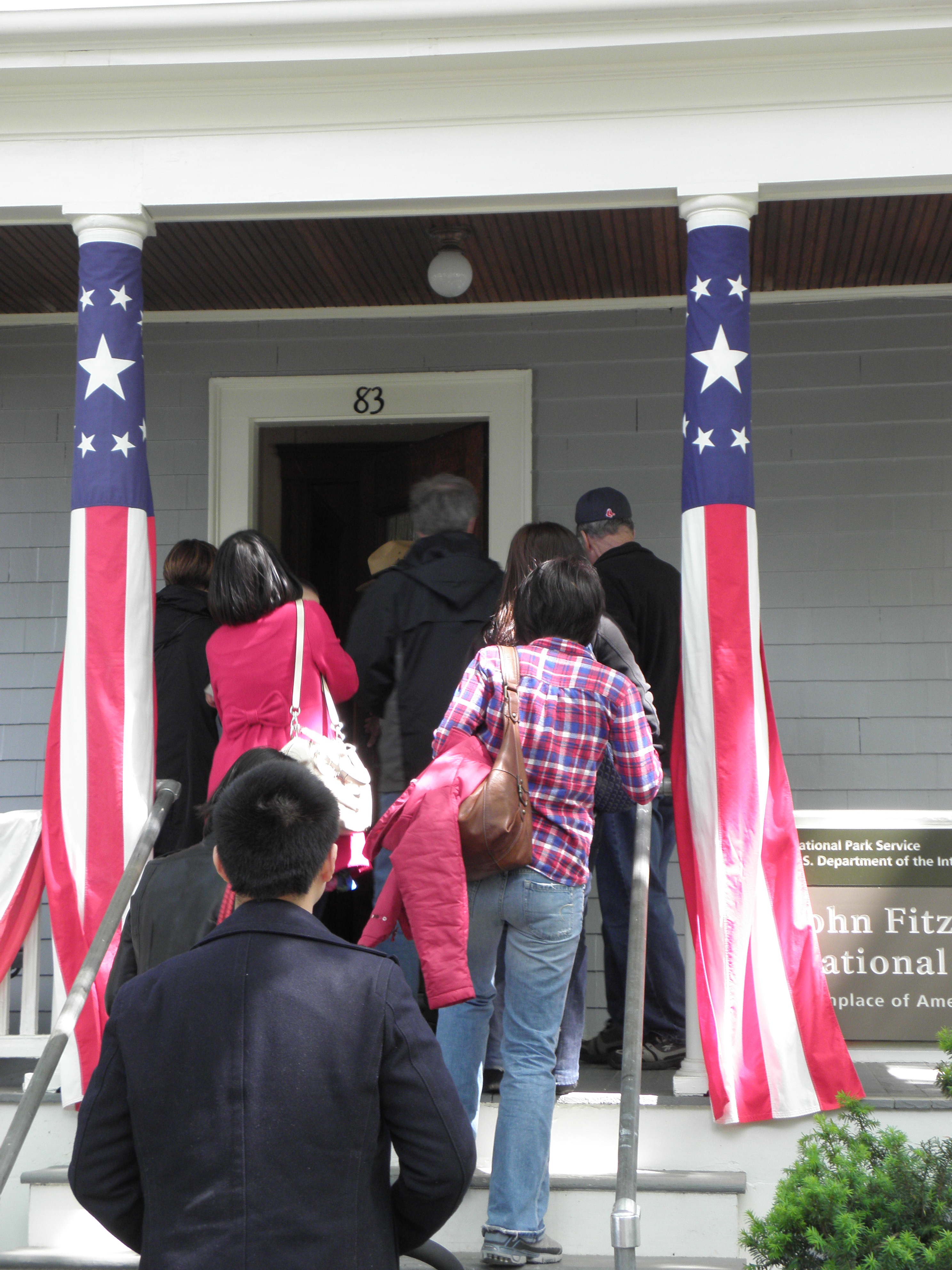 News Release Date:
June 6, 2013
Contact:
Sara Patton
, 617-566-7937
John Fitzgerald Kennedy National Historic Site opened for the 2013 summer season on Wednesday, May 22. Despite rain and cold, over 600 visitors joined with park staff during the site's opening weekend of celebration on May 25 and 26.

We're 46!
May 26 marked the site's 46th anniversary of becoming part of the National Park System. Donated to the National Park Service in 1967 by the Kennedy family, the home at 83 Beals Street was designated by congress as a National Historic Site the same year. While the site was designated in 1967, Mrs. Kennedy, the president's mother, would spend two more years personally restoring the home to her memories of its appearance in 1917. When President Kennedy's birthplace opened to the public in 1969, the home joined a growing number of historic sites, reflecting the increasing recognition that historic sites have shaped our nation and remain important places for Americans and others to learn about history and heritage. Today, the National Park Service continues to grow in order to recognize the incredible diversity of special places in America. Currently, there are over 400 National Park Units that strive to tell the stories of all Americans. Check out the photos below from the celebration!
Happy Birthday Jack!
The weekend also marked an early celebration of John F. Kennedy's birth at 83 Beals Street in 1917. Visitors toured the home and learned about his childhood, including the big expectations for all the children in the family. Piano music in the home evoked Mrs. Kennedy's fondness for playing the piano and her belief that music should be a strong force in her children's lives. Visitors were invited to join rangers in the backyard for birthday treats and a chance to share their birthday wishes for John F. Kennedy. Check out the photo gallery below for a small sampling of wishes from all over the world!
What John F. Kennedy Means to Me
Our opening week concluded with a very special event on May 29, John F. Kennedy's birthday. Each year, park rangers work extensively with third graders from the Edward Devotion School—one of Brookline's public elementary schools—to help them learn about not only John F. Kennedy, but also Jack, the little boy living in Brookline who would grow up to be president. Jack is particularly significant character for these students not only because he is their age, but also because he attended their school. Following a month of study, students write their first essay describing what John F. Kennedy means to them. Then, the class comes together to write a poem about JFK as well as selecting a winning essay. On Wednesday, park rangers and local dignitaries shared these poems and announced the winning essays. The program concluded with the third graders singing "Forever Young" and "Happy Birthday."

Join the Conversation
During our week of celebration, we enjoyed digital conversations with those unable to come to the site in person on our facebook page. Check out these comments (or leave your own) along with photos, updates and stories from the John Fitzgerald Kennedy National Historic Site at www.facebook.com/jfkennedynhs. You do not need an account to view the page.
Missed this event but still want to come visit the site? The site is open Wednesday-Sunday, 9:30am-5pm. Click here for more information to plan your visit.