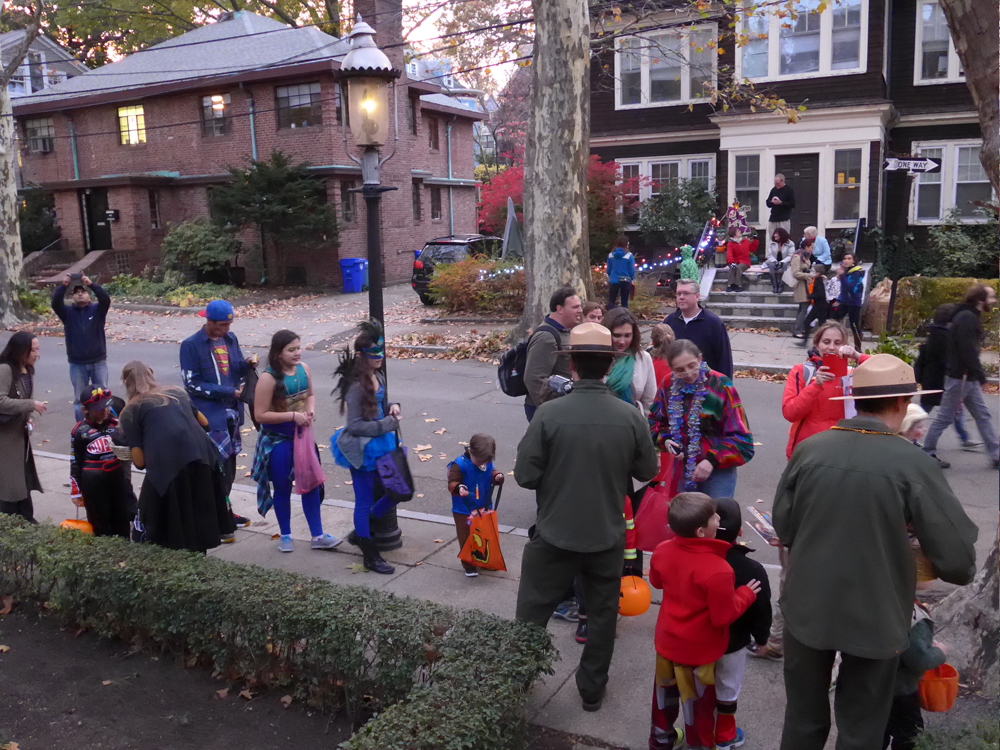 News Release Date:
November 4, 2014
Contact: Sara Patton, 617-566-7937
John Fitzgerald Kennedy National Historic Site closed the 2014 visitor season by celebrating Halloween on Beals Street. The cool, clear Friday evening was perfect for Trick or Treating. Under the skeletal watch of nearly-bare trees towering over the site, staff greeted over 4,000 trick-or-treaters and parents. All trick-or-treaters were given a Kennedy treat commemorating the 50th anniversary of the minting of the Kennedy Half Dollar. In addition to a chocolate version of the half dollar, packets contained more information about the coin and a template to make a coin commemorating a person of importance to that individual. Trick-or-treaters also learned more about the JFK Half Dollar and how the Kennedy family celebrated Halloween at an outdoor display. At the end of the night, staff had seen costumes ranging from World Cup soccer players, to the Cat in the Hat, to demons, and had given away over 1,600 pieces of candy in less than three hours. Click here to check out more fun from Halloween night!
The Halloween activities were a successful conclusion to a great season. The site saw an increase in visitation this year, including visitors from over 50 countries and 48 US states.Winter hours began November 1, and will continue through late May 2015. During the winter months, the site is open by appointment only, Monday through Friday. Appointments are available based on staff availably, and we recommend you make an appointment by calling the site at 617-566-7937 or emailing us at least two weeks in advance. The site will open Saturday, November 22 and Sunday, November 23, to reflect on the life and legacy of John F. Kennedy. More information about this event will be released soon;please check these pages for details in the coming weeks.