For Teachers

On these pages, we hope teachers and students will find resources to help them learn more about John F. Kennedy, learn about our current education partnerships, or plan a visit to site. Click the links below to learn more about Professional Development Opportunities, Local School Partnerships, Field Trips and Classroom Resources for both teachers and students.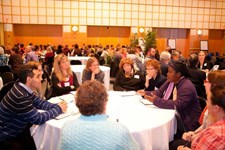 Professional Development
We are pleased to announce our annual one-day conference for teachers and librarians in partnership with the John F. Kennedy Presidential Library and Museum on March 29, 2017. This year's conference, Close to Home: Autobiographies, Memoirs and Family Stories for Young Readers & Writers explores biography and history through stories. For teacher resource materials from previous conferences, please visit our past conferences page.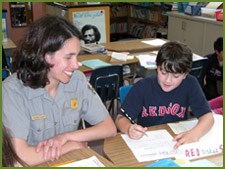 Local School Partnerships
For more than 30 years, we have partnered with the Edward Devotion School, the same school John F. Kennedy attended as a child. Called "What JFK Means to Me," this partnership program immerses third graders in JFK's life, and encourages them to realize their own potential as leaders and citizens. During a public ceremony, students share their impressions of the President through essays and poetry. Click here to read student work and view photographs of the program.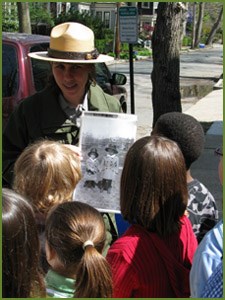 Field Trips
Interested in bringing your class to the John F. Kennedy National Historic Site? We offer programs for grades 2-5, and are happy to work with you to design experiences for other groups of learners. Please click here to read more.



Resources for Students and Teachers
Working on a project about John F. Kennedy or looking for ways to bring John F. Kennedy into your classroom? Click here to access resources designed specifically for teachers and students.
Last updated: December 13, 2016