Close to Home: Autobiographies, Memoirs and Family Stories for Young Readers and Writers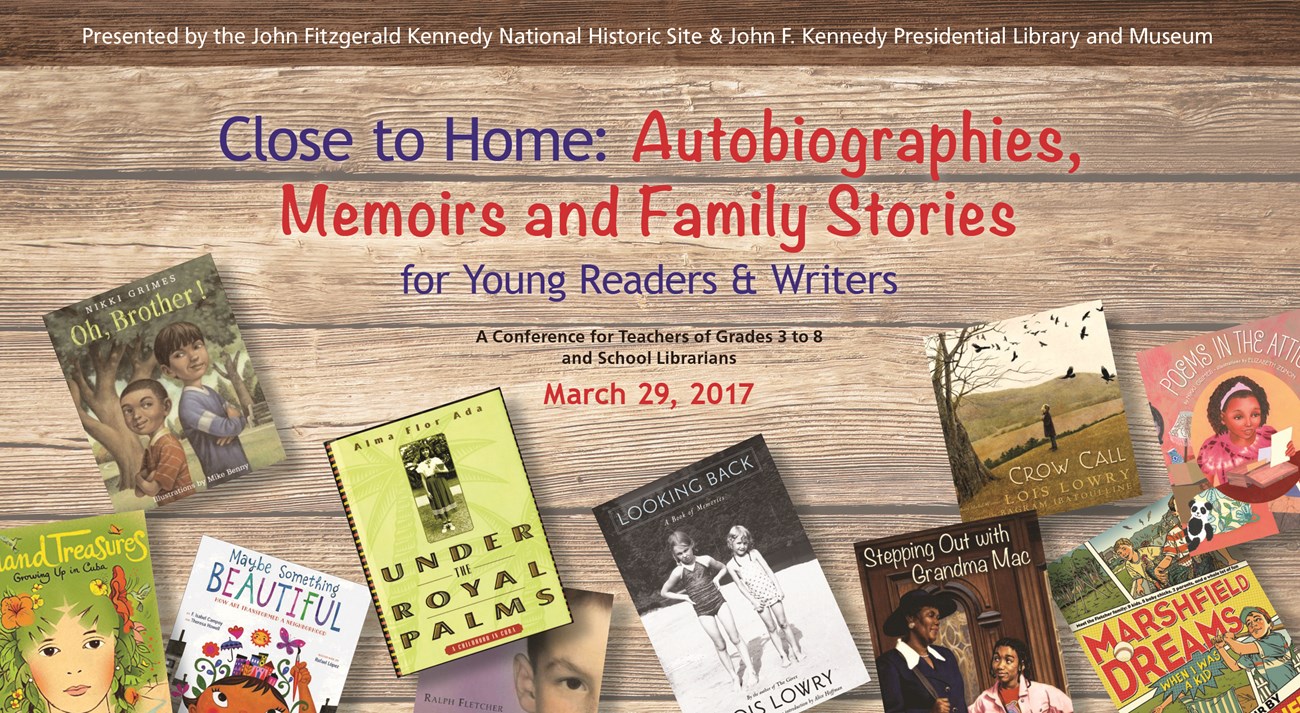 Discovering history and our place in it
begins at home, or close to home, through stories shared within families and among a widening circle of friends, neighbors, teachers and classmates. Gradually, we form a picture of who we are and how we fit into the world around us. Reading can greatly enlarge our world, providing new stories and new models to draw upon as we grow, change and begin to make our own history.

This was certainly true for young John F. Kennedy who grew up in an environment rich with family and political lore, and who loved reading personal accounts of inspiring figures from the past. As we mark JFK's centennial this spring, join us at the Kennedy Library to explore ways that autobiography, memoirs and family stories can serve as stepping stones into history for today's young readers and writers.

Selected
speakers
include Alma Flor Ada, F. Isabel Campoy, Ralph Fletcher, Nikki Grimes, Lois Lowry, and Cindy Rivka Marshall.
T
o register, print and mail a copy of ou
r
registration brochure
to

Kathleen O'Leary
John Fitzgerald Kennedy National Historic Site
83 Beals St.
Brookline, MA 02446
Program
8:00 Registration, book browsing
8:30 Introduction
8:45 The Gift of Stories
In this performance, Cindy Rivka Marshall dives into memories with all of her senses, sharing family stories that resonate with universal themes
9:00 Writing from Life
How do authors transform their personal experiences into stories for young readers? What unique possibilities do various genres and forms of writing offer for examining important moments in our lives? What value do pictures add?
Alma Flor Ada, Nikki Grimes and Lois Lowry address these and other questions in a panel discussion moderated by Kennedy Library educator Sam Rubin.
10:15 Break for conversation with colleagues and book browsing in the Museum Store
10:45 When I Was a Kid: Turning Childhood Memories into Stories and Poems
As we age, our past experiences continue to live inside us, like rings in the trunk of a tree. In this presentation, Ralph Fletcher tells how he wrote Marshfield Dreams, the challenges he faced, and what he learned by writing a memoir. Ralph also shares how he used events from his childhood as seeds for poetry.
11:45 Lunch
12:45 Concurrent Sessions:
A. Writing a Self-Portrait of Identity - Workshop with F. Isabel Campoy
The experience of self-publishing a book can be transformative for teachers and students alike. Using effective models adapted from Authors in the Classroom, this interactive workshop guides participants in creating short stories and poems on themes such as "Who I Am", "Where I Come From" and "A Person in My Life"—with instructions on how to turn them into books.
B. Autobiography and Memoir in the Classroom - Workshop with Ralph Fletcher
It's natural for young writers to experiment with writing memoir. But this genre brings many challenges including how to find a focus, how to handle the element of time, and how to deal with painful memories that all of us have. We'll look at practical ways teachers can help students have success with this genre.
C. In the Moment: Capturing a Memory through Storytelling - Workshop with Cindy Rivka Marshall
The spoken word is a different art than writing—and sometimes a less daunting first step to memoir writing. Experience the role of listening in the process of an oral storytelling approach. Learn techniques to elicit a specific memory or anecdote and use the tools of story structure to craft a story of your own. Take away ideas you can adapt for your students.
2:00 Break
2:10 Meet the Authors:
Guest speakers discuss aspects of their work in greater depth and respond to questions from participants.
Alma Flor Ada and F. Isabel Campoy
Nikki Grimes
Lois Lowry
3:10 Conclusion, book signing
Last updated: March 25, 2019