Plains High School Visitor Center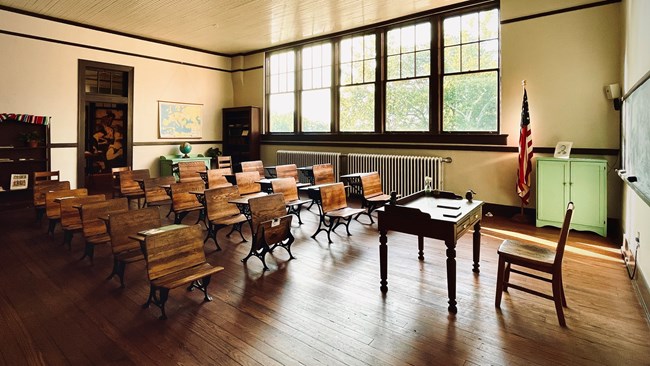 A Legacy of Education
Plains High School, a cornerstone of Plains, Georgia, was built in 1921 at the cost of $50,000, representing the educational aspirations of the community. For many years, this institution served as the primary center for education, offering grades one through eleven, with students graduating after the eleventh grade. Notably, Plains High School did not include a twelfth grade until 1952. This educational institution played a pivotal role in the lives of both Jimmy and Rosalynn Carter, who attended and graduated from the school. Jimmy Carter received his diploma in 1941, and Rosalynn Carter graduated valedictorian in 1944.
An Inspirational Figure
The legacy of Plains High School wouldn't be complete without mentioning Julia Coleman, an inspirational figure who played a pivotal role in the school's history. She served as a dedicated teacher, principal, and later superintendent of Plains High School, leaving an indelible mark on the institution and its students. Her dedication to education, along with the values she imparted, played a crucial role in shaping the educational experience of those who walked the halls of Plains High.
Preserving History
After serving as a school for many decades, Plains High School closed its doors in 1979. However, its legacy lives on as it has been transformed into a park museum and visitor center. Visitors to this historic site can step back in time and explore a restored and furnished classroom, the principal's office, and an auditorium. These spaces offer a glimpse into the past, providing an authentic sense of what education was like during the Carters' school years.
Memories of Plains High School

Former students, including Rosalynn and Jimmy Carter, share their memories of Plains High School

Credit / Author:

NPS

Date created:

10/14/2020
General Information
300 N Bond St, Plains, GA 31780
In Americus take US 280W/ W Forsyth St. until it becomes US-19 S/US-280 W/S Martin Luther King Blvd. Turn left and go .08 mile. Turn right onto US-280 W and travel 8.9 miles. Turn right onto North Bond Street/ Hwy 45 North. Plains High School Visitor Center and Museum will be on the right side of the road 500 feet from the intersection.  
More
directions
. 
Front Parking Lot: The parking lot in from of Plains High School Parking is for passenger cars and trucks. No large vehicles, no RVs, no buses, no motor coaches. No parking on the grass. No overnight parking. 

Rear Parking Lot: The parking lot is in the rear of Plains High School and has two free electric vehicle charging stations. Parking for school buses, motor coaches, and oversize vehicles. No overnight parking. No sewer dump station.

Accessible parking and wheelchair entry into Plains High School via the sidewalk and a ramp to the rear entrance; located next to the women's restroom.
Sunday
 9:00 AM–5:00 PM
Monday
 9:00 AM–5:00 PM
Tuesday
 9:00 AM–5:00 PM
Wednesday
 9:00 AM–5:00 PM
Thursday
 9:00 AM–5:00 PM
Friday
 9:00 AM–5:00 PM
Saturday
 9:00 AM–5:00 PM
Holiday closures and seasonal exceptions.
Free Wifi is available in the lobby of Plains High School.
Area Highlights
Exhibits cover various aspects of the lives of Jimmy and Rosalynn Carter, including their political and business careers, education, family life, and post-presidential endeavors.
One of the highlights of the Plains High School museum is a 25-minute video about the life and accomplishments of Jimmy Carter. This captivating narrative is told by those who know him best—his friends, neighbors, and family.
The park store is operated by Eastern National, an official non-profit partner of the National Park Service dedicated to supporting the educational mission of Jimmy Carter National Historical Park. The park store has a wide range of books, postcards, educational games, and other items available for retail sale.
Learn more about the
park store
. 
The passport stamp is location in the park store at the main entrance of the visitor center. 
Plan Your Visit
Operating Hours & Seasons

Check out important information about the park including alerts and closures.

Visit here for basic information about the park.

Use the park map to explore Jimmy Carter National Historical Park.
Last updated: November 28, 2023