Person
James Earl "Jimmy" Carter, Jr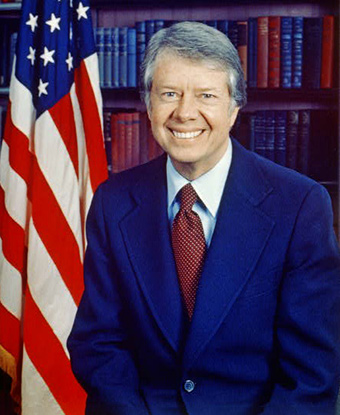 Significance:
39th president of the United States and Nobel Peace Prize Laureate
Place of Birth:
Plains, Georgia
Date of Birth:
October 1, 1924
Jimmy Carter was born in Plains, Georgia. Although he came to office after a brilliantly run political campaign, Carter distrusted politics. He relied on the strong moral convictions that he learned in Plains to help him find actions that would best benefit the whole country regardless of political party. He made considerable progress toward his goal of making government "competent and compassionate" during his single term but could not overcome energy crises, record inflation, and international conflict.
Born in 1924 in Plains, James Earl "Jimmy" Carter, Jr., was the first of Earl and Lillian Carter's four children. When he was four years old, the Carter family moved to a farm in the small community of Archery, two and one-half miles away. The day the family moved to the farm was memorable. Earl Carter had forgotten the key and Jimmy crawled through a window to unlock the front door. Although the house used fireplaces and wood stoves for heat and had no indoor plumbing or electricity, it was a typical middle class rural dwelling for the 1920s. Earl Carter raised cotton, corn, and sugar cane with the aid of tenant farmers and was one of the first in the area to experiment with growing peanuts. He also sold canned goods, coffee, kerosene, overalls, and a large variety of other useful items in the country store/commissary near the house. Jimmy and his African American playmates helped in the fields, and Jimmy sold bags of boiled peanuts on the streets of "metropolitan" Plains for a nickel. His parents raised their children to value education, community service, the Baptist Church, and each other. Jimmy Carter lived on the farm until he went away to college in 1941.
Carter attended the Plains High School from first grade through his graduation in 1941. He quoted Miss Julia Coleman, one of his teachers and an intellectual and cultural inspiration to him, in his presidential inaugural address. After graduation, he attended Georgia Southwestern College and Georgia Tech University briefly before receiving an appointment to the United States Naval Academy in Annapolis. He came home to marry Rosalynn Smith on July 7, 1946 in the Plains United Methodist Church. He served in the Navy for seven years following his graduation from the Naval Academy, resigning his commission in 1953 to take over the family peanut business after his father died. His income of $200 that first year was so low that he qualified to move into a low-income housing project in Plains. He and Rosalynn lived there for a year but soon turned the Carter Peanut Warehouse into a successful production and processing business.
Following his father's example, Jimmy Carter became involved in civic, church, and fraternal affairs, but refused to join the local segregationist White Citizens' Council. A lifelong Democrat, Carter entered the political arena in 1962. After a strenuous contest, he won a seat in the State senate and held it for two terms. He showed special interest in education and election reform. Carter abandoned plans to run for the United States House of Representatives to seek the governorship in 1966. Although he failed on his first attempt, he succeeded four years later. During his term as governor, he reorganized the State government, worked for conservation, and attracted national attention as a moderate on civil rights.
Carter's decision to leap from governor to presidential candidate was a bold one. In a cross-country grassroots campaign, he gained support from a public looking for change after the scandals that had shaken the nation. His surprise success in the Iowa Democratic caucus began a phenomenal rise that confounded the political experts who thought his quest was hopeless. The downtown Plains train depot, which served the Seaboard Coast Line Railroad from 1888 to 1951, became Carter's local campaign headquarters. Approximately 10,000 people a day came to Plains to find out about this unknown candidate, and Carter's friends and neighbors gathered outside the depot to celebrate his many successes in State primaries. The Democratic National Convention made Carter their presidential nominee on the first ballot. The depot, now a museum, was again the site of a celebration on his election as president in November 1976.
Carter defeated incumbent Gerald Ford by a relatively narrow but conclusive margin in both popular and electoral votes. He is the first president from Georgia and the first elected directly from the Deep South since Zachary Taylor in 1848. Dramatizing his break with tradition, Carter and his family walked hand in hand down Pennsylvania Avenue after his inauguration at the Capitol, to the cheers of the watching crowds.
As President Carter took office, he stressed his plans to fight "stagflation" by both stimulating the economy and attacking inflation. He succeeded in adding millions of new jobs and reducing the budget deficit but could not control inflation, which reached record rates. He developed new policies to fight the energy shortage, expanded civil service reform, and sought to protect the environment. He appointed record numbers of women, African Americans, and Hispanics to government jobs and strengthened the Social Security system. In 1977, Carter pardoned young men who evaded the draft during the Vietnam War. This controversial decision, combined with his unwillingness to work within the traditional party system, brought him into conflict with Congress.
President Jimmy Carter's 1978 proclamation of 11 monuments in Alaska remains the most substantial use of the Antiquities Act to expand the National Park System. On December 2, 1980, Carter signed into law the Alaska National Interest Lands Conservation Act (ANILCA). ANILCA gave the National Park System more than 47 million acres, exceeding the nearly 45 million acres assigned it by the provisional national monument proclamations and surpassing by nearly 50 percent the 32.3 million acres proposed seven years before. The act converted most of the national monuments to national parks and national preserves, the latter permitting sport hunting and trapping. As the 1950 act settling the Jackson Hole National Monument controversy had done in Wyoming, it also curtailed further expansion of the National Park System in Alaska by Presidential proclamation. When President Jimmy Carter signed the Alaska National Interest Lands Conservation Act of 1980 into law, he set aside over 104 million acres of land, creating 10 national parks and preserves, two national monuments, nine national wildlife refuges, two national conservation areas and 25 wild and scenic rivers ensuring that large portions of wilderness remain undeveloped. Before December 1978 Alaska had contained one national park, two national monuments, and two national historical parks. After December 1980 Alaska contained eight national parks, two national monuments, 10 national preserves, two national historical parks, and a wild river. Mount McKinley National Park was renamed Denali National Park after the Indian name for the mountain, which remained officially Mount McKinley, and was joined by a Denali National Preserve. The park and preserve together are more than four million acres larger than the old park. The old Glacier Bay and Katmai monuments became national parks, with adjoining national preserves. The Glacier Bay park and preserve gained some 478,000 acres over the old monument, while the two Katmai areas exceed the old Katmai monument by more than 1,300,000 acres.
President Carter did transmit a message over the SAC alert system once in 1977. In the midst of a typical shift, the SAC controller unexpectedly warned the combat crews to "standby for a message from the president of the United States." With their hearts pounding, waiting for the authentication code to launch Minuteman, the president said, "Hi, you all. I'm here at the SAC command post and I wanted to see how this thing worked." Although crew members laughed about it later, the threat of a nuclear attack was very real to them at that moment in 1977.
Carter hoped to continue the policy of détente with the Soviet Union, but his appointment of Zbigniew Brzezinski to the National Security Council gave him an adviser who was profoundly suspicious of Soviet motives, and led Carter into several major confrontations with the Russians. Carter ordered a massive five-year defense buildup that the Soviets found provocative. In turn, the Soviet invasion of Afghanistan to quash a Muslim-based rebellion outraged the United States. The guerrilla war that ensued put a crimp in arms control talks between Moscow and Washington. The two sides had signed SALT II, a treaty limiting the deployment of nuclear missiles, and the treaty had been sent to the Senate. After the invasion it was clear that the Senate would take no action. Carter withdrew the treaty, but Moscow and Washington agreed to abide by its terms, even though neither side ratified it. In retaliation for the USSR invading Afghanistan, Carter cut off grain sales to the Soviet Union and ordered a boycott of the 1980 Moscow Summer Olympic Games by U.S. athletes. Because much of the public considered this to be more punitive towards American swimmers and runners than Soviet leaders, this response weakened Carter's image.
During his inagural address, President Carter spoke of the need to work for "the elimination of all nuclear weapons from this earth." Wooden models of American and Soviet nuclear models were kept on his desk as a a reminder of this goal. In his January 1981 Farewell Adress, Carter returned to this theme, delaring that "the great majority of the world's people cannot remember a time when the nuclear shadow did not hang over the earth. Our minds have adjusted to it, as after a time our eyes adjust to the dark.Yet the risk of a nuclear conflagration has not lessened. It has not happened yet, thank God, but that can give us little comfort — for it only has to happen once."

Carter's support for human rights complicated his negotiations with the Soviet Union and other foreign states. His greatest success was the Camp David accords of 1978, which brought about a rapprochement between Israel and Egypt and a reduction of tensions in the Middle East. His greatest failure was his inability to free the American Embassy staff members taken hostage by the new Islamic regime in Iran. The 14-month long hostage crisis, plus the continuing ruinous inflation, led to his defeat by Ronald Reagan in 1980. He continued to negotiate with Iran after his defeat, however, and obtained the release of the hostages hours before the end of his term. He and his wife flew to Germany to greet them.
Retiring from public office, Jimmy Carter returned to Plains. He continues to work as a humanitarian with the Carter Center and Habitat for Humanity, participates in Middle East peace negotiations, and has written several books. In 2002, Jimmy Carter received the Nobel Peace Prize for his "decades of untiring efforts to find peaceful solution to international conflicts, to advance democracy and human rights, and to promote economic and social development."
Last updated: August 30, 2021