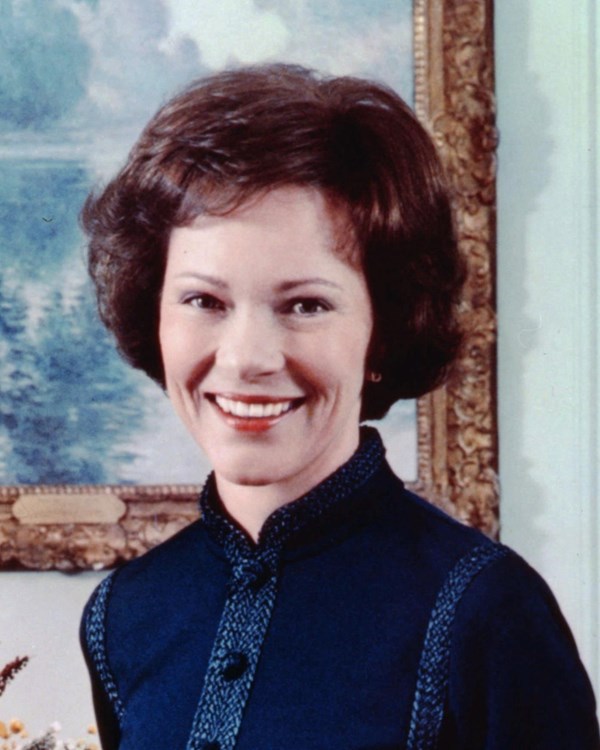 Significance:
First Lady of the United States
Place of Birth:
Plains, Georgia, U.S.
Date of Birth:
August 18, 1927
Place of Death:
Plains, Georgia, U.S.
Date of Death:
November 19, 2023
"...I realized that people are just people, no matter who they are or how famous or powerful or influential. They have simply had more experience or more opportunities or a special talent, and I was not as intimidated by them as I thought I would be." - Rosalynn Carter (First Lady from Plains) 
Rosalynn Carter was a first lady on the brink of social change. After the Vietnam War and the Watergate scandal, societal distrust in political positions like the presidency was high. However, the Carters ran a campaign using things that appealed to the country in a time of change and distrust. Jimmy Carter pledged to citizens that he would bring a sense of normalcy and morality back into the presidential office. Part of the reason he was so convincing was due to his wife, Rosalynn Carter, who wanted to push for social change and seek to perform the highest good, even if it was the unpopular option.  
Rosalynn Carter was born Eleanor Rosalynn Smith on August 18, 1927, in Plains, Georgia. She was the oldest of four siblings born to her parents, Allie Murray and William Edgar Smith. When Rosalynn was 12 years old, her father was diagnosed with leukemia. He died in 1940, and Rosalynn's mother went to work as a seamstress to provide for the family. Rosalynn, being the oldest, also started working to help support the family. She started working in a beauty shop, which helped her family but also allowed her to start saving money for college. After graduating high school, Rosalynn enrolled in Georgia Southwestern Junior College in Americus, Georgia. Rosalynn commuted to school every day so she could remain at home and help her mother raise her siblings. Her weekly total for travel and lunches was $4.50. If she skipped lunch, she was able to save enough money to see a movie with friends on the weekend.  
Those friendships would prove to be extremely valuable for her later in life. Ruth, Rosalynn's best friend, had an older brother named Jimmy Carter. He was studying at the Naval Academy in Annapolis, Maryland. Being three years her elder, Rosalynn assumed he would not think of her beyond being his sister's friend. She was thrilled when he asked her to the movies. The pair began a deep romance, but when Jimmy proposed that same year on Christmas, Rosalynn turned him down. She wanted to finish college and help her mother more. When he proposed again in February, she decided not to turn him down a second time. The pair were married on July 7, 1946, at the local Plains Methodist church.  
Initially, Rosalynn Carter was unhappy as a Navy wife. Just 19 years old and stationed in Norfolk, Virginia, she was lonely as Jimmy served on his ship five days a week. Things changed on July 3, 1947, when the couple had their first son, John "Jack" William. In 1948, Jimmy's assignment took the family to New London, Connecticut. There, Rosalynn had a real home, and the couple were able to take classes in Spanish and art together. However, they were soon moved to Hawaii where Rosalynn gave birth to their second son, James Earl Carter III, whom they nicknamed Chip. When the Korean War started, the family was moved to San Diego. Five months later, the Carters returned to New London. On August 18, 1952, their third son, Donnel Jeffery, "Jeff," was born. The couple's final child, Amy Lynn Carter, was born over ten years later in 1967. 
Tragedy struck when Jimmy's father was diagnosed with cancer. Jimmy decided that he must resign from the Navy and move back to Plains to take over the family business of peanut farming. While Rosalynn was less than pleased to return to Plains after their military lifestyle, she began helping Jimmy run his family business. She quickly proved to be an expert at managing the books and the business side of operations.  
By 1954, Jimmy had begun his political advocacy and in 1966, he ran for Governor of Georgia. Despite losing his first campaign, he tried again and won the 1970 election. However, he could not have done it without Rosalynn. She was an essential part of his campaign. Growing up in such a small, rural town, Rosalynn believed she did not have the experience required to engage with high society as the gubernatorial office demanded. To help Rosalynn present as a refined and polished first lady, the women of the family (Chip and Jack's wives, along with Jeff's girlfriend) pooled together dresses in what the family referred to as the "gown room." Georgia's first lady always had first pick of the dresses. This allowed Rosalynn to be well dressed, while also saving money. This family practice would continue throughout the Carters' time in politics.  
It was during the couple's time in the Governor's mansion that Rosalynn became sensitive to the situation of prisoners in the United States. The governor's mansion was cared for by prisoners being held in the state system. Mary Fitzpatrick, a female prisoner in a state facility, was a caretaker for the Carter's youngest child Amy. When Rosalynn discovered that Mary was serving time after being wrongfully convicted of murder, she began working with the Georgia Women's Prison Committee. In doing so, she demanded better conditions for prisoners and better work release options for female prisoners. Thanks to Rosalynn Carter's work and devotion, Mary was eventually paroled and pardoned.  
"I will always be concerned for those who suffer the indignities of prison life."  - Rosalynn Carter (First Lady from Plains) 
While Rosalynn Carter was serving as First Lady of Georgia, she also began public work on mental health assistance and awareness. For three years, she served on the Governor's Commission on Mental Health which focused on offering a place for mental patients during the day, before they return home in the evening. At the beginning of Jimmy Carter's time as Governor, there were 23 mental health centers in Georgia. By the end of the administration, there were 134. Rosalynn also chose to champion the beautification of Georgia state highways, much like United States First Lady, Lady Bird Johnson. 
In 1975, Jimmy announced that he would seek the Democratic nomination to run for president and once again, Rosalynn was an essential part of his campaign team. She gave speeches on television and on the radio which helped spread the Carter message farther than ever. Their supporters called themselves the "peanut brigade." The Carter's hard work paid off on June 8, 1976, when Jimmy Carter received the Democratic nomination for president. On November 2, 1976, Jimmy Carter was elected president over incumbent Gerald Ford, and the Carters moved to Washington, DC.  
Rosalynn, Jimmy, and their children were the first presidential family to make the historic walk from the Capitol to the White House together, as a family. In doing so, they sent a statement that was present throughout the rest of their administration: they are a family and a united front. At the presidential inaugural ball that evening, Rosalynn wore the same blue gown she had worn just six years prior to the ball that ushered in Jimmy's time as Governor of Georgia.  
The couple raised their young daughter, Amy, in the White House. They brought on paroled Mary Fitzpatrick to reside with them and help care for Amy in the White House when Rosalynn was unavailable. However, Rosalynn did her best to be present. During her time as first lady, Rosalynn turned much of the formal dinner planning over to White House staff members. Personal projects and being a present wife and mother were more important to Rosalynn than what to eat at a state dinner.  
Rosalynn, with her background in Spanish, served as Jimmy's representative to Latin America in 1977. While there, she sought to establish cordial relations with leaders of seven different countries. As the representative of the Carter Administration and the United States, Rosalynn worked to ensure approval of the Panama Canal treaties and engaged in the second set of Strategic Arms Limitations Talks (SALT). Additionally, she spoke on matters regarding human rights, arms reduction and limiting international drug trafficking. Rosalynn and Jimmy spoke every evening during the trip so she could assure the president that his goals were being fulfilled. The trip was largely seen as a success, though she met much criticism because she was not an elected official. This would be her first and last trip as a representative for negotiations. In the future, she would go on several trips for ceremonial occasions and humanitarian missions instead.  
Rosalynn also served as the honorary chairperson of the President's Commission on Mental Health from 1977 to 1978. While "Honorary Chairperson" was her official title to avoid accusations of nepotism, Rosalynn was known to be the acting chairperson more than the official chairperson, Dr. Thomas E. Bryant. It was another opportunity for Rosalynn to champion mental health awareness.  
In September of 1978, the White House became involved in peace talks between Egyptian President Anwar al-Sadat and Israel's Prime Minister, Menachem Begin. At Camp David, the two political officials met to discuss peace terms, while the Carters acted as mediators. Rosalynn intentionally developed a positive relationship with both politicians and their wives, which helped lead to a peace treaty between the countries. Today, the resolution of peace between Israel and Egypt is known as the Camp David Accords. 
"In the White House my relationship with Jimmy was the same as it had always been [...] I often acted as a sounding board for him. While explaining a particular issue to me, he could think it through himself; and I and the rest of the family often argued with him more strenuously than his advisors or staff did. To us he was the same participant in our nightly dinner table discussions that he had always been"  
- Rosalynn Carter (First Lady from Plains)   
Rosalynn challenged the typical image of a first lady throughout her time in the White House. For example, it was Rosalynn's hope that the media would report on her political activities. Unfortunately, the media often chose to focus on what she considered more trivial matters, like the couple's decision not to serve hard liquor in the White House to save money. Around the same time, Rosalynn was hard at work with the President's Commission on Mental Health, which she believed was a much more newsworthy matter. In 1980, under Rosalynn's careful guidance, the administration passed the Mental Health Systems Act to those struggling with mental illness. Rosalynn also actively supported the Equal Rights Amendment. This was met with criticism on both sides. Some groups were frustrated because they felt President Carter did not support the ERA enough and therefore her influence was not strong enough. Other groups felt her support for the amendment was shallow because she did not support abortion as well. Her increased political activism compared to other first ladies was relatively new to the United States public. This resulted in, at times, harsh backlash from the public and media. 
The partnership between the presidential couple was deep and devout. Jimmy valued Rosalynn's advice so heavily that he invited her into cabinet meetings. She would take notes and often offered advice during their weekly lunch together. According to Rosalynn, the couple never disagreed over policy, but rather the implementation strategy. Rosalynn served as a sounding board and support system throughout the Camp David negotiations, which were a huge accomplishment for all countries involved. Jimmy also frequently asked her to review his papers. Some historians now speculate that it was Rosalynn's heavy involvement in the administration as well as her presence in cabinet meetings that caused some cabinet members to leave their positions. Sometimes, Jimmy and Rosalynn would speak to each other in Spanish during these meetings, which may have concerned and isolated the other cabinet members. However, there is little doubt that Rosalynn was a critical facet of her husband's presidency. Without Rosalynn, Jimmy Carter's presidency might have looked very different, and the Office of First Lady may not have gained the same kind of press and influence. 
When Jimmy Carter lost his run for reelection in 1980, the family moved back to Plains. Though disappointed that Jimmy had lost his second bid for the presidency, the couple focused on returning to as normal of a life as possible. The former first lady began to author a plethora of books, beginning with her autobiography, First Lady from Plains. Rosalynn's alma mater, the renamed Georgia Southwestern State University, opened the James Earl Carter Jr. Library and the Rosalynn Carter Institute for Caregivers on campus. In 1982, the couple founded the Carter Center in Atlanta. The Center's focus is on advancing the course of peace and human rights. Part of their focus is teaching rural farmers how to grow more crops and fight ravaging diseases. Much like Rosalynn's trip to Latin America, the Center encourages democracy, peace, and human rights. 
Now retired from political life, the Carters had the opportunity to explore other interests with more freedom. Rosalynn was able to take up the plight of the mentally ill more zealously than ever before. In partnership with the Carter Center, there continues to be ongoing research on better living conditions for those with mental illnesses via the Rosalynn Carter Symposium on Mental Health. The symposium also focuses on providing improved living conditions for people experiencing homelessness and elderly Americans. One of the Carters' most famous recent interests is Habitat for Humanity. This organization focuses of building houses and shelter for those in need. Since 1984, Habitat for Humanity has hosted an annual "Jimmy and Rosalynn Carter Work Project", which lasts a week and brings in many volunteers to build more affordable housing. Since 2019, Jimmy and Rosalynn have been unable to attend due to health concerns. In their place, several other famous names have carried on the tradition, like country music stars Garth Brooks and Trisha Yearwood. 
Rosalynn has also acquired an extensive list of accolades for her volunteer work post presidency. A few of those awards include Award of Merit for the Support of the Equal Rights Amendment from the National Organization of Women, the Notre Dame Award for International Service, and the Presidential Medal of Freedom, the highest civilian honor in the United States. Today, Rosalynn remains involved in speaking engagements, book signings, research, and conferences. The couple continues to spend time together and enjoy biking, jogging, and fly fishing. When Jimmy flies overseas on peace missions, Rosalynn joins him. They continue to reside in Plains, where they engage in their various volunteer and research duties. The couple have authored a book together and have been married for over 77 years. They are the longest married presidential couple in American history.  
Post presidency, Rosalynn has been compared to Eleanor Roosevelt due to her political activism. She is the first, first lady to have been given her own office in the East Wing and the second, following only Eleanor, to have testified in front of the Senate. Her political involvement in her husband's administration is nearly unprecedented and leaves behind quite the legacy. Rosalynn's partnership with President Carter changed the way people viewed the Office of First Lady and paved the way for more involved first ladies in the future.  
Mrs. Carter passed away on November 19, 2023 at ninety-six years of age at their longtime home in Plains, Georgia. Predient Carter and family were by her side. Mrs. Carter was laid to rest in the Garden of their home. Her burial spot remains closed to the public, as the house is still an active residence.
"During the last few months as I finished this book, I have been thinking about what I want to do next. As much as I enjoy being at home and having a 'normal' life, I know there is still much to be done" - Rosalynn Carter (First Lady from Plains)  
To learn more about this first lady, visit Jimmy Carter National Historical Park  

Further Readings: 
Ahlberg, Kristin l. "Eleanor Rosalynn Smith Carter." Essay. In A Companion to First Ladies , edited by Katherine A. S. Sibley, 569–84. Malden, MA: John Wiley & Sons, 2016.  
Caroli, Betty Boyd. "Rosalynn Carter." Encyclopædia Britannica, July 6, 2023. https://www.britannica.com/biography/Rosalynn-Carter.  
Carter, Rosalynn. First lady from Plains. Fayetteville, AR: University of Arkansas Press, 1994.  
"Former First Lady of the United States and Founder of The Carter Center." The Carter Center, January 13, 2021. https://www.cartercenter.org/about/experts/rosalynn_carter.html.  
Hoyt, Mary Finch. East Wing: Politics, the press and a first lady: A memoir. Philadelphia, PA: Xlibris, 2001.  
"Rosalynn Smith Carter." The White House, January 15, 2021. https://www.whitehouse.gov/about-the-white-house/first-families/rosalynn-smith-carter/. 
Last updated: November 27, 2023