Where Have All The Flowers Gone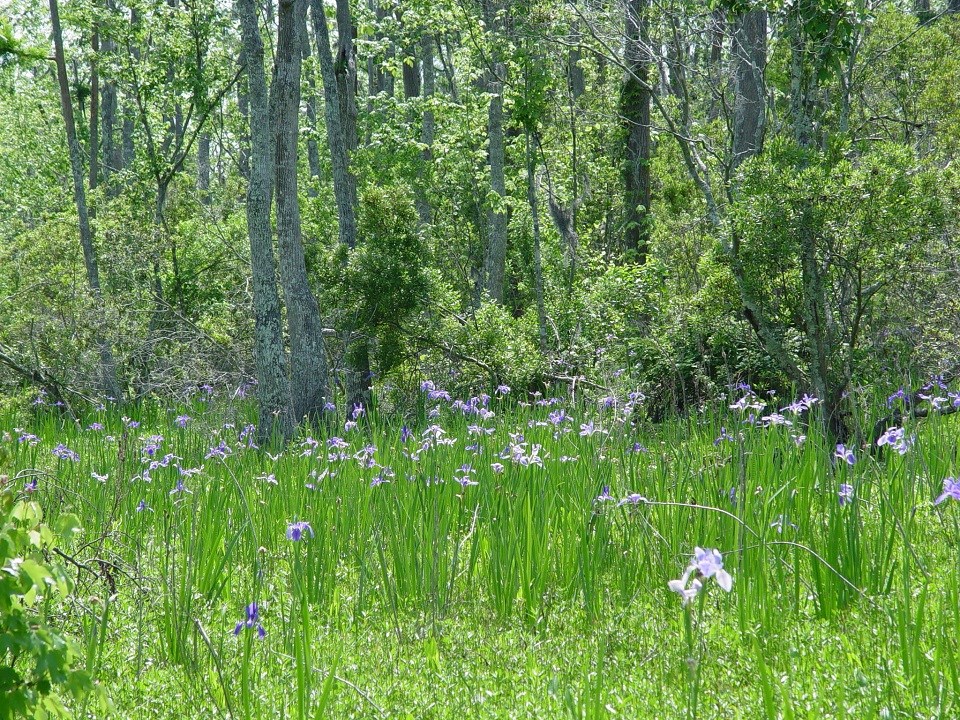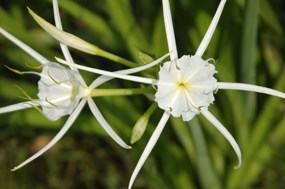 For years, a springtime walk along the Bayou Coquille Trail at Barataria Preserve meant a spectacular show of giant blue irises in bloom. Since 2003, the once vibrant iris population along the Palmetto, Visitor Center, and Bayou Coquille Trails has declined dramatically. Where have all the irises gone?
The last impressive bloom of giant blue irises was in 2002. That September, Hurricane Lili briefly filled the preserve with several feet of brackish water. Irises are sensitive to salt water, which hinders flowering or even kills the plants.
Spring 2003 saw a great reduction in iris blooms. Although the springs of 2004 and 2005 encouraged some optimism that the fields of blossoms would eventually return, 2005's hurricanes caused another setback for the irises. Like Hurricane Lili, Hurricanes Katrina and Rita filled the preserve with several feet of brackish water. Although the water drained away in a few days, the effect of the water and decreased oxygen levels in the soil may have damaged the delicate irises. The residual salt left in the swamp may have damaged them even more. For months after Hurricane Rita there was no significant rain and so salt from the brackish water was not flushed out.

Hurricane Katrina destroyed thousands of trees at the preserve and opened the tree canopy, the overhanging leaves and branches that keep the floor of the swamp shaded. As a result, more sunlight poured into the swamp, encouraging the growth of many species of plants in places where they would not have been able to before the storm---including places where irises once thrived. Native species such as pennywort (dollar weed) and marsh fern as well as invasive, non-native species such as alligator weed filled the swamp, crowding and stressing the irises that might have survived. The great numbers of giant blue irises that once bordered the Bayou Coquille Trail disappeared, although they continued to grow elsewhere in the preserve. Other wildflowers such as narrow-leaf vetch, spider lilies, dewberries, and red copper irises flourished, many growing in new locations.

Irises slowly seem to be making a comeback in some of their old locations along the trails. It's hard to know just what has happened and why: there are so many variables in a wild landscape that precise predictions are very difficult. Was it the salt water? Disease? The new plants growing in iris territory? What is known is that several hits by hurricanes certainly stressed the irises, and that the irises are multiplying during recent years with little or no storm activity, so hope for an iris-filled future continues to grow.
Follow the links to learn more about giant blue irises and for Barataria Preserve plant lists. The irises usually bloom 4-6 weeks; in 2019 the first iris bloom was spotted on March 15, in 2020 the first bloom was seen on March 13, and in 2021 the first bloom was March 28. Check the current iris blooms.
Barataria Preserve is not the only place to see wild irises in Louisiana. The following are all boardwalk trails within the Greater New Orleans area:
Last updated: March 31, 2022