Barataria Preserve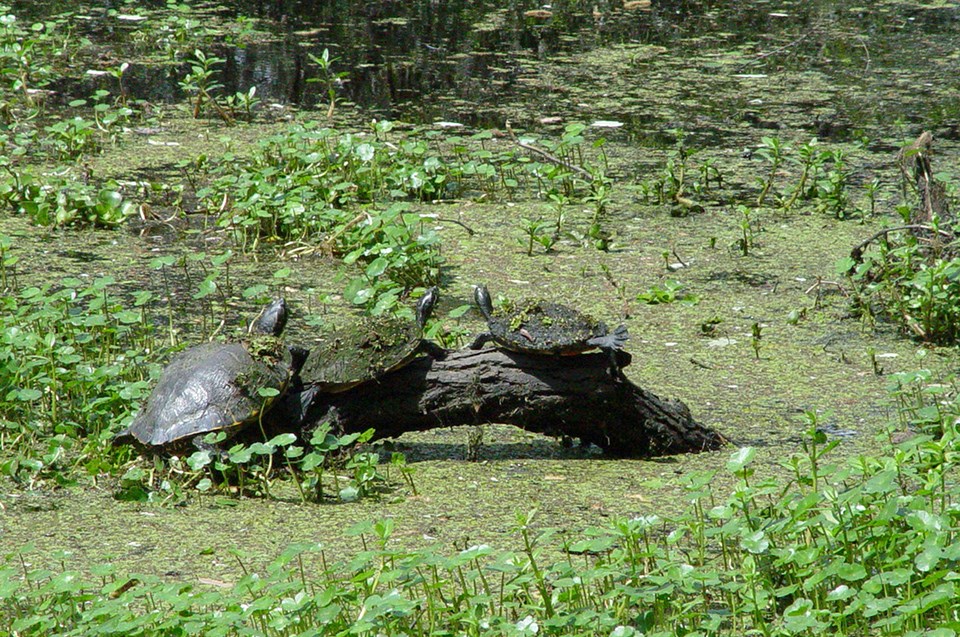 TRAIL UPDATE WEDNESDAY, AUGUST 14: Follow the link for a Barataria Preserve trail map. All trails at the Barataria Preserve are open except
Old Barataria Trail (dirt trail) remains closed as cleanup continues after Tropical Storm Barry.
A section of the Plantation Trail (dirt trail) which is closed for repairs.
The last few hundred feet of the Ring Levee Trail (boardwalk trail) are closed for repairs.


WHAT'S HAPPENING
See the Barataria Preserve hot weather safety map for useful information like the location of water fountains. Trail and waterway information is available at the Barataria Preserve trail maps web page.

Wetlands Walk - 10:00 a.m.. every Wednesday through Sunday. Join a ranger for a guided walk on a boardwalk trail through wild Louisiana swamp and marsh. Stop at the visitor center to find out which trail today's walk will explore. No walk on federal holidays when the preserve visitor center is closed. Free.

Swamp Science Festival - Discover what frogs can tell us about ecosystem health, how to track bird migrations, whether a waterway is healthy, and more! Enjoy a day of family-friendly science with park staff and volunteers, ISeeChange, Nature's Notebook, the Audubon Society, the Louisiana Department of Wildlife and Fisheries, Frogwatch, and other nature groups for hands-on activities, walks, and talks. Free. 11:00 a.m.-3:00 p.m., Saturday, October 26.

Creatures of the Night: Bats of Barataria - Join Dr. Craig Hood of Loyola University and preserve rangers for a talk and Q&A about bats, bat crafts, and bat-spotting using special echolocation equipment. No live bats will be handled. Free but space limited so reservations are required; call 504-689-3690 ext. 10 to reserve your spot. 6:00-8:00 p.m., Friday, November 1.

Join a citizen science project as part of a group or on your own. Follow the link to find out how you can contribute to research and management at the park.


Important information:
Never approach, harass, or feed alligators. Remember that they are wild animals and can move very quickly. You can find more information about safety and outdoor activities at the preserve at the safety page.
Although canoeing and kayaking have been favorite Barataria Preserve activities in the past, most waterways are currently impassable due to several years of heavy growth by aquatic vegetation. The National Park Service is working to secure funding for longterm waterways management. At this time, do not plan to canoe or kayak in the preserve; information will be posted here if the situation changes.
Pets are only allowed in parking areas and on the deck at the visitor center; pets in these areas must be on a leash and a human must be on the other end of the leash. Do not leave pets unattended in vehicles; pets in vehicles must have a human in the vehicle with them. Please clean up after your pet. Although service animals assisting people with visual, hearing, or mobility impairments are welcome everywhere, note that the presence of wildlife may mean that service animals may not be comfortable on preserve trails.
Parking lot gates are locked at 5:00 p.m. nightly. If your vehicle is in a parking lot after 5:00 p.m., it will be locked in. If this happens, call 855-677-5352; a ranger will assist you when one is available.
---
The Barataria Preserve outside Marrero offers a taste of Louisiana's wild wetlands. The preserve's 26,000 acres include bayous, swamps, marshes, and forests. Walk along boardwalks and dirt trails to spot animals including alligators and over 200 species of birds plus an ever-changing array of wildflowers and plants . See the trail map, enjoy a self-guided tour, or explore with a cell phone tour. Exhibits at the preserve visitor center highlight how the Mississippi River built Louisiana's wetlands, the national importance of the area, and the relation between the land and its people. Kids can earn a badge with the Junior Ranger program. An environmental education center is used for field trips and special programs. The visitor center's park store has books, music, children's books, insect repellent, field guides, and more on sale. Admission to the preserve is free. Follow these links for the park's calendar of events, exhibits, and programs; for directions and transportation options (be sure to see important information about using ride share services to reach the preserve); and for accessibility information.
6588 Barataria Boulevard, Marrero (near Crown Point) (If you use a GPS system, doublecheck it with the map since not all systems find the preserve successfully)
504-689-3690 ext. 10
Visitor center is open Wednesday-Sunday 9:30 a.m.-4:30 p.m.; closed on federal holidays and Mardi Gras (Tuesday, March 5, in 2019). Parking lots are open for access to trails daily including federal holidays 9:00 a.m.-5:00 p.m. except on Mardi Gras, when the preserve is completely closed. Links to useful information like maps, public transportation, pets, permits for special uses, etc., are available on the basic information page; there's also information about the preserve at the Barataria Preserve Frequently Asked Questions page.
Special programs:
Learn about


Last updated: October 16, 2019