Fishing Conservation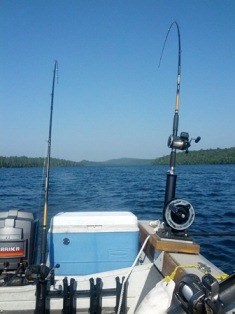 With its multitude of reefs and bays on Lake Superior, and its numerous interior lakes and streams, Isle Royale provides varied opportunities for recreational fishing. How can you help to conserve and minimize damage to the Isle Royale fishery?
Catch only what you plan to keep or eat. Catch and release can be damaging and stressful on fish.
Know the minimum and maximum legal size of fish so they can be released quickly if they are too small or too large.
If moving from Lake Superior to inland waters, change to a new spool of line to help prevent the spread of invasive spiny water fleas to inland lakes.
Release large fish and keep medium size fish to insure future productivity.
Return fish to the water as soon as possible. While unhooking them, keep fish in the water as much as possible.
Try not to handle fish, but if you need to, do so with a wet hand. Release handled fish gently by allowing them to swim from your hands rather than throwing them back into the water.
Do not squeeze the fish or place fingers in the gills, since a torn gill can cause the fish to bleed to death.
Remove the hook gently. Pliers work best. Cut the line near the hook if a fish is deeply hooked. A steel hook will decompose in time.
Use only artificial lures (required in inland waters) as non-native species can accidentally be introduced by using live bait. In addition, live bait is more likely to be swallowed, resulting in more damage to fish.
Use barbless hooks or bend down the barbs on the hooks. Using larger spoons when fishing for larger fish will help prevent catching undersize fish.
Reminder: Barbless hooks and artificial lures only in all inland lakes, streams, and creeks.



Last updated: March 23, 2021