Boating Safety
Lake Superior
Lake Superior offers challenging and often dangerous weather in the form of dense fog, high winds, waves, and thunderstorms. Combine this with rocky reefs, limited safe harbors, and Isle Royale's remoteness, and its pays for you, your crew, and your boat to be shipshape. Isle Royale's geology can make navigating its waters treacherous to the unexperienced or uninformed boater. There are numerous hidden shoals and underwater reefs that create hazards. A waterproof lake chart of the waters around Isle Royale National Park is recommended. Always keep an eye on marine forecasts and weather forecasts.
Boating Emergencies
Use Marine 16 on your marine radio.
Contact the U.S. Coast Guard or the Rock Harbor or Windigo Visitor Centers (when staffed).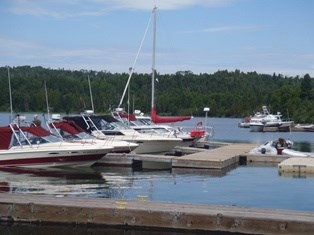 Boating Safety Tips
Always wear your life jacket - The US Coast Guard requires all children less than 13 years of age to wear a life jacket when in a recreational boat.
Type IV throwable cushion or ring - One is required to have onboard your vessel by the US Coast Guard.
Do not ride on the bow or gunwale - All passengers should stay seated within the boat while the boat is moving.
Know where you can refuel your boat - Windigo and Rock Harbor
Boating while intoxicated - Do not boat under the influence of drugs or alcohol.
Navigational charts are highly recommended.
Lights at night - Navigation lights must be on from sunset to sunrise.
Whistle or horn - Bring a whistle of horn capable of producing a continuous sound for two seconds and audible for at least one-half mile.
Anchor, paddles oars, and lines - Have these available in-case your vessel becomes disabled.
Spare propeller and shear pin - Have spare equipment and needed tools available to do quick fixes.
Flashlight and first aid kit - Essentials to have onboard.
Last updated: October 23, 2019