SS Monarch
Introduction
Monarch was built in 1890 by John Dyble, formerly of Parry and Dyble. The combined firm had, in 1882-83, built United Empire, Monarch's running mate. The new ship was built for the Northwest Transportation Company of Sarnia, Ontario on the southern tip of Lake Huron and launched June 27, 1890 (Chicago Inter Ocean June 27, 1890). The company, owned by the two Beatty brothers, was known as the "Beatty Line." James H. and John Beatty had built the Northwest Transportation Co. from a partnership they formed in 1865, which became the Lake Superior Line in 1870.
The demand for their transportation services on the upper Lakes grew, and the two brothers incorporated their enterprise in 1882 to form the Northwest Transportation Co. This firm continued to grow into the largest company transporting package freight and passengers under the Canadian flag on the upper Lakes. It was locally called the "Blackline."
In early 1899, the Beattys merged with the Great Northern Transit Company of Collingwood. The latter company, known as the White Line, operated steamers on Georgian Bay and the North Channel. This merger formed the Northern Navigation Company and evolved into the Northern Navigation Co. Ltd., which dominated upper Lakes transportation of freight and passengers for many years. This company was, in 1915, to become a part of the Canada Steamship Lines Limited, which still carries the original Beatty Line funnel design, red with a white band and black top, maintained throughout the series of mergers.
The Story of the SS Monarch
Shipwreck Site
Large sections of wooden wreckage scattered on the bottom. Noted for heavy construction. Buoy on a sinker in 65 feet.
Map of Monarch Site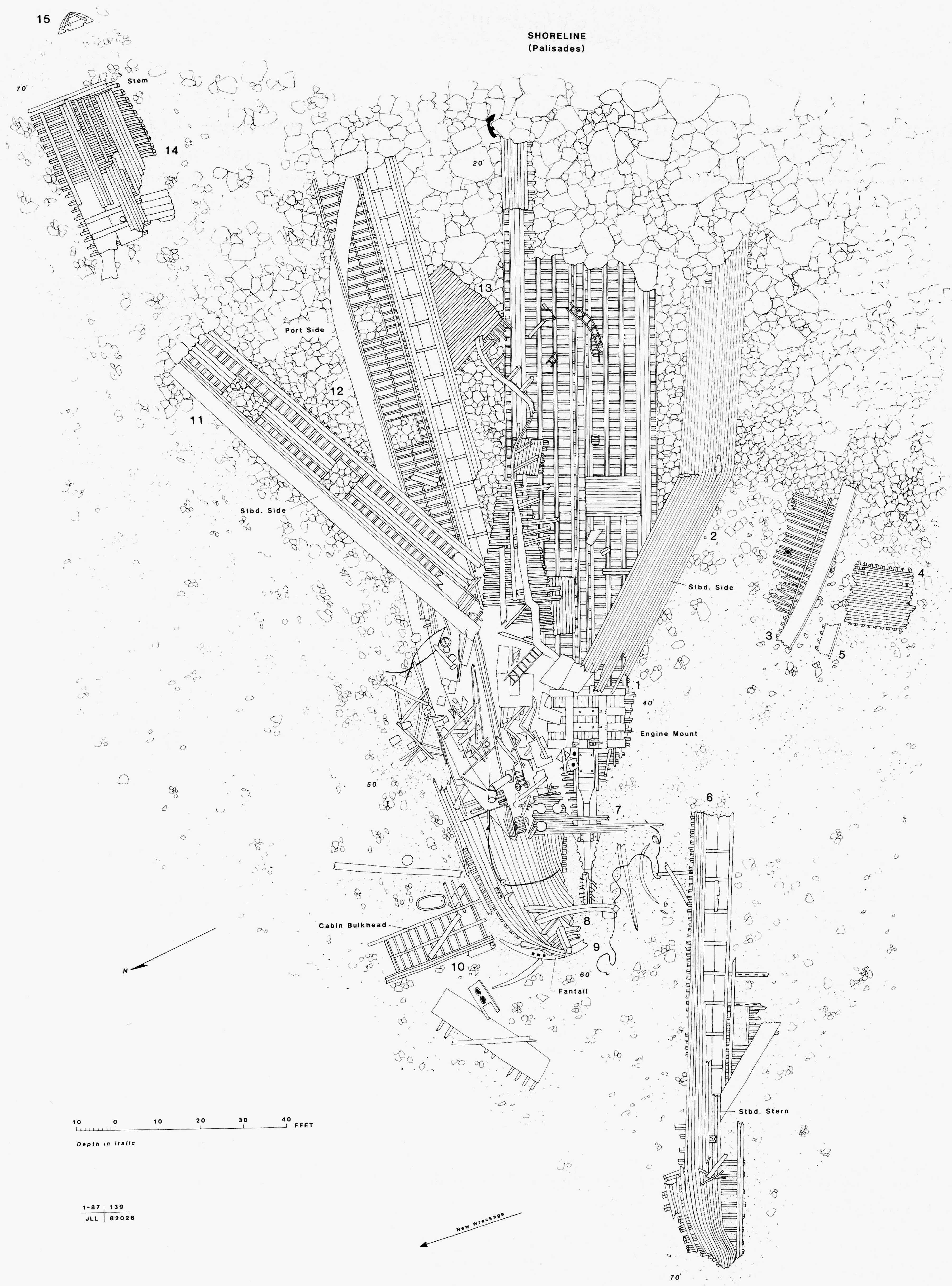 SS MONARCH Site Map
NPS / J.L. Livingston
Last updated: November 24, 2020