SS America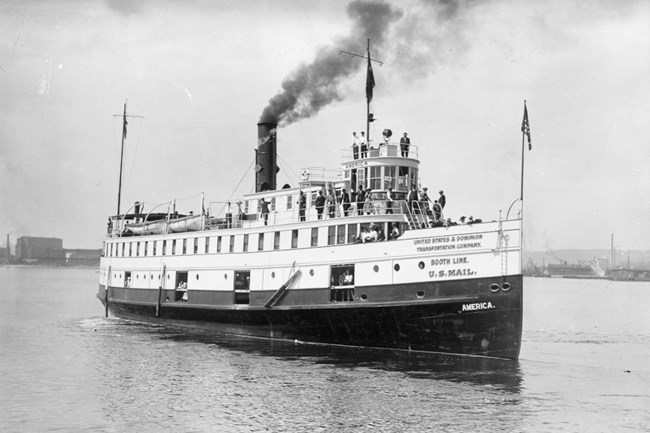 Introduction
America was built to act as an excursion vessel between Michigan ports and Chicago. During this time, as many as 1,200 excursionists would be aboard. In 1902, America was purchased by the Booth Company and was moved to Lake Superior. The vessel now moved from Duluth, Minnesota, Isle Royale, to Thunder Bay, Ontario. The vessel was known for its friendly captains and prowess in the fog.
On June 07, 1928, America had dropped off passengers at Washington Harbor, on the southwest side of Isle Royale. Captain Edward Smith turned the wheel over to first mate John Wick, who was new to America's crew and Isle Royale. Heading outbound of Washington Harbor, Wick clipped the vessel on a reef; luckily the engineer was able to ground the vessel in the North Gap. Captain Smith had five life boats launched and everyone, save one pet dog, was able to get off America before it sank.
A portion of the bow remained above the water, before becoming fully submerged sometime following the summer of 1929. The forward cargo hold remained mostly accessible throughout this time. For several weeks after the wreck the ship's fruit cargo continually surfaced and washed ashore. Island resident Stanley Sivertson once remarked, "We ate fruit all summer".
The vessel was not fully salvaged due to the oncoming Depression years. There had beed multiple attempts to salvage, and eventually raise the America, however none of these were successful. This is the most popular dive site at Isle Royale. It is possible to see the affects of natural site transformation processes. Seasonal ice buildup along the shoreline of North Gap affects the shallower parts of the vessel.
The Story of the SS America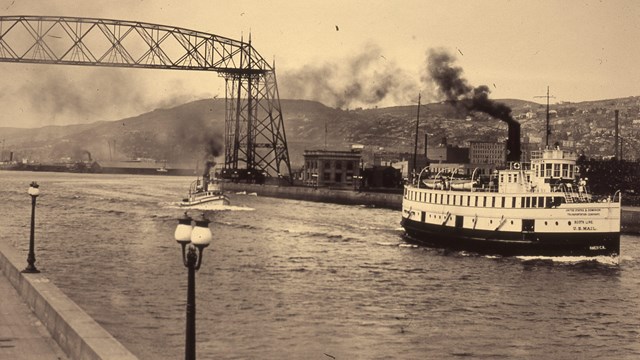 Construction
Origin and Original Dimensions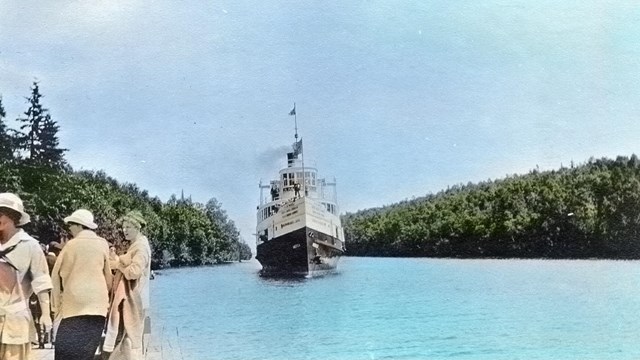 Operational History
Years of Service and Collisions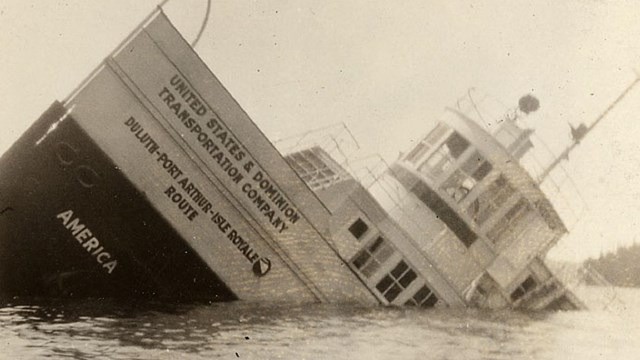 Wreck Event
Incident and Survivor Accounts
Shipwreck Site
The forward part of the superstructure has been removed by ice, wave action, and a past salvage operation. The midship and stern are intact, including engine room, galley, and numerous cabins. Watch out for silt entanglement, and visibility problems inside the America. Two point mooring with a buoy on a sinker in 20 feet and a marker buoy on the bow in 2 feet.
Map of America Site - Side View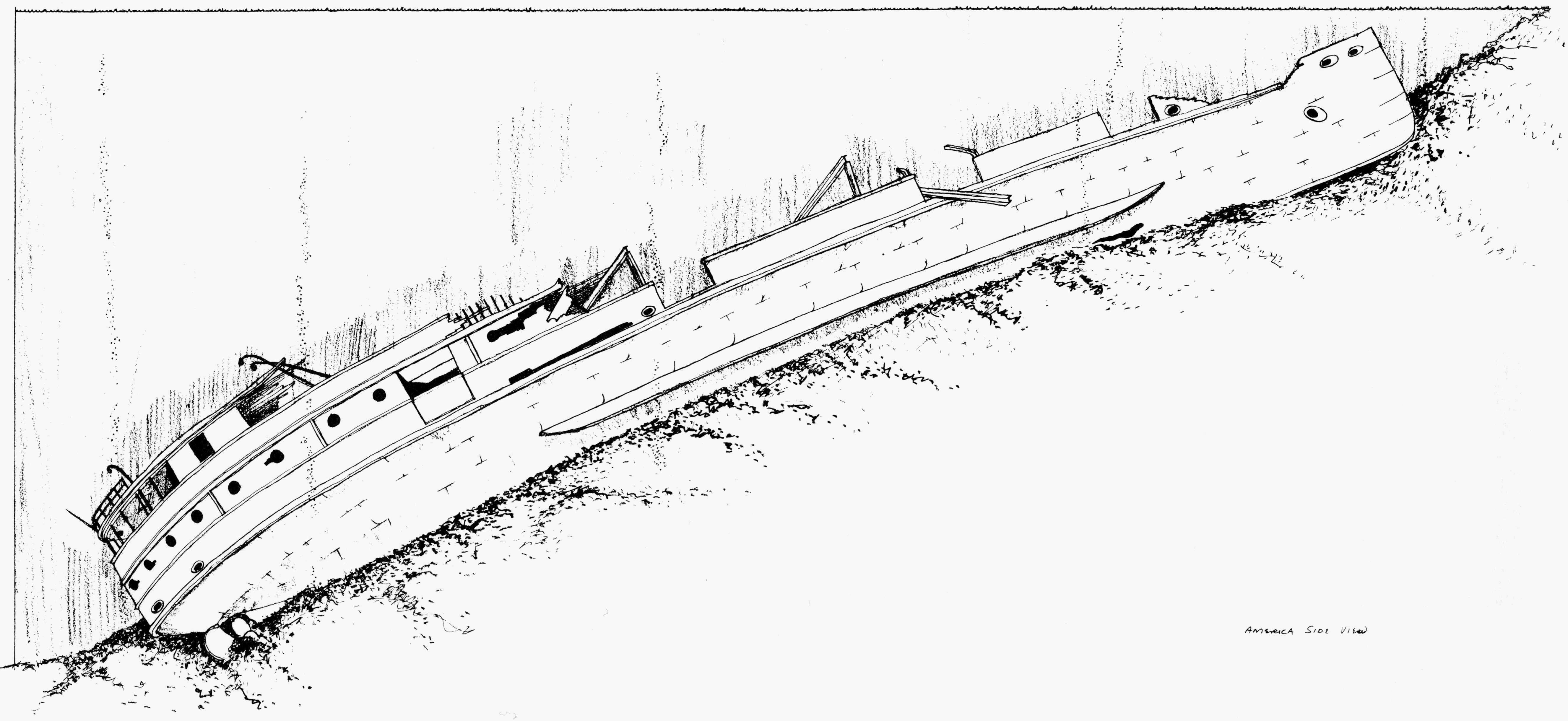 SS AMERICA Side View
NPS / H. Thom McGrath
Map of America Site - Top View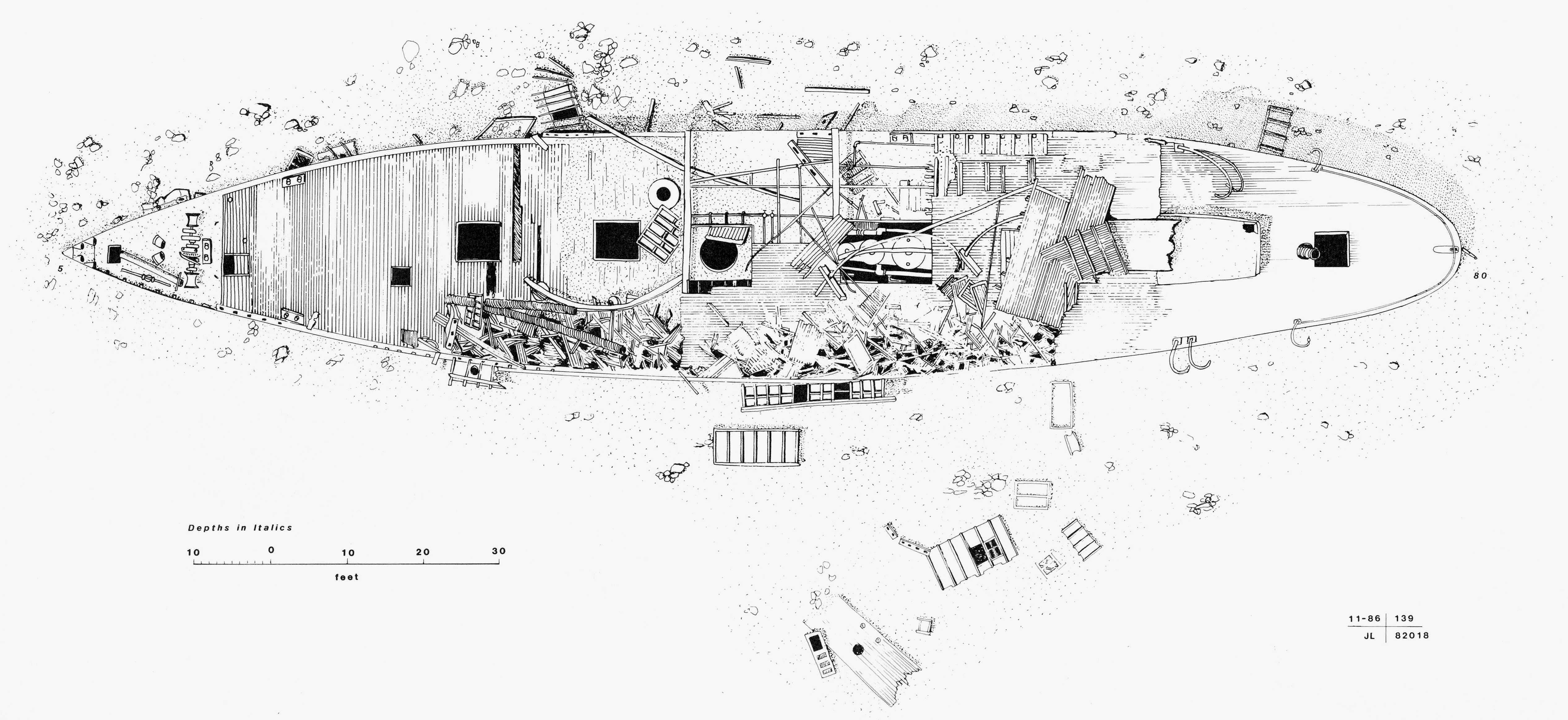 SS AMERICA Site Map
NPS / J.L. Livingston
Last updated: February 17, 2021