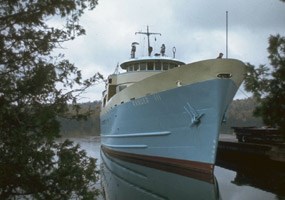 February 2018 Contest Update
Isle Royale National Park and the Grand Portage Band have closed out the student competition for Ranger III/IV options. No winner was declared due to low participation and late submittals. The Grand Portage band will supply a small honorarium for the most thorough submittal.
Contest Overview
The Grand Portage Band of Chippewa in partnership with the National Park Service (NPS) invites students to help develop a concept design for a new ship to service Isle Royale National Park, located in Lake Superior. The NPS is starting the process of looking at future options for passenger and freight transportation. A new vessel, if determined as the preferred option, could replace the current passenger/cargo vessel, the M/V Ranger III, which sails from Houghton, Michigan to Isle Royale and then returns. Options to be considered will include a potential re-configuration of the M/V Ranger III for continued use. This contest is a creative way to get students and the community involved in thinking about their parks. The contest in no way determines the future decision on transportation for Isle Royale.

Competition Requirements, Entry, Selection Criteria, Awards, Additional Materials, Preliminary Owner's Requirements

Eligibility: Individual, group, or class entries are allowed. Students may be undergraduate or graduate level. Prizes won would be made to a single individual or entity. No person may submit more than one entry.