PARK STATUS AND UPDATES (COVID-19)
Visit our keyboard shortcuts docs for details
Duration:

2 minutes, 20 seconds
Indiana Dunes National Park's Superintendent Paul Labovitz helps to explain the COVID-19 precautions everyone should take while enjoying the park this season.
Think Before You Beach
Crowds spread COVID-19, but you can help to fight the spread. Please get vaccinated if you can, and if you plan to visit one of the park's beaches, consider the best time to visit when it's less crowded: weekdays, early mornings and late afternoons. When in doubt, take a hike or picnic instead, or consider a virtual visit.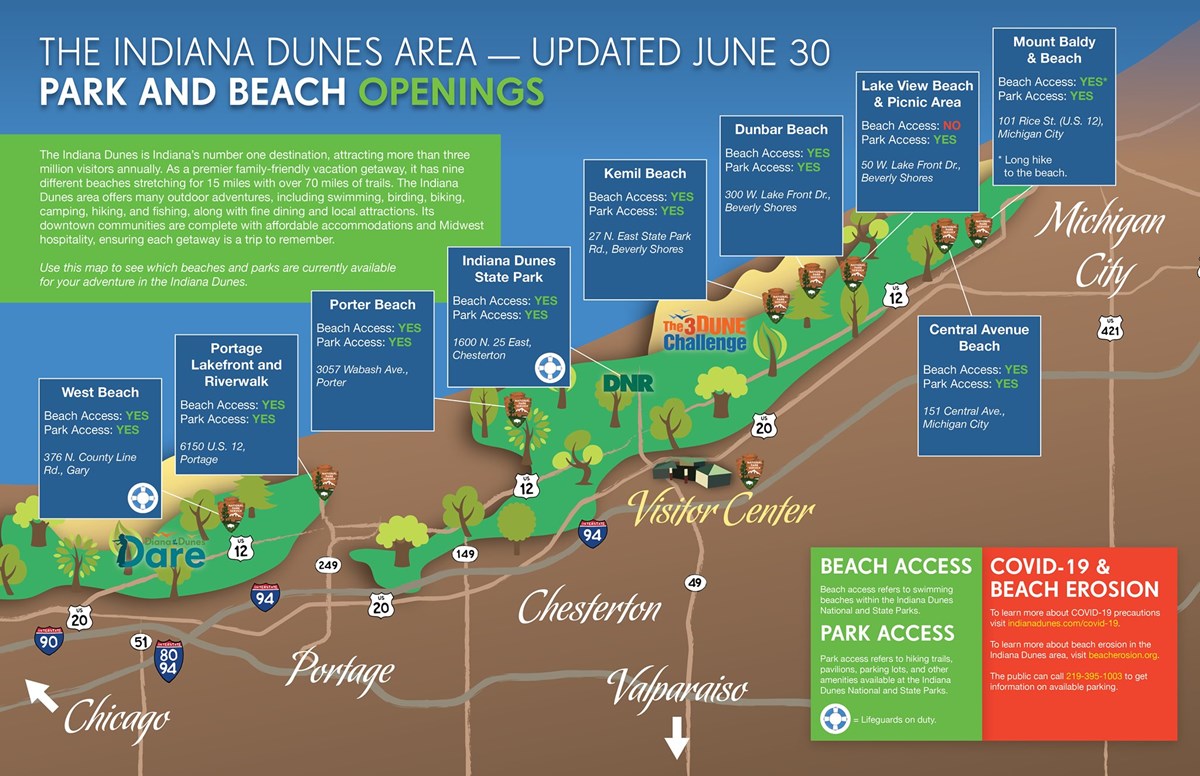 • Beach Parking Information: Call 219-395-1003

• West Beach Hours: 7:00 am to 9:00 pm Central Time.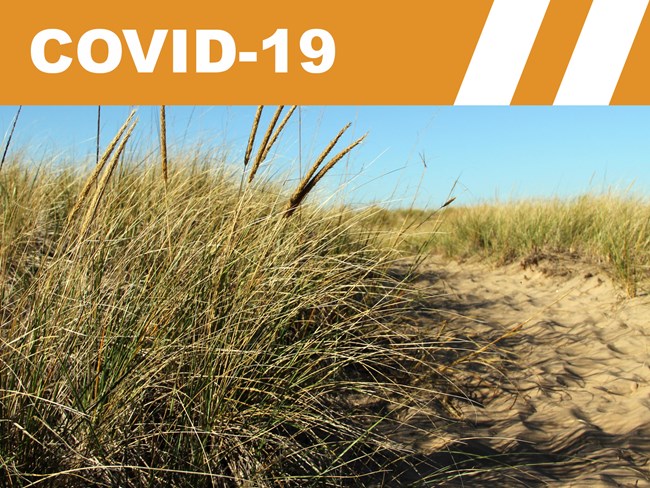 Yes, Indiana Dunes National Park is open for the most part.
But, there are closures in still in place, and we ask visitors to abide by these closures for their safety as well as for the safety of other park visitors. Since we are under the authority of national and state CoronaVirus (COVID-19) guidelines, park closures are in a constant state of flux, and we must adjust to these orders as they develop.

Please be aware. These dates are all subject to change. If you are planning for any travelling to the park, check back here, our social media, or contact us, just to be sure.
Indiana Dunes National Park COVID-19 Open and Closure Status:
MASKS ARE NOW REQUIRED INDOORS, VACCINATED OR NOT. The Indiana Dunes Visitor Center (Dorothy Buell Memorial Visitor Center), jointly managed by Porter County Tourism and the National Park Service, is open with modified operations to promote social distancing and safe practices in keeping with the Sate of Indiana's Back on Track plan. The visitor center is open daily from 8:00 am to 6:00 pm Central Time. The Paul H. Douglas Center for Environmental Education is also open daily from 9:00 am to 5:00 pm Central Time. These facilities' open status and hours of operation are subject to change if there is a change in the Indiana Covid 19 pandemic status.
Other Closures:
Due to erosion, portions of Lake Front Drive in Beverly Shores are closed.
For public safety, the Mount Baldy's summit is permanently closed. However, the Beach Trail is open.
Little Calumet River Trail - Closed while contractors replace approximately 1,000 feet of boardwalk. The temporary closure begins on July 12th, 2021 and lasts until further notice.
Portions of Portage Lakefront & Riverwalk Trail - Portions closed due to portions of the pavement and boardwalk failing due to previous high­water levels. Closure remains in effect April 15th, 2021 until further notice.
Occasionally Flooded Trails:
Tolleston Dunes, Glenwood Dunes, Paul H. Douglas (Miller Woods), and Pinhook Upland hiking trails have intermittent flooding. Please take precautions. We recommend the West Beach Trails.
Helpful Beach Information:
We recommend West Beach and here's some reasons why:
1. Parking - 660 parking spaces! More than the entire east-side of the national park's combined spaces are located at West Beach.
2. Trails - Three different loops and four miles of great hiking.
3. Grill/Picnic Area – Shaded grilling areas.
4. Flower lovers: Various wildflowers are in bloom, so now is the best time to grab your camera for some great nature pictures!
Please be safe and keep social distancing in mind while enjoying your stay here at the park, and be sure to take back what you bring with you.
Know your beach's weather conditions and please use caution.
View list of links to various park location's current weather conditions based on locality. Be sure to click on Hazardous Weather or Outlook near the top or bottom of the linked pages for the latest beach swimming conditions.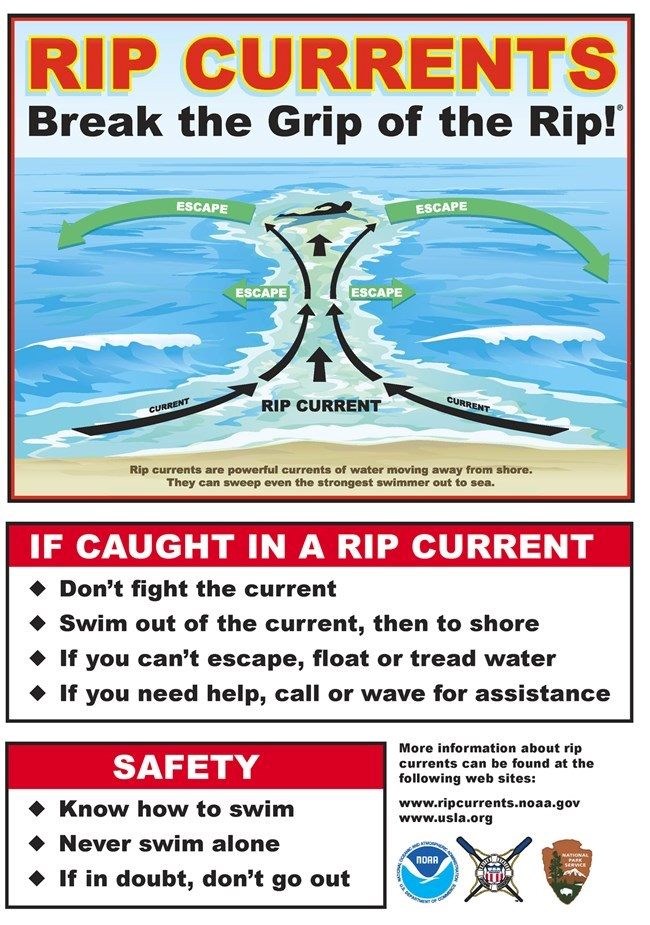 Rip Currents:
Be on the lookout this summer for rip currents on Lake Michigan.
Before your next visit to the beach, learn how to spot a rip current and what to do if you get caught in one. Always check the local beach forecast for any warnings, and exercise caution.
IF CAUGHT IN A RIP CURRENT
♦ Don't fight the current
♦ Swim out of the current, then to shore
♦ If you can't escape, float or tread water
♦ If you need help, call or wave for assistance
SAFETY
♦ Know how to swim
♦ Never swim alone
♦ If in doubt, don't go out
More information about rip currents can be found at the following websites: www.ripcurrents.noaa.gov and www.usla.org
Last updated: August 5, 2021