Weather and Climate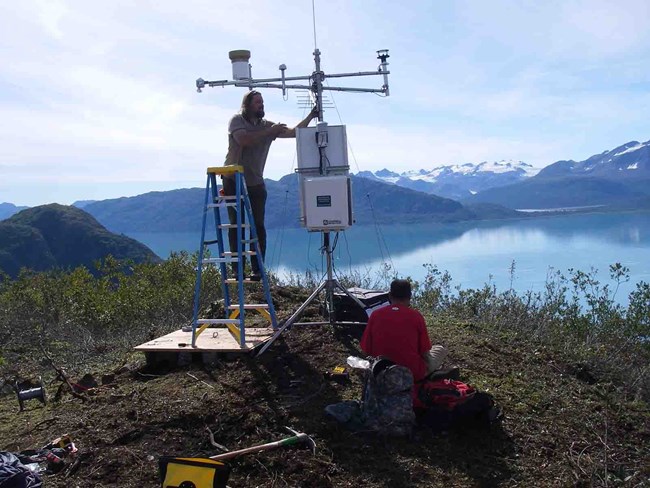 Weather and climate are key physical drivers of ecosystem structure and function. Climate changes, including increasing temperatures, increasing total precipitation and the proportion as rain, are expected to bring a suite of new stresses to Southeast Alaska ecosystems.

Within the context of the Southeast Alaska Network monitoring program, long-term climate records are critically important for understanding responses of vital signs selected as important indicators of resource condition in the Southeast Alaska parks. Precipitation and air temperature drive stream discharge (streamflow) which directly affects water quality conditions (freshwater quality). Precipitation and temperature are also important drivers of contaminant deposition and persistence (airborne, freshwater, and marine contaminants). Weather patterns strongly influence patterns of marine productivity, marine food web dynamics, and the survival and recruitment dynamics of predator and prey populations (oceanography, Kittlitz's Murrelets, and sea otters).

A series of weather stations are operated at locations representative of the climatic gradients present in Southeast Alaska parks. Stations are being operated in Glacier Bay National Park and Preserve (9) and Klondike Gold Rush National Historical Park (3) to fill prior coverage gaps. No stations are currently being operated in Sitka National Historical Park given proximity to several existing cooperator stations. Research-grade meteorological instrumentation is used to collect weather and climate data. Standard station configuration includes sensors for: air temperature, relative humidity, summertime precipitation, snow depth, solar radiation, wind speed and direction, and soil temperature at 10-, 20-, and 50-cm depths. Hourly data are logged and later processed following rigorous quality assurance and control procedures to produce a number of certified data products for use in determining long-term climate trends. In addition to these certified monitoring products, provisional data are transmitted via satellite telemetry and available in near real-time from a variety of online sources for uses such as travel planning, weather forecasting, and flood prediction.

The goal of the weather and climate monitoring program is to record weather conditions at representative locations in order to quantify one of the drivers in Alaska's ecosystems, identify long- and short-term trends, provide reliable climate data to other researchers, and to participate in larger-scale climate monitoring and modeling efforts.
Contact: Andrew Bliss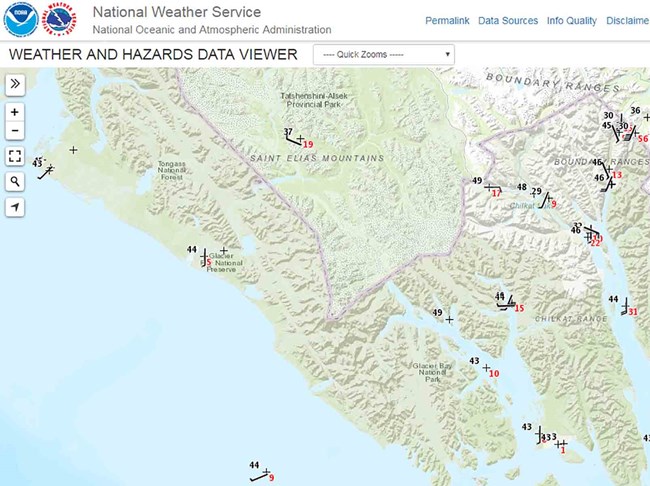 ---
National Weather Service
Weather and Hazards Data Viewer
See the most recent observations from our weather stations.
Also see new
PRISM data
available. Average monthly and annual precipitation and minimum, maximum, and mean termperature data for the period of 1981-2018 are available for the state of Alaska. The PRISM (
Parameter-elevation Regressions on Independent Slopes Model
) climate mapping system integrates existing climate station data with scientific understanding of general climate processes and local climate features.
---
Last updated: May 2, 2022