Oceanography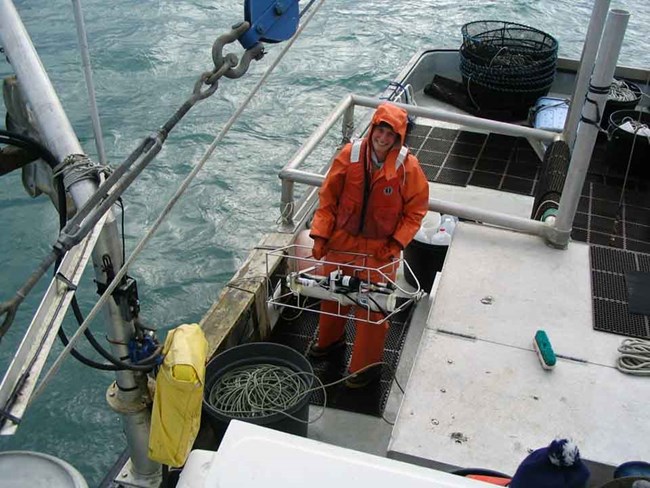 Glacier Bay National Park and Preserve is one of the largest and most pristine marine parks in the country, with 1,200 miles (1,930 km) of coastline encompassing nearly 600,000 acres of federally protected marine waters and submerged lands. Many of the park's animals, including Kittlitz's Murrelets, humpback whales, and brown bears, are directly or indirectly influenced by physical, biological, and chemical attributes of ocean waters. Consequently, understanding the oceanographic factors that ultimately control marine productivity, and thereby influence the entire park, is critical to wise stewardship.
Regular collection of physical oceanographic parameters has taken place in Glacier Bay since 1993. The oceanography program's 22 permanent monitoring stations span the length of Glacier Bay, from just outside the mouth of the bay to the heads of both the east and west arms. Generally mid-channel and equidistant, stations capture a range of depths from shallow sills to deep basins and are located along the gradient from tidewater glaciers and turbid outwash streams in the upper arms to the source waters of Icy Strait. Seven core stations are sampled on nine cruises per year to allow description of within-year seasonal variation. All 22 stations are sampled during two of these cruises (July and mid-winter) to allow description of inter-annual variation. This sampling design allows us to detect long-term seasonal and annual trends and to describe the current year in a historical context.
We measure standard oceanographic parameters throughout the water column: temperature, salinity, pressure (depth), photosynthetically active radiation (PAR - light penetration from the surface), optical backscatterance (OBS – turbidity), dissolved oxygen concentration, and fluorescence (proxy for chlorophyll-a concentration, an index of primary productivity).
The purpose of this sampling is to compile a dataset of oceanographic conditions from Glacier Bay that can be used to (1) better understand seasonal and interannual patterns and long-term trends in the local and regional oceanographic dynamics, and (2) better understand spatial and temporal variation in the abundance and distribution patterns of marine organisms including phytoplankton, zooplankton, marine invertebrates, fishes, mammals, and seabirds.
Oceanography is monitored in Glacier Bay National Park and Preserve. Virtually come along with the crew in this video of oceanography monitoring.

Contact: Craig Murdoch
Last updated: December 28, 2020