Kittlitz's Murrelets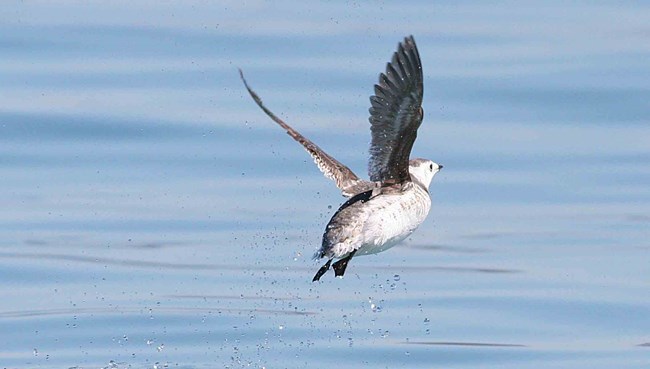 Kittlitz's Murrelet is a seabird endemic to Alaska and eastern Russia. Though they also occur in a variety of open-water habitats, they are often associated with areas near tidewater glaciers. A large portion of the world's population depends on the glacial fjord of Glacier Bay National Park and Preserve for its summer breeding habitat. Kittlitz's Murrelets are monitored by the Southeast Alaska Network because of their association with drivers of ecosystem change, such as glacial dynamics, climate change, and human activity.

Boat-based surveys are completed each July when murrelet aggregations are highest. The objective of this program is to estimate the annual population abundance and spatial distribution of Kittlitz's Murrelets in Glacier Bay.

Long-term monitoring of Kittlitz's Murrelets will inform decisions related to species protection, park management, ecosystem health, and climate change response. Marbled Murrelets, which closely resemble Kittlitz's Murrelets and occur in large numbers throughout Southeast Alaska, are also monitored in Glacier Bay National Park and Preserve as part of this program.