Streamflow and Water Quality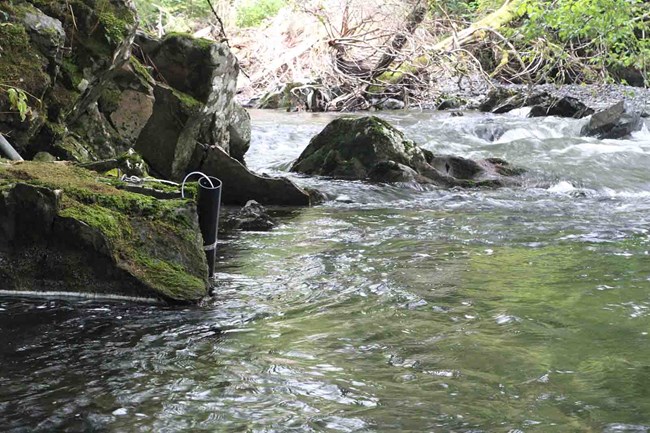 Streamflow
Streamflow refers to the volume of water flowing through a stream or river at a particular location at any given time. It is the pulse of the productive landscape of Southeast Alaska. The annual discharge of freshwater entering the Gulf of Alaska exceeds that of the Mississippi River and is four times greater than the Yukon River. Across Southeast Alaska parks, streamflow is influenced by surface runoff from rain and snow, glacial meltwater, and groundwater input from wetlands and other aquifers. In turn, streamflow influences water quality, nutrient loads, stream-dwelling organisms, and coastal marine ecosystems.
The United States Geological Survey (USGS) independently operates a streamflow gage on the lower Alsek River, a large glacial river on the outer coastline of Glacier Bay National Park and Preserve. A second gage is operated by USGS along the Salmon River near the park boundary in the town of Gustavus, with support from the Alaska Department of Transportation. A funding partnership between the National Park Service (NPS), USGS, and the Municipality of Skagway enables operation of a streamflow gage by the USGS along the Taiya River, another glacial river that runs through Klondike Gold Rush National Historical Park. A similar partnership among the NPS, USGS, and City of Sitka sustains operation of a gage on the Indian River, just upstream of the boundary of Sitka National Historical Park.
The primary objective is to monitor current streamflow in all three Southeast Alaska parks and to quantify long-term trends in annual and seasonal streamflow patterns.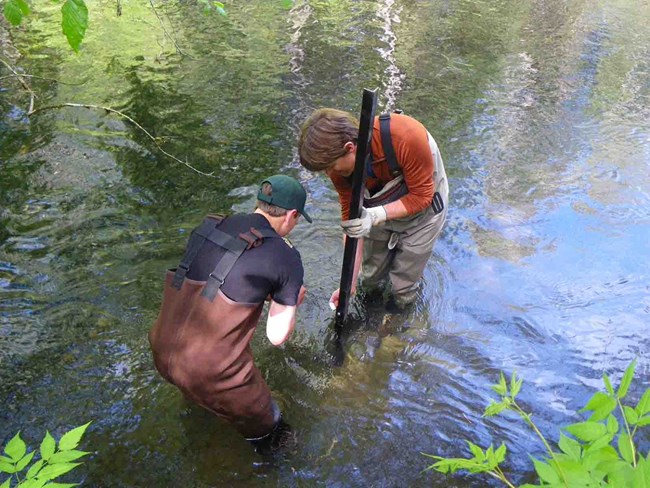 Water Quality
Water quality is an indicator of aquatic and terrestrial ecosystem health in Southeast Alaska, a rainforest landscape dominated by a wet and mild maritime climate. Trends in water quality can signify chronic or developing watershed issues within Southeast Alaska parks.
The Southeast Alaska Network has established continuous water quality monitoring stations at: the Indian River in Sitka, the Taiya River outside Skagway, and the Salmon River near Gustavus. At each site, sondes (multiparameter data loggers) measure four core parameters hourly from May through October: water temperature, pH, specific conductance, and dissolved oxygen. Hourly turbidity data are also collected at the glacially influenced Taiya River.
Data collected for water quality:
Track the status and trends of each core water quality parameter (specific conductance, dissolved oxygen, pH, and water temperature; plus turbidity in the Taiya River) for at least one river in each Southeast Alaska park

Describe the timing and magnitude of seasonal and annual variation for each core water quality parameter

Evaluate whether state and/or federal water quality standards are met or exceeded
We monitor streamflow and water quality in all the Southeast Alaska Network parks.

Last updated: February 20, 2019