Pets
Hot Springs National Park Is Pet Friendly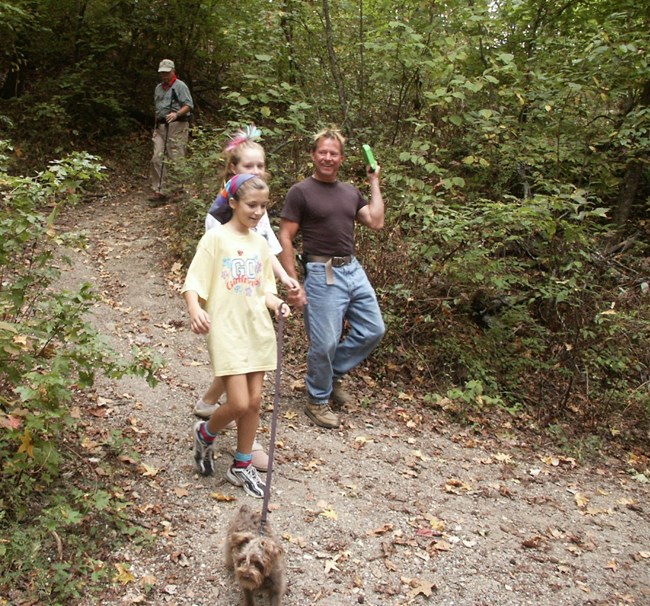 Pets are an important part of our lives, providing companionship, love, and joy to their caretakers.
Dogs are welcome on all 26 miles of the Hot Springs National Park trails. There are Pet Waste Stations located on both ends of Bathhouse Row and in the campground.
Pets are not permitted inside of Federal Buildings but must wait outside the visitor center and other park buildings.
Pets should not be left unattended. Summer heat poses a threat to pets left in vehicles.
Plan ahead and prepare. Check out our safety page before you go. Take enough water for you and your dog. Be sure the sun has not made the pavement too hot for your pets paws.
Certified guide animals are an exception to these rules and may accompany their owner to all park locations.
Service animals are allowed in national parks. For the definition of a service animal, please see the Americans with Disibilities Act (ADA) definition.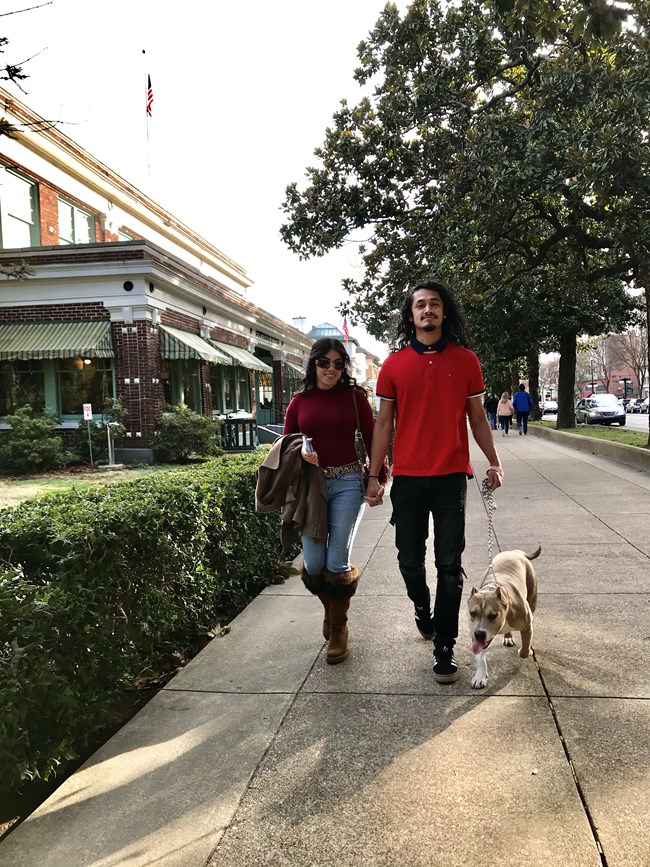 Help keep Hot Springs National Park Pet Friendly by following B.A.R.K. Ranger principles.
Bag your pets waste. Help keep your national park clean by collecting and disposing of all dog waste. Public garbage cans are located throughout the park, including at the visitor center.
Always keep your pet on a leash. For the safety and comfort of all the park's visitors, dogs must be restrained on a leash no longer than 6 feet. We know that sometimes Fido likes to run free, but keeping dogs on leashes will also protect them from ticks, snakes and other wildlife, and other dogs.
Respect wildlife. The park is also home to snakes, birds, rabbits, deer, and other wildlife. Pets can harass or harm wildlife by making noise or scaring wildlife away. Please keep your dog at a respectful distance from any animals you may encounter.
Know where you can go. Pets are not allowed inside park facilities, including the visitor center. However, the national park is home to 26 miles of trails that dogs (and their humans) love!
Learn more how you and your dog can enjoy the National Park Service with B.A.R.K. Ranger program.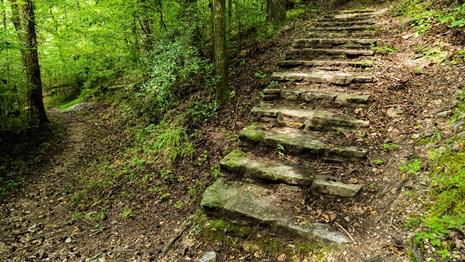 Hiking
With 26 miles of hiking trails in the Park, you can find great views, beautiful forest scenery, and feel like you're not in the City.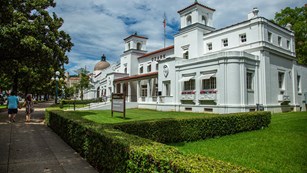 Bathhouses of Hot Springs
Delve into the history, economics, and environmental considerations that led to the creation of Bathhouse Row.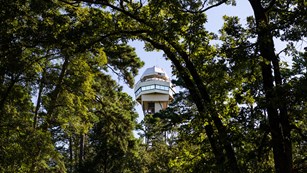 Hot Springs Mountain Tower
View Hot Springs from atop the Mountain Tower. Learn more about the history of this Hot Springs icon.
Things to Know before you Visit
Know where to soak, where to park, and what to expect when you arrive.
Last updated: September 30, 2021