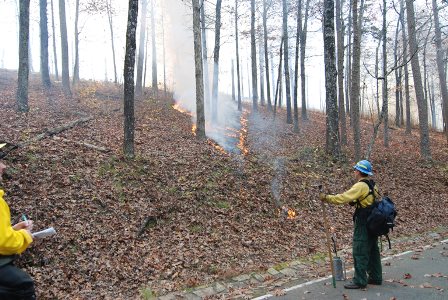 News Release Date:
October 11, 2016
Contact: Tony Collins, 870-365-2772
Prescribed Fire Planned at Hot Springs National Park
Hot Springs National Park is planning to conduct prescribed fire operations, weather permitting, this month. The first opportunity will be on Tuesday, October 11, 2016.
Weather conditions permitting, prescribed fires will be conducted on Pullman Ave. Tuesday, October 11 and on Hot Springs Mountain Wednesday, October 12. Hot Springs Mountain road and trails will be closed during burn operations. The Hot Springs Mountain Tower will also be closed. 
Old-growth forest restoration, exotic species reduction, and fuels reduction are the primary reasons for conducting prescribed fires. 
 All efforts are taken to minimize smoke impacts, though smoke-sensitive individuals may want to avoid outside activities on the day of the operation. Visitors should keep in mind that certain areas of the park may be temporarily closed to the public to provide for public and fire fighter safety. 
 For more information on the Prescribed Fire or the Hot Springs National Park Fire Management Plan, contact Prescribed Fire Specialist, Tony Collins, at 870-365-2772.