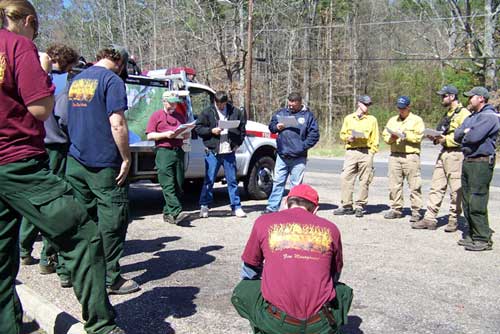 News Release Date:
March 27, 2012
Contact: Tony Collins, Fire Specialist, (870)577-2340
Hot Springs National Park Superintendent, Josie Fernandez announces that weather permitting the National Park Service is planning to conduct a prescribed burn on Thursday, March 29. The 7-acre burn area is located east of Pullman Avenue between Dean Place and Congress Street. Exotic species control and reduction of burnable fuels are the primary reasons for the prescribed fire operation.
"Fire is a natural process, and has been a part of Arkansas landscapes for thousands of years," said Fernandez. "Prescribed fire is a way for land managers to restore fire to ecosystems in a carefully planned manner, using very specific weather and personnel guidelines to protect public safety while achieving resource management objectives."
For more information on prescribed fire planning or the Hot Springs National Park Fire Management Plan, contact Prescribed Fire Specialist, Tony Collins, at (870)577-2340.