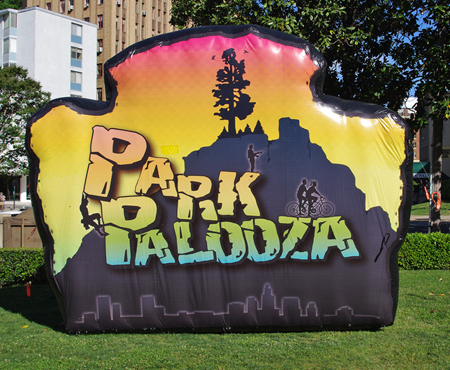 News Release Date:
April 3, 2013
Contact: Mike Kusch, 501-620-6755
For Immediate Release
April 3, 2013
Contact:Mike Kusch
Chief of Interpretation and Cultural Resources
501-620-6755
ParkPalooza 2013: Saturday, April 20, 10 a.m. to 3 p.m.
Hot Springs, AR -Does your child want to have fun?The event will take place on Saturday, April 20th, and lasts from 10 a.m. to 3 p.m.The event will be located on the Arlington Lawn, across the street from the Arlington Hotel.ParkPalooza is an opportunity for children to play, have fun, and learn about the National Park Service and its careers.
Healthy Hot Springs will join Hot Springs National Park this year.Activities will focus on healthy life styles.Learn tai chi, yoga, cardio mix and zumba.Additional activities include learning about hiking, finding geocaches, arts in parks, fishing, dog health, birds of prey, and much more.There will be fun activities for people of all ages.
"This is a day of fun for children," said Josie Fernandez, Park Superintendent."Children can participate in fun and healthy activities throughout the event.We look forward to seeing you there."
Activity Schedule:
10 to 10:30 a.m. Tai Chi
11 to 11:30 a.m. Yoga for Children
12 noon to 12:30 p.m. Yoga
1 to 1:30 p.m. Cardio Mix
2 to 2:30 p.m. Zumba
10:40 a.m., 11:40 a.m., 12:40 p.m., and 1:40 p.m. Indian Club Swinging
For more information please call Hot Springs National Park at (501) 620-6740, or visit www.nps.gov/hosp.
-NPS-
About the National Park Service. More than 20,000 National Park Service employees care for America's 401 national parks and work with communities across the nation to help preserve local history and create close-to-home recreational opportunities. Learn more at www.nps.gov.