Date:
February 16, 2012
Contact:
Betty Spafford
, 501-623-2824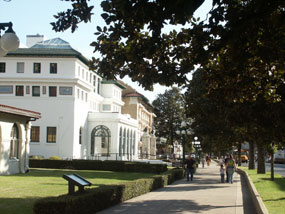 A study completed by Michigan State University estimates that during 2010 visitors to Hot Springs National Park spent $89 million in association with their visit and that about $84.5 million of the total spent came from out of town guests.
The figures include expenditures at motels, hotels, bed and breakfast establishments, restaurants and grocery stores; and on retail and fuel purchases. National Park Service (NPS) employee and contract labor salaries; and park and contractor purchases of supplies and materials added another $4.99 million to the local economy.
Nationwide, the study estimated $12.13 billion was spent by visitors in communities surrounding National Park Service sites during the same time period. Out of town visitors to Arkansas' seven NPS sites spent nearly $138 million.
"National parks represent what is best about our country's natural and cultural resources and as such are a magnet for visitors who want to connect to their heritage," said Josie Fernandez, Hot Springs National Park superintendent. "The economic impact of those visitors vacationing here is the added value that Hot Springs National Park brings to this community."
"We are very proud to contribute to the economic health of this community and will continue to work very hard to achieve the park's full potential as we move forward to lease the remaining vacant bathhouses on Bathhouse Row and vibrant new businesses partners start creating more jobs," Fernandez added. "My goal has always been to have a US flag flying on every building to signal that we are open for business. We are on way to achieving that goal."
"As reflected in our 100% visitor satisfaction results in the park's 2010 and 2011 annual surveys, together with our park partners we provide outstanding quality of life and experiences to visitors and community residents alike," Fernandez said. "Our pledge is to continue in that tradition."
The complete study is found at www.nature.nps.gov/socialscience/docs/NPSSystemEstimates2010.pdf.