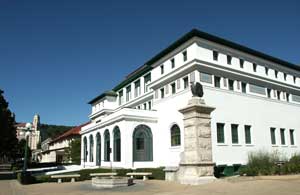 News Release Date:
November 13, 2007
Contact: Diane East, 501-623-3834
PS/The National Park Service has issued an RFP (Request for Proposals) to solicit proposals from the private sector for long-term leases of three historic buildings in Hot Springs National Park--the Superior, Hale, and Maurice Bathhouses.
The proposals may be submitted starting November 15, 2007 and all proposals must be received by 4:30 p.m. (CST) April 30, 2008.
The three historic buildings offered are part of Bathhouse Row, a National Historic Landmark District that contains a total of eight historic bathhouses known as the grandest collection of their kind in America. The historic buildings are arrayed in a continuous row along Central Avenue, opposite the City of Hot Spring's "Main Street" style commercial streetscape. 
The buildings were built between 1892 and 1916 and range in size from over 10,000 square feet to almost 23,000 square feet. 
Parties interested in obtaining an RFP should contact Superintendent Josie Fernandez or Management Assistant Diane East by mail at Hot Springs National Park, 101 Reserve Street, Hot Springs, AR 71901, or by phone at 501-623-2824. An RFP can also be downloaded (17.8 mb .pdf file.) It will take a few minutes to open.