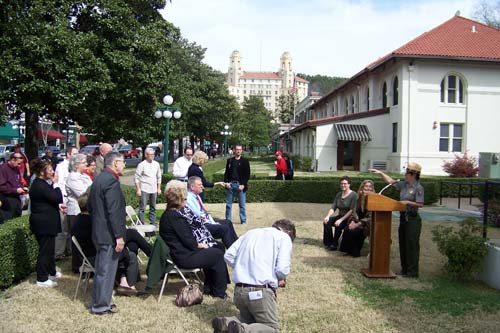 News Release Date:
March 9, 2012
Contact: Josie Fernandez, 501-620-6730
Tuesday, March 6, 2012, Hot Springs National Park Superintendent Josie Fernandez announced that the National Park Service will enter into negotiations to lease the Hale and Superior bathhouses.
On hand at the press conference were Deleen Davidson, President of The Muses Inc. whose proposal calls for creating a cultural arts center at the Hale Bathhouse; and Rose Schweikhart Cranson, President of Vapor Valley Spirits Inc., whose intentions are to establish a micro-brewery using the hot springs thermal waters as the main ingredient.
Midwest Regional Director Mike Reynolds sent letters to Davidson and Schweikhart Cranson informing them that the proposals they submitted in response to a Request for Proposals issued from May to December 2011 had been accepted. Letters of Intent to enter into good faith negotiations that establish a timeline for the submittal of information and documentation leading to execution of the proposed leases will follow.
"For eight years now, I've been speaking of a renaissance for Bathhouse Row, and I have said that American flags flying at each bathhouse would signal success in our endeavor" said Superintendent Fernandez. "In the 1980s this community rallied around the Fordyce Bathhouse and joined the National Park Service to restore it and to re-open it as the Hot Springs National Park Visitor Center and Museum. Today, I purposely announce the lease negotiations for the Hale and the Superior not in front of those buildings, but here, on the lawn of the Maurice Bathhouse lest it be forgotten.
"As we announced Rose and Deleen as newest partners on Bathhouse Row, let's not lose sight of this historic building. Let's also come together and rally around the Maurice, let's restore it; let's bring new life into it, let's place the Stars and Stripes on its rooftop forever," she added.