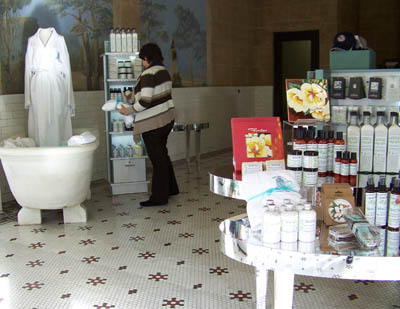 News Release Date:
December 2, 2011
Contact: Mike Kusch, 501-620-6755
HOT SPRINGS, AR: Explore the new Bathhouse Row Emporium which opened at Hot Springs National Park on Friday, December 2, 2011. Located inside the Lamar Bathhouse lobby at 515 Central Avenue, the Emporium will be open seven days a week from 10 a.m. to 5 p.m., except Christmas, New Years and Thanksgiving holidays. This is the park's new store, replacing the former bookstore at the Fordyce Bathhouse. Come out and visit the new store, marvel at the Lamar Bathhouse lobby and find special holiday gifts for your family and friends.
The Emporium will feature special, one of a kind items, not sold elsewhere. This includes magnolia-scented soap and lotion that are made with Hot Springs thermal water and produced in the park. You will also find coffee, tea and hot chocolate made with the thermal water, and a place to sit down and relax.
The Bathhouse Row Emporium is managed and operated by Eastern National, the park's cooperating association. Eastern National is a not-for-profit business that donates its proceeds to Hot Springs National Park and other National Park Service sites to support interpretation and education programs and projects.