Wildland Fire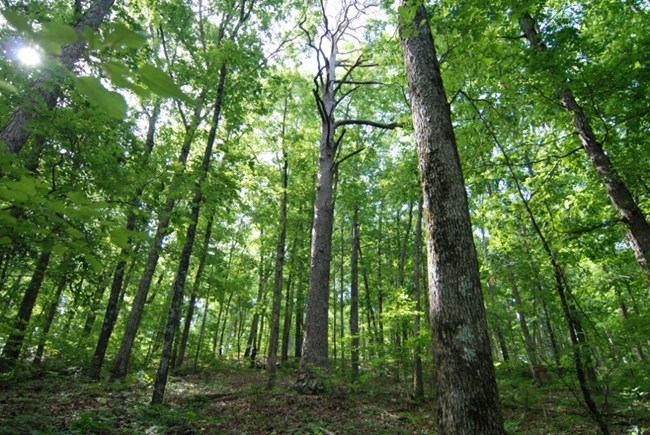 Old Growth Forests in Hot Springs National Park
More than a century ago, the land around the thermal springs was set aside for protection by the federal government. Over its history, the park's boundaries have changed. Yet, several areas have always been within the boundaries. The protected areas have had limited impacts from humans. This protection allowed the trees to continue growing. Today, those areas are called "old growth forests." They are important in understanding how the forest ecosystem has changed over time. Tree-ring samples from the old trees can help scientists learn about changes in the climate of this region. Human influences on the land outside the park boundaries included:
logging
farming
ranching
residential areas
business districts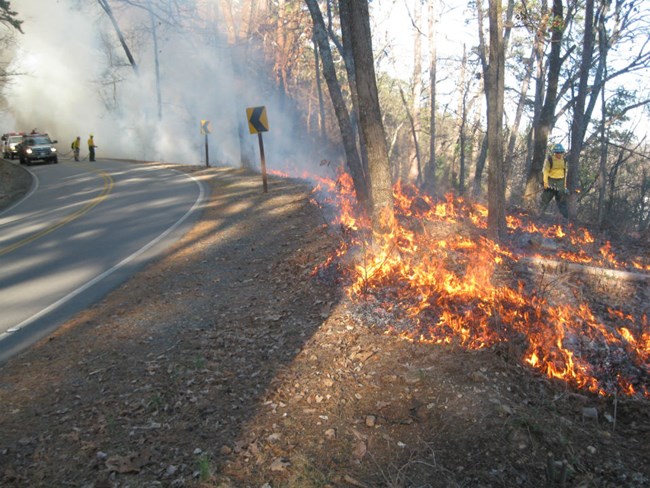 Prescribed Fire
All these human interests shaped fire management in the national park. The fire staff rely on scientific data to plan prescribed fires. In Hot Springs National Park, the goal with prescribed fire is to maintain a healthy woodland ecosystem. Oak, hickory, pine, and other hardwood tree species make up the overstory. Plants that live in the shade of these trees make up the understory. Understory vegetation includes grasses, forbs, sedges/rushes, ferns and woody species. The woodlands at Hot Springs National Park provide an important service. As rain falls on the mountains, the vegetation allows the water to soak into the ground. Without the vegetation, rainfall would run off the slopes of the mountain and into the rivers. The water that goes into the ground will spend thousands of years on a journey, recharging the thermal springs.
Prescribed fires in Hot Springs National Park are conducted when weather and fuel conditions are right. The prescribed fires reduce the burnable material (fuel) in the understory, allowing native plants to thrive. When the native ecosystem is healthy, the risk of a catastrophic wildfire is reduced.
Learn More About Wildland Fire in Arkansas
Last updated: June 17, 2020