Lamar Bathhouse
Then & Now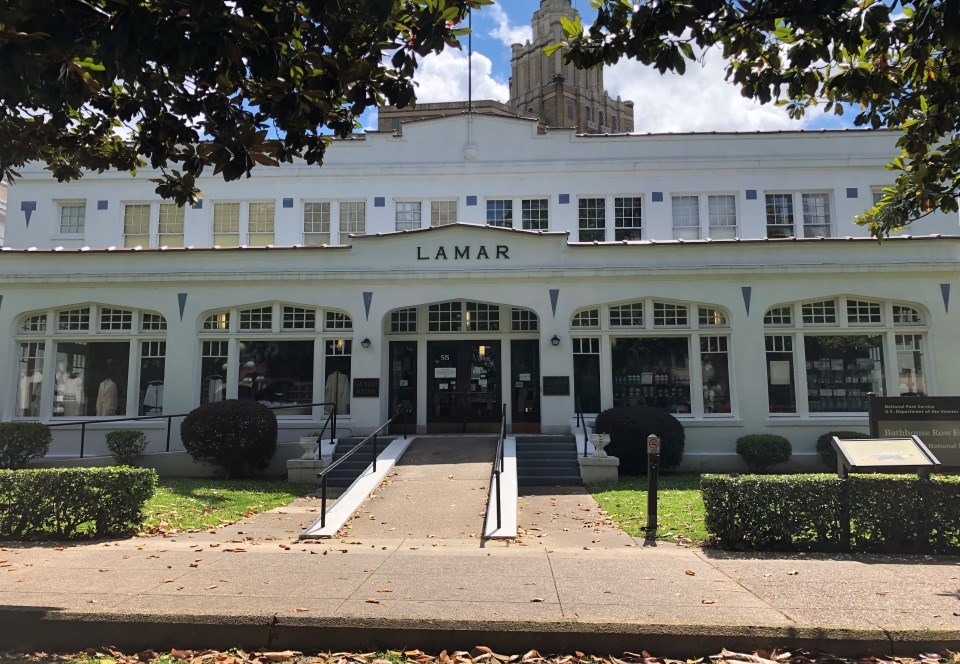 Left image
The Lamar Bathhouse, pictured in the early 1900s.
Credit: NPS Photo/HOSP Archives
Right image
The Lamar Bathhouse, pictured today.
Credit: NPS Photo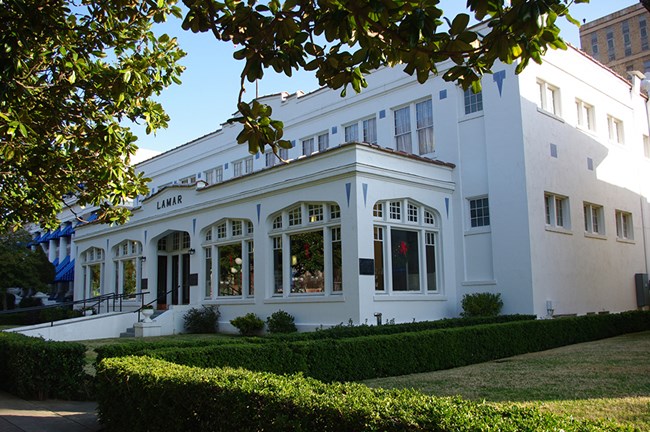 Today
Today, the structure houses offices for the park's Resources Management employees, the park archives, museum collection storage spaces, a small research library, and the park store, Bathhouse Row Emporium, operated by America's National Parks. The Lamar Bathhouse is open every day from 9:00-5:00pm, with the exception of Thanksgiving Day, Christmas Day, and New Years Day when it is closed.
Bathhouse History
The current Lamar Bathhouse opened on April 16, 1923 replacing a wooden Victorian structure named in honor of the former U. S. Supreme Court Justice Lucius Quintus Cincinnatus Lamar. He was Secretary of the Interior when the first version of the bathhouse was built in 1888. The stone, brick, and stucco construction is moderately Spanish in flavor and coordinates well with the five other bathhouses with Spanish motifs. The Lamar was unique in that it offered a range of tub lengths (5', 5' 6", 5' 9", 6', 6' 6") for people of various heights. It also had a small coed gymnasium with another separate area for women adjacent to the gymnasium. The Lamar Bathhouse closed on November 30, 1985.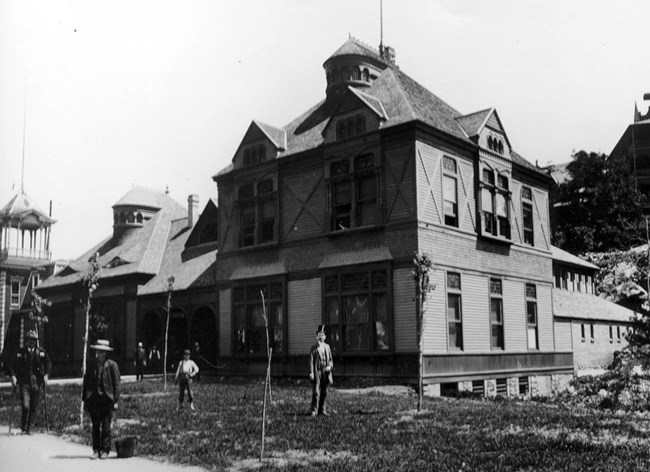 Architecture & Design
The present structure cost $130,000 to build. Harry Schwebke's architectural design for the Lamar can be described as representing "a transitional style often used in clean-lined commercial buildings of the time that were still not totally devoid of elements left over from various classical revivals." The most distinctive exterior component is the sun porch with its windows of three sections and a wide center bay. The lobby, featuring a long counter of Tennessee marble, was the largest of the eight bathhouses on the Row. Murals and stenciling were added to the lobby and stairways sometime in the 1920s by Danish muralist J. W. Zelm for a European aura. In the mid-1940's, the interior halls and stairs were embellished with marble, ornamental iron balustrades, and silver glass interspersed with red panel wainscots.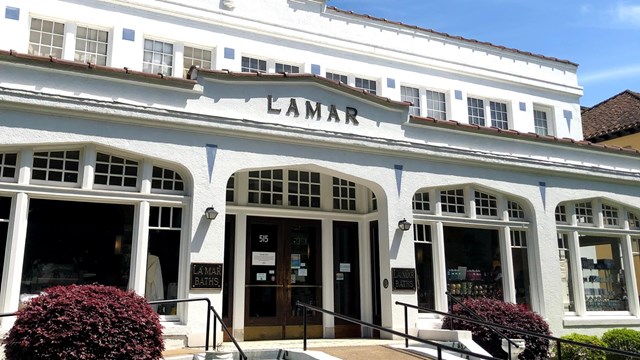 Bathhouse Row Emporium
Learn more about the official park store, the Bathhouse Row Emporium located in the Lamar Bathhouse.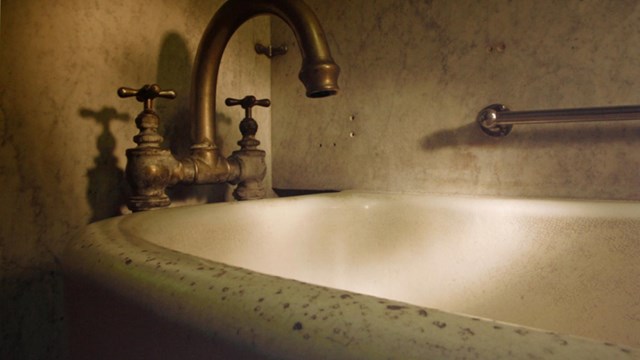 Soak in the Springs
Fully submerge yourself in the thermal water and let your worries melt away.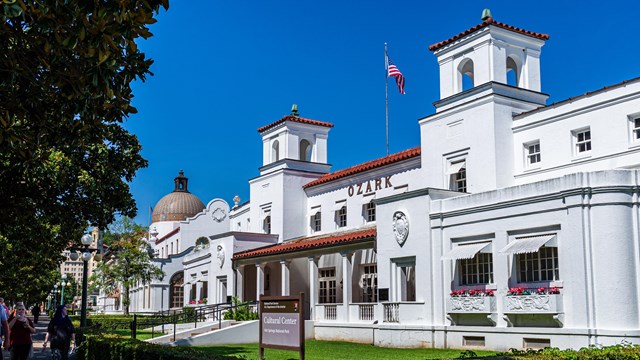 Bathhouse Row
Bathhouse Row is home to the Park's historic bathhouses. Learn about what is available in each of the bathhouses today.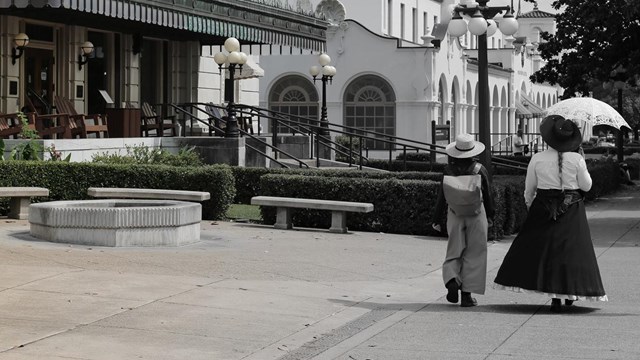 History & Culture
Learn more about Hot Spring National Park's unique cultural and natural history.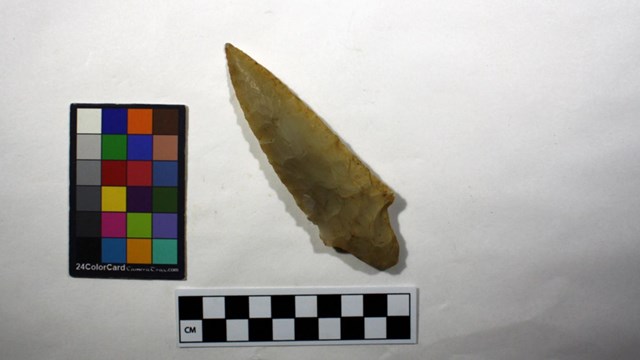 Archeology
Hot Springs NP has a dense, rich archeological record with 92 sites and counting. Learn more about our history's mysteries.
Last updated: July 7, 2022