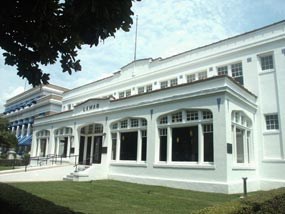 The Lamar Bathhouse building opened on April 16, 1923, replacing a wooden Victorian structure named in honor of the former U. S. Supreme Court Justice Lucius Quintus Cincinnatus Lamar. He was Secretary of the Interior when the first bathhouse was built in 1888. The stone, brick, and stucco construction is moderately Spanish in flavor and coordinates well with the five other bathhouses with Spanish motifs. The Lamar was unique in that it offered a range of tub lengths for people of various heights. It also had a small coed gymnasium with another separate area for women adjacent to the gymnasium. The Lamar Bathhouse closed November 30, 1985. It now houses offices for several park employees and the park store, Bathhouse Row Emporium.
Read a brief history of the Lamar.
Download Adobe Acrobat Reader for this .pdf file.