Uēkahuna
Planning to visit Uēkahuna?
Is it quiet? Help keep it that way and allow visitors to connect with their surroundings in peace.
Be a good steward
by following the seven principles of
Leave No Trace
. Be safe, responsible, and respectful to each other and this sacred place during your visit.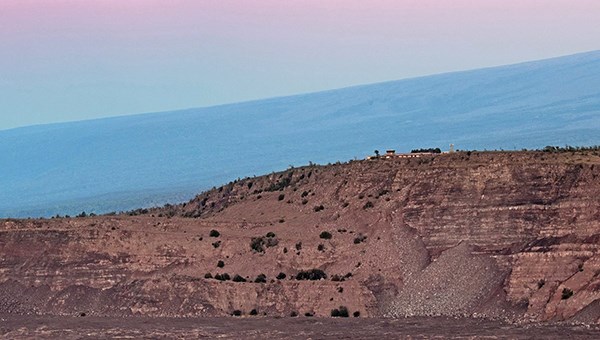 Uēkahuna is a cherished place...
Uēkahuna (formerly spelled Uwēkahuna) is the summit region of Kīlauea volcano located above the steep pali or cliffs of Kaluapele, the caldera of Kīlauea. It is a chosen site for Native Hawaiian cultural practices to honor the Hawaiian volcanic diety, Pelehonuamea. At an elevation over 4,000 feet (1,200 m), Uēkahuna also presents visitors with spectacular vistas of Kaluapele, Mauna Loa, and surrounding areas.
"Uēkahuna, the wail of a priest"

In the 1996 reprint of "Hawaiian Legends of Volcanoes" by Westervelt, a Hawaiian story tells of a hōlua (sled) race between Pele and Kahawali. Kahawali, a chief in the district of Puna, was challenged by the Hawaiian volcano deity unbeknownstly. Unfamiliar with the narrow sled, Pele was beaten by the renowned chief. Before starting again, she asked him to give her his sled. He rediculed Pele, then in a fit of vengeance Pele made herself known. She chased after him in the form of lava, and a great flood of lava overan his family.

Kahawali later joined his father on the island of Oʻahu and remained. Other legends say he went to Kauaʻi and gathered a company of the most powerful priests to return to Hawaiʻi for the destruction of Pele and her volcanic fires.

Six of these priests, according to Mrs. Rufus Lyman, who owned the land of this adventure and whose descendants still hold the same, came to Hawaii with the defeated Kahawali. These were Halemaʻumaʻu, Kaʻauea, Uwekahuna, Kauanohunohu, Kalaniuaula, and Kapueuli.

They took their positions near Kīlauea and challenged Pele, crying out: "Where is that strange and wonderful woman?" Kaʻauea (The fiery current) and Uwekahuna (priest weeping) and Halemaʻumaʻu (House of ferns) were kahunas, or priests of wonderful power. They were the only ones who left their names to localities in the neighborhood of Kīlauea.

Halemaʻumaʻu had his house of ferns for a long time upon a precipice, back of the present Volcano House. From there the name has been changed both in meaning and location to the lava pit, the pit of Pele, in the living lake of fire, where it is called Halemaʻumaʻu (the-enduring-house). Kaʻauea was the name given to a precipice in the walls of the crater. Uwekahuna was a high hill on the northwestern side of the crater, overlooking the fire-pit and the region around Kīlauea. These priests who were also of the rank of chiefs were all killed by Pele except Kahawali, who escaped to Oʻahu.
Kīlauea Volcano Erupts, and Collapses
Uēkahuna provides the most dramatic views of Kaluapele, which underwent a massive collapse during the eruption of 2018.
What Does the Future Hold for Uēkahuna?
Permanent structures were built at Uēkahuna beginning in 1927, and variously housed both the National Park Service and the USGS Hawaiian Volcano Observatory. These structures including the former Jaggar Museum were severely damaged following the lower east-zone eruption and summit collapse of Kīlauea in 2018.
Last updated: August 23, 2023