Mauna Loa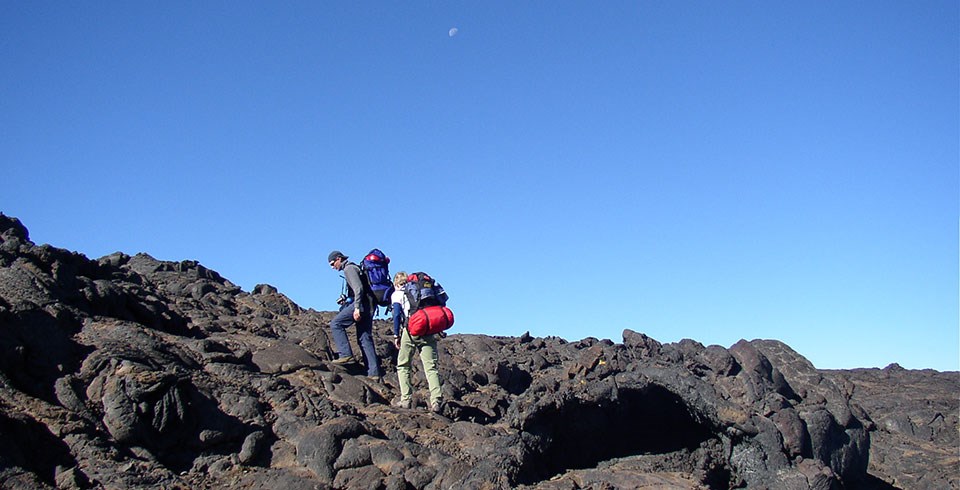 A hike up the 13,678 foot (4,170 m) Mauna Loa can be rewarding, but poses a significant challenge. The summit is high altitude and the trail is over rough, jagged, and often loose lava. The trail is marked with ahu (stacked rocks) and can be very easy to lose in times of low visibility.

The summit area of Mauna Loa may be accessed from two trailheads:
Mauna Loa Road: 7.5 mi (12.1 km) from Mauna Loa Lookout to Puʻuʻulaʻula, 11.6 mi (18.7 km) from Puʻuʻulaʻula Cabin to Summit Cabin. Elevation gain is significant.
Mauna Loa Observatory Road: 5.9 mi (9.5 km) from Mauna Loa Observatory to Summit Cabin, 6.4 mi (10.3 km) from Mauna Loa Observatory to actual summit.
Stays are limited to 3 consecutive nights per site. Backpackers to Mauna Loa should be adequately equipped, experienced in wilderness/high altitude trekking, and physically fit.

GPS coordinates for Mauna Loa Road Lookout Shelter: 19.49283, -155.38551, Pu'u Ula'ula - Red Hill Cabin: 19.53034, -155.46440, Mauna Loa Summit Cabin : 19.46647, -155.58201
Register
All eight backcountry campsites (Ka'aha, Halapē, Keauhou, 'Āpua Point, Nāpau, Pepeiao Cabin, Red Hill Cabin and Mauna Loa Cabin) require a permit. See the Backcountry Hiking page for instructions on how to obtain your permit.
Be Prepared
Facilities
A total of 24 hikers are allowed per night at the Pu'u 'ula'ula (Red Hill). The cabin has 8 bunks with thin foam pads. A total of 28 hikers are allowed at the Mauna Loa summit cabin area. The summit cabin has 12 bunks with mattress pads. Cabins have attached water catchment tanks. Check on current water levels when obtaining your permit. Treat all water before drinking. Composting toilets are provided; please use them. Do not put trash in the pit toilets.

There is no drinking water at either the Mauna Loa Observatory or Mauna Loa Road trailheads. Both are accessible by one-lane paved roads. Neither has public telephones or public transportation. It takes about an hour to drive from the Kilauea Visitor Center via Mauna Loa Road to the trailhead, and two hours to drive to the Observatory trailhead via Saddle Road.

Leave No Trace
Hikers are required to pack out everything they pack in. Do not bury or discard trash in pit toilets - Pack it out. Practice "leave no trace" camping
Hazards
Weather Hazards
Be prepared for severe winter conditions, including blizzards, high winds, and whiteouts. Snow or driving rain are possible at any time of year. High altitude storms can occur without warning. Temperatures are below freezing at night all year round.
Mauna Kea/Mauna Loa Weather Forecast
Mauna Loa Summit Webcam
Mauna Kea Observatories Webcam


Health Hazards
You will be hiking at high altitudes under rigorous conditions; altitude sickness is common. The only cure is to descend. Pace yourself, drink plenty of water. Pack extra clothing and your sleeping bag in plastic for waterproofness. Stay warm and dry; hypothermia (low body temperature) is a killer. Be prepared to treat injuries caused by falls on sharp, glassy lava.
SCUBA divers MUST wait at least 24 hours before ascending Mauna Loa to avoid getting the BENDS. This means that if you were diving less than 24 hours ago, you should not be hiking on Mauna Loa.
There are serious and potentially fatal consequences of hiking at high altitude. Mauna Loa IS HIGH ALTITUDE.
Children under 16 years of age, pregnant women, and individuals with severe health problems including, but not limited to, pulmonary and cardiac problems, high blood pressure, or a severe overweight condition SHOULD NOT HIKE on Mauna Loa without first consulting with their own personal physician.
Be familiar with the following symptoms of Acute Mountain Sickness (AMS), High Altitude Pulmonary Edema (HAPE), and High Altitude Cerebral Edema (HACE). If you have had AMS, HACE, or HAPE before, you are very susceptible to getting it again -- check with your personal physician before hiking on Mauna Loa. The only appropriate treatment for altitude-related illnesses on Mauna Loa is evacuation to a lower elevation., preferably to sea level. If symptoms do not get better at sea level, the individual should be admitted to a hospital for observation and treatment.
Acute Mountain Sickness (AMS): mild to severe headache (which responds to aspirin), nausea (and/or vomiting), lack of appetite, sleeplessness, malaise, altered muscular coordination (ataxia), altered mental state, dizziness, fainting, extreme shortness of breath, possible swelling in hands and face.
High Altitude Pulmonary Edema (HAPE): headache, nausea (and/or vomiting) lack of appetite, dizziness, weakness and fatigue, increasing anxiety, unable to catch breath (even at rest), very rapid pulse, gurgling sounds in the lungs, very rapid respiration rate, dry cough at first then becoming wet (possibly pink), incoherence or hallucinations, blue coloration in lips and under finger nails.
High Altitude Cerebral Edema (HACE): headache (which doesn't respond to aspirin), nausea (and/or vomiting), loss of balance (ataxia), loss of muscular coordination, altered mental state, decreased mental functioning, psychological withdrawal, disorientation, confusion, hallucinations, weakness or numbness on one side of the body, being unable to talk, being unable to make sense while talking, coma.
IF MORE THAN ONE OF THESE SYMPTOMS IS PRESENT, DO NOT WAIT - DESCEND IMMEDIATELY. IF SYMPTOMS PERSIST AFTER DESCENT TO SEA LEVEL, SEEK MEDICAL ATTENTION WITHOUT DELAY. THIS IS A MATTER OF LIFE OR DEATH!
Fire Hazards
The Mauna Loa Road traverses areas which contain very flammable grasses and brush. Open fires are prohibited.
Learn more about the most massive active volcano on earth
Last updated: March 21, 2023