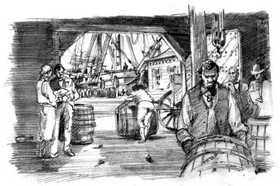 First and foremost Hampton was a family business. The 1,500-acre Northampton tract, first acquired by a Ridgely in 1745, had all the essential elements for ironmaking: iron ore, limestone used in the ironmaking process, timber providing charcoal to fuel the furnace, and waterpower from a tributary of the Gunpowder River. By 1762 when Charles Ridgely established an ironworks on the land he referred to as his "Plantation in the Forest," iron was one of the most profitable exports of the mid-Atlantic colonies. The local government and the British crown encouraged this industry through tax incentives and other benefits. By 1776, the American colonies together were the world's largest producer of raw iron. Ridgely owned a fleet of merchant ships, which transported raw iron and cash crops to Europe in exchange for finished goods. In addition, he owned mills, quarries, orchards, and a general merchandising business in downtown Baltimore. These enterprises made Ridgely a wealthy man and formed the basis of his heir's fortunes as well.
Nearly two centuries after Hampton's ironworks were established, historian Carl Bridenbaugh described ironmaking in colonial times; "a large tract of undeveloped woodlands was needed to supply charcoal for a furnace; a farm had to be operated to furnish food and other necessaries for the labor force . . . Care of the wagons, tools, machinery, and other equipment required the work of carpenters, blacksmiths, wheelwrights, cartwrights, millers, and sawyers to such an extent that an iron plantation was probably the most self-sufficient large economic unit in America." Besides Northampton, the Ridgelys owned major interests in several other ironworks. An early 19th century iron furnace is shown at left.
Seafaring was a Ridgely family occupation from the time of Maryland's settlements in the 17th century. Like other shipping concerns in the Chesapeake region Ridgely ships such as the Baltimore Town carried raw foodstuffs and pig iron to England. They then returned with manufactured goods and luxury items some of which you can see in the mansion today. As the Revolutionary War approached, this trade system broke down. Disputes between British and colonial merchants were among the significant causes of the war.