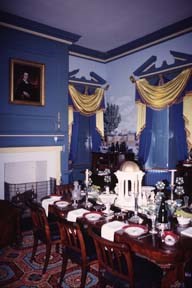 In 1875 a journalist chronicled the mansion's beginnings: "The country-people soon saw with amazement what was to them a palace rising in the wilderness…They called it 'Ridgely's Folly.'" Built between 1783 and 1790, Captain Charles Ridgely's dwelling rose with the new nation, yet was modeled after the aristocratic homes of another place and time. Castle Howard in Yorkshire, England, with its large octagonal cupola, may have inspired Ridgely's vision of his country residence; the Captain claimed kinship with the owners of that English estate through his mother's family.
Hampton did not have a formal architect; the master carpenter, Jehu Howell, is credited with much of the design. Local craftsmen, slaves, and indentured servants provided the labor. Hampton Mansion reflects classic Georgian symmetry: a large three-story structure connected to smaller wings on either side by hallways, or hyphens. The exterior is constructed of stone quarried on Ridgely property, stuccoed over and scored to resemble blocks of limestone. The pinkish color comes from iron oxide in the stuccoing compound.
In keeping with its role as a symbol of wealth and power, the mansion had large and lavish rooms where the Ridgelys indulged their taste--and the national obsession--for the styles of ancient Greece and Rome. The set of Baltimore-made painted furniture in the drawing room, purchased in 1832 by John and Eliza Ridgely, reflects this classical influence, as do many other chairs, tables, sofas, and decorative items. Later owners ushered in the Victorian mode, the Music Room displays furnishings accumulated by several generations of Ridgelys.