Visitor Center
News & Updates

The old Hagerman Fossil Beds Visitor Center is currently CLOSED as we prepare to move into our new building at Thousand Springs State Park. The projected soft opening for the new visitor center is Fall 2021. Temporary fossil exhibits will be on display, and park staff will be available at the information desk. Permanent exhibits are expected to be completed in 2022. Park trails and overlooks remain open at this time.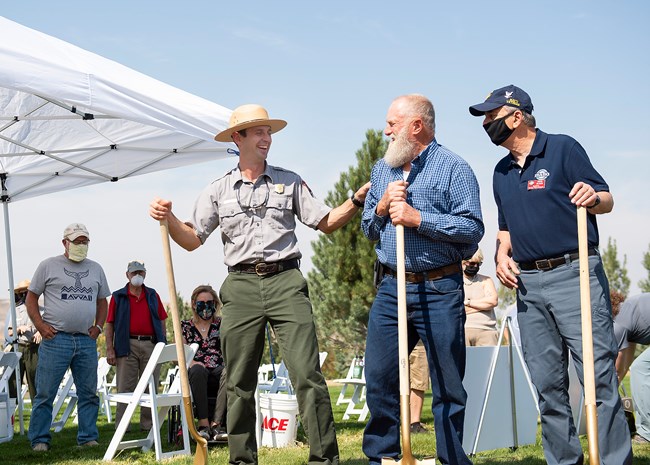 Thousand Springs Visitor Center, New Home to Hagerman Fossil Beds in Fall 2021
Hagerman Fossil Beds National Monument and the Idaho Department of Parks & Recreation are celebrating a new, long-term partnership to enhance recreational and educational opportunities in the Hagerman Valley. We are excited to announce the construction of a new Thousand Springs Visitor Center at the Billingsley Creek unit of the state park.
Visitors to Hagerman Fossil Beds and Thousand Springs State Park will enjoy all-new fossil exhibits, a new park film, ranger programs, and recreation information.
Thousand Springs State Park offers excellent opportunities for hiking, kayaking, birding, picknicking, and more. The park consists of six unique units: Malad Gorge, Kelton Trail, Billingsley Creek, Ritter Island, Niagara Springs, and Box Canyon. Learn more
on the Thousand Springs State Park website.
Construction on the new visitor center began in September 2020 and will be finished in early Fall 2021. Please check back for updates.
Last updated: September 2, 2021