Things To Do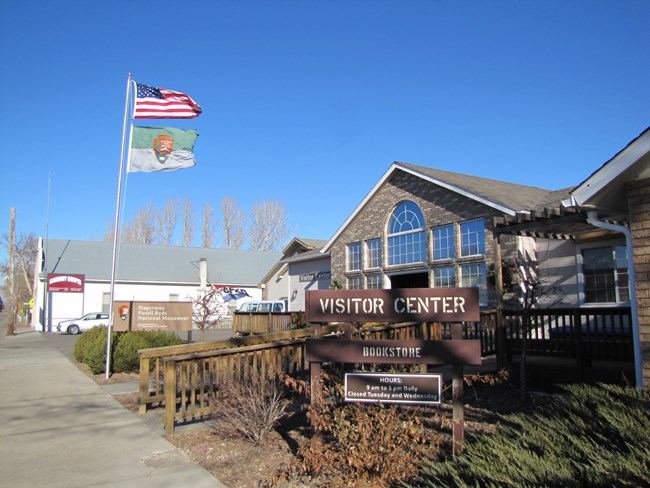 Visitor Center
The Hagerman Fossil Beds visitor center is located in the town of Hagerman at 221 North State Street (Route 30.) Stop by for park information, exhibits, passport stamps, and the park bookstore.
Visitor center hours vary by season.
The visitor center is the only place in the monument to see fossils. No fossil excavation sites are accessible to visitors.
Our new Thousand Springs Visitor Center, in partnership with Idaho Parks and Recreation, is opening in late 2021.
Find information and updates here.
Programs at the Visitor Center
Seasonal programs allow visitors to learn more about Hagerman's fossils, wildlife, and history.
Check the
park calendar
or inquire at the visitor center for current offerings.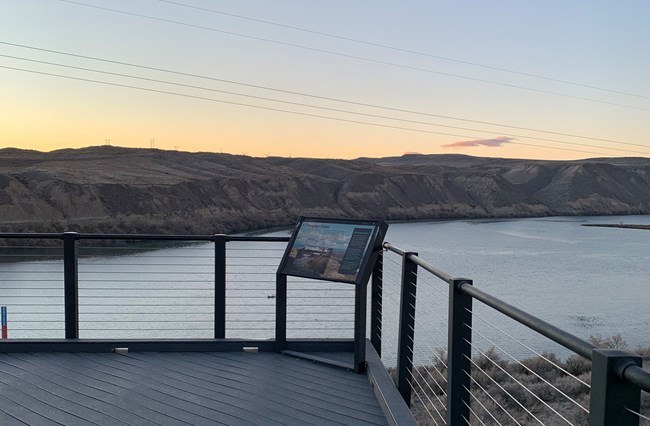 Scenic Overlooks
Snake River Overlook
Enjoy panoramic views of the Snake River and the distant, fossil-rich bluffs along the opposite shore. Interpretive exhibits explore the dramatically different world of Hagerman during the Pliocene Epoch, over 3 million years ago.
The viewing platform is a short walk from the parking area. The paved sidewalk and boardwalk are wheelchair accessible. A covered picnic table and vault toilet are available.
Oregon Trail Overlook
Take a short walk along an unpaved trail, with views of Hagerman's fossil-rich bluffs and remnants of the historic Oregon Trail. Interpretive exhibits along the trail explore the area's human history, from the original Shoshonean peoples, to homesteaders and scientists.
Both the parking area and the overlook walkway are unpaved and may have uneven terrain. Covered picnic tables and a vault toilet are available.
Hiking
Because of the monument's fragile and difficult topography, opportunities for hiking are limited.
The monument's fossil beds are located on steep and extremely hazardous terrain, and there are no places for visitors to see fossils in the ground.
Hiking off-trail is not permitted.
Emigrant Trail
The Emigrant Trail parallels visible remains of the historic Oregon Trail, capturing some of the physical experience of early homesteaders. The trail is approximately 3 miles long each way. Trailheads are located at the Oregon Trail Overlook and across the road from the Snake River Overlook. Hikers can travel in one direction and arrange to be picked up at the other end, or make their hike a round-trip journey. For a one-way hike, it is recommended to begin at the Oregon Trail Overlook to avoid climbing the steepest section of the trail.
Please help to protect this area by following
Leave No Trace
principles. Pack out all trash, leave what you find, and stay on the trail. Wear sturdy shoes and carry plenty of water; no drinking water is available within the monument.
Explore more hiking safety tips.
Pets are not allowed on trails.


Last updated: February 17, 2021