Directions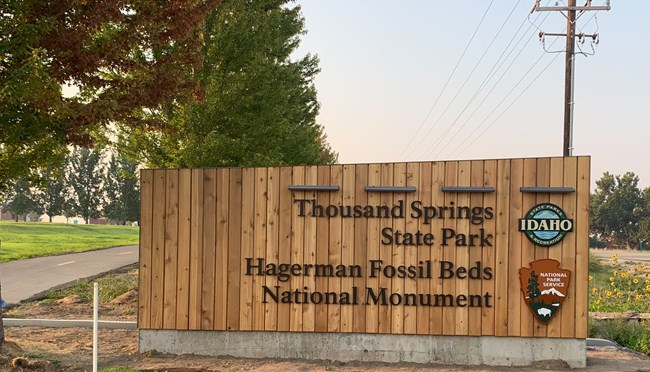 By Car
Hagerman Fossil Beds National Monument's Visitor Center is now called the Thousand Springs Visitor Center. The address is 17970 U.S. Hwy 30, Hagerman Idaho.
The visitor center is about one mile north of downtown Hagerman. Hagerman is located approximately one and one half hours from Boise, Idaho, and forty minutes from Twin Falls, Idaho.
Please note that the visitor center is in the town of Hagerman, not where many GPS units place it on park grounds.
From I-84 East (coming down from Boise, Mountain Home)
Take the
second
Bliss exit (#141) which is Route 26 and follow the sign for Hagerman (right hand turn). The turn-off for Highway 30 East (left hand turn) is one of the first roads after the Amber Inn hotel. Travel 7 miles on Highway 30 East, right before you enter the town of Hagerman.
From I-84 West (coming up from Twin Falls etc)
Take the second Wendell exit, # 155, (Wendell/Hagerman). At the end of the ramp turn left as marked, toward Hagerman. This is Hagerman/Wendell Road or E 2950 S. Take care on this road as it is used by agricultural vehicles and has several potential animal migration crossings. The road is well paved and has an average speed limit of 50 mph, except for a downhill grade where the speed limit drops to 40 mph.
Travel on this road for approximately 10 miles to its end at the intersection with Highway 30. Make a right onto Highway 30 West and travel approximately 3 miles through the town of Hagerman. Please take care to follow the speed limits, especially in the town of Hagerman, as there are many crosswalks and unusual traffic on the roadways.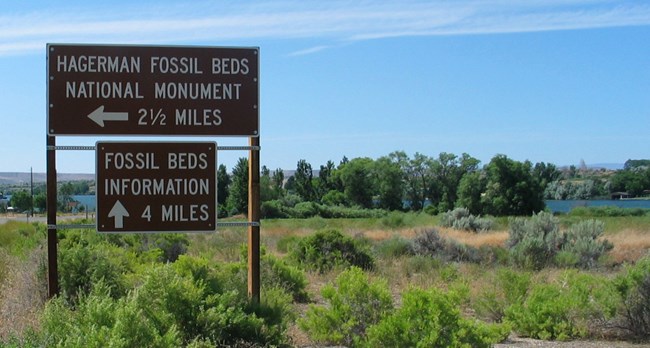 From Twin Falls, Idaho, via US Route 30
Take US Route 30 West out of Twin Falls in the direction of Filer, Idaho. You will travel through Filer and Buhl 36 miles to Hagerman, Idaho. While on the marked scenic highway you will find signs indicating a turn for the fossil beds approximately 4 miles before Hagerman. You are welcome to visit the overlooks on the park ground be please note
the Visitor Center is not on the park grounds, it is located about one mile north of downtown of Hagerman
. Please also be aware that GPS systems often use a route over the Owsley Bridge, which has been closed to traffic for years. Only use Bell Rapids Road, which is where the fossil beds signs are located, to travel to the overlooks.
From Jackpot, Nevada
1. Start out going north on US Highway 93 / US-93 N. Continue to follow US-93 N (Crossing into Idaho). 42.6 miles
2. Merge onto US-30 W via the ramp on the left. 16.2 miles
Follow the directions for travel on US Route 30 above. Please pay special attention to the notes about the visitor center location, north of Hagerman and the directions to the fossil bed overlooks.

Total Travel Estimate: 73.90 miles - about 1 hour 20 minutes
By Plane:
Twin Falls, Idaho
The Magic Valley Regional Airport is located approximately five miles south of Twin Falls. It is approximately 40 miles from the Hagerman Fossil Beds National Monument Visitor Center. There is no public transportation from the airport to the visitor center. There are currently three flights daily to/from Salt Lake City.
Boise, Idaho
Boise Airport is served by six airlines that offer direct flights to twenty major U.S. markets with connecting flights to thousands of cities worldwide. The airport is located approximately 96 miles from the park visitor center. There is no public transportation between the park and the airport.
By Public Transportation

No public transportation is available.


Last updated: April 11, 2022